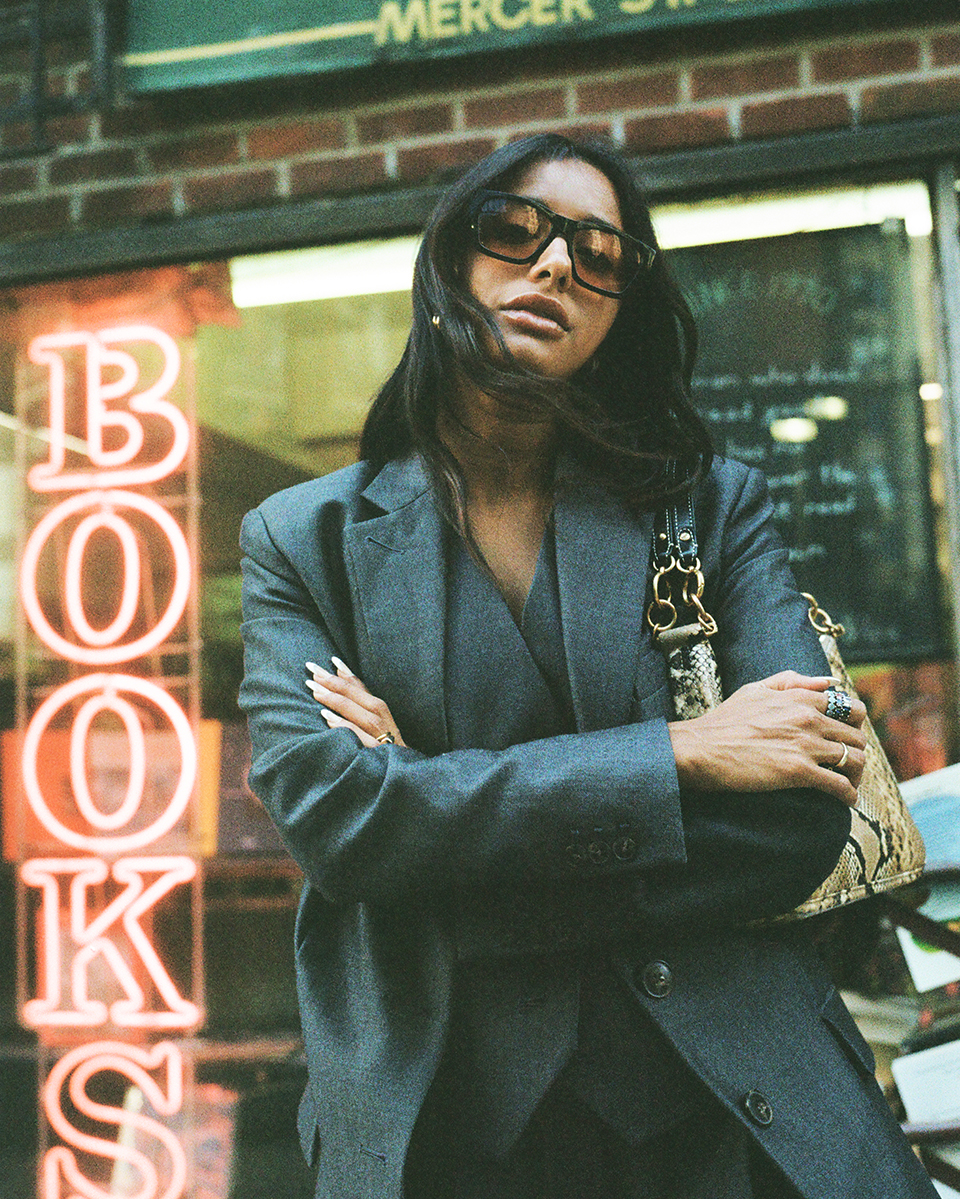 Friends are the family we choose. For Anaa Saber and Amrit Sidhu, the choice was easy. The two creatives — Anaa is a model and style influencer, Amrit a DJ and dating expert — were introduced in New York City through mutual friends and have been "inseparable" for the better part of a decade. "We were different people when we first met, let's put it that way," Amrit says with a laugh. When the pandemic hit, Amrit packed up her life in New York and moved to Los Angeles, where she launched her popular IGTV series "Ask Amrit." But, despite the distance, the now bi-coastal friendship continues to thrive.
Bonded by their South Asian cultures and love for food, Anaa and Amrit rely on voice notes and pictures to stay up-to-date on each other's lives. The gastronomes are in constant contact about the incredible meals they've shared or the best food to air fry. Yes, you read that correctly. The fashionable pair are passionate about air fryers. So much so, that Amrit is currently trying to sell Anaa on an Instagram live series dedicated to the kitchen appliance. "I feel like there is a big air fryer community waiting to be brought together by our love for fried foods," she explains. If it comes to fruition, they can count on us as loyal listeners.
Last month, Anaa and Amrit reunited downtown for the ultimate New York afternoon, including French fries, martinis and Fall/Winter 2021 fashions. Below, we discuss friendship, careers and the importance of giving back.
Tory Daily: What are some of your greatest similarities?
Anaa: We're both South Asian and come from similar backgrounds so we were able to connect on that. There weren't a lot of South Asian women doing what we were doing in our careers at the time, and I think that's what drew us together.
Amrit: Totally. Especially in an industry that can be quite homogeneous. We had very similar experiences and that definitely brought us closer together. We have also worked together consulting on inclusivity projects, so it's something that has manifested into work for us.
Tory Daily: Can you tell us about your involvement with non-profit organizations? How and why did this become a priority for you over the years?
Anaa: A lot of the things that I work on are community-driven, so I work with the South Asian community in Long Island and also, of course, in Pakistan and India. I work with mosques in Pakistan to donate food during EID, making sure all families can celebrate.
Amrit: I think that, as women from marginalized communities, it's always been important for us to give back and help create opportunities for those who are less fortunate. We like to use our platforms and the projects we are working on to create some type of call to action. Obviously, we love fashion, we love beauty, we love entertainment, but that can't be your everything. It's nice to have a best friend with a similar mindset and values.
Anaa: We're also pretty vocal on social media. I think it's really important — as two people who have followings and can reach many different types of people — for us to use our voices and spread awareness on the issues that are happening in the world.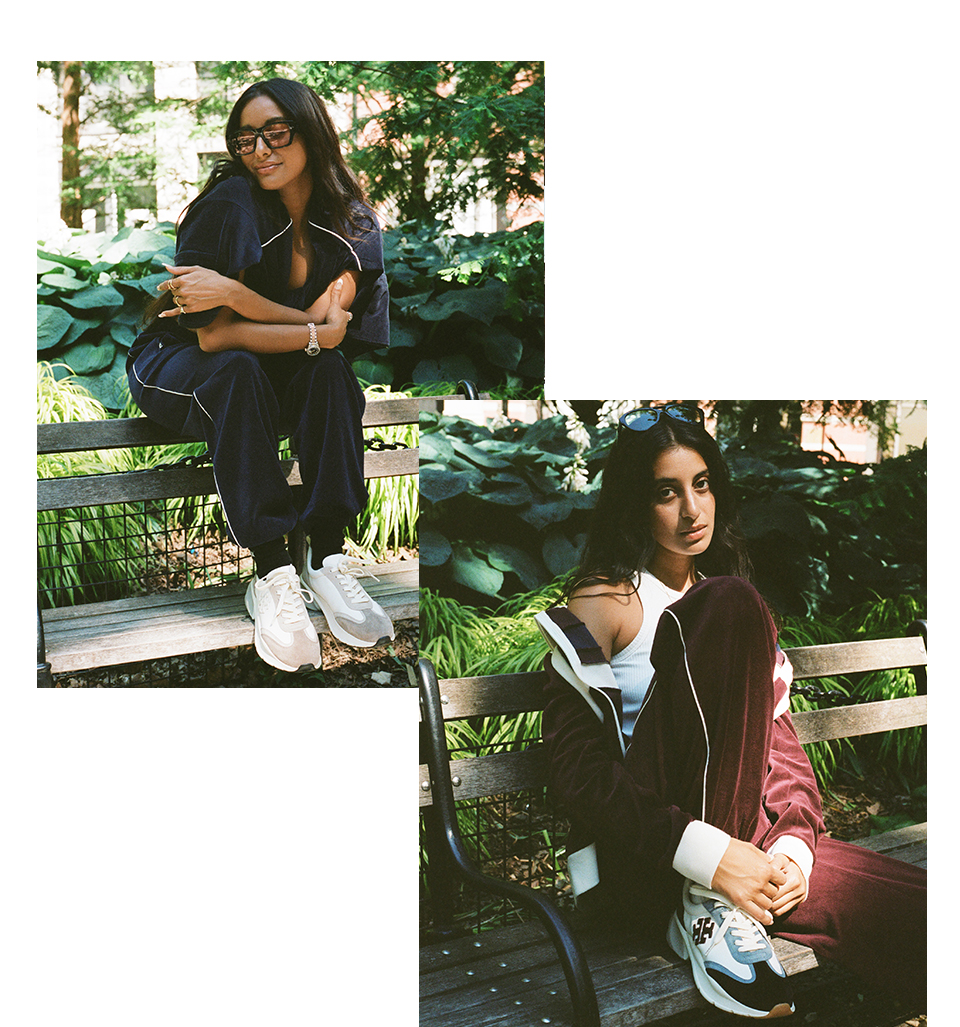 Tory Daily: What impact has New York had on your careers?
Anaa: New York has shaped me into the woman that I am. I think it gave me the freedom I was always yearning for as a young adult. Especially as a Pakistani-American woman. I have the liberty of living alone, which is something I can't even fathom my grandmother, my aunt, my mom doing at my age. I found my community here — so many like-minded people who have helped me grow. New York is always going to be home for me. But it sucks when your people leave you…
Amrit: I'm back and forth! Oh my god… I'm going to be there next week.
Tory Daily: What motivates you?
Amrit: Honestly, the ability to create an impact. I think it's easy to forget the impact that just being yourself can have on someone else. It's really cool that we can lead by example and show people that they can do whatever it is that they want to do.
Anaa: I would say the exact same thing. I think about my niece and showing her what it means to be a strong woman — that you can do anything you want to, work in a career that wasn't meant for you, that you can be your own boss and you don't have to work in a 9-5 office to achieve your dream… It's truly about being able to redefine the way that we were meant to live this life.
Tory Daily: What is the most important lesson you have learned from one another?
Anaa: Amrit has taught me so many lessons throughout my life. She's an older sister to me. Whenever I've had questions in my career, she's always been so helpful and such a cheerleader. I really appreciate having her to fall back on because, as a young woman navigating this industry, you need your people. Amrit taught me how to be business-minded, to say no when I want to say no and to chase whatever I want.
Amrit: Wow, how do I top that? For me, I'm away from my family most of the time so Anaa is my chosen family here. She is someone who really grounds me when I feel like I'm losing that sense of home. She does little thoughtful things that make me feel like I always have somebody who is like a sister here.
Anaa: By the way, we've never been this nice to each other…
Amrit: Yeah, never… But one more thing I will say is that, while we're very different people, we have always been able to create opportunities together. We always try to pull one another onto a job. It's nice because then you get to share that experience with someone you love and it's been a really beautiful way for us to grow together. It's nice to share that with your best friend.