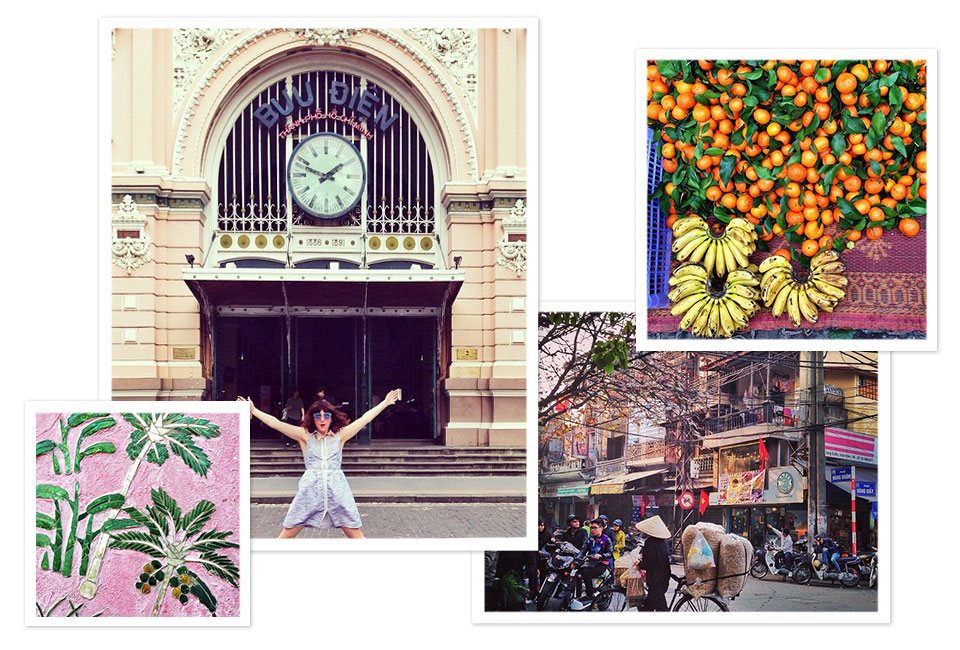 Warm weather, hot spices and bright bursts of color… Refinery29 Co-Founder and Executive Creative Director Piera Gelardi found her element on a recent whirlwind trip through Vietnam, Cambodia and Laos. With much of Southeast Asia celebrating the New Year tomorrow, we asked Piera to share her highlights.
First-time visitors to Vietnam must see…
The hustle and bustle of Ho Chi Minh City! I've never experienced anything quite like parting the massive sea of motorbikes by simply walking through them slowly… it's an exercise in trust and serious cojones.
The highlight of Laos…
Riding bikes at sunset along the Mekong River in Luang Prabang, with a dusty pink sky and the aromas of wood smoke and tropical fruit wafting through the air. Dreamy!
And of Cambodia…
Exploring the ancient temples of Angkor and finding hidden gems away from the tourist path.
Packing essentials for Southeast Asia…
Sandals, sneakers, mid-length skirts, lightweight pants, t-shirts, a straw hat, a bathing suit and a camera (obviously).
And vacation uniform…
A fitted t-shirt, printed lightweight pants, sandals, a straw hat and a cross-body bag. That outfit pretty much worked everywhere I went… it's cool enough to handle the heat but covered-up enough for temple visits.
The best beach…
We only went to one beach on our trip and it literally involved us crawling on all fours through briars to get there. I have pics to prove it. It was worth it, though! The beach was in the Núi Chúa National Park in southern Vietnam and was lined with evergreen trees and surrounded by dramatic rock formations.
Favorite local dish…
Bbánh xèo — a crunchy Vietnamese pancake served with shrimp and bean sprouts that you wrap in mustard greens, with mint and basil, and dip in a sweet-and-sour fish sauce. We had it at Dong Pho in Ho Chi Minh City. Just recounting it makes me want to fly right back to have it again.
And cocktail…
Fresh pineapple and passion fruit juice with a vodka Sidecar at Cục Gạch Quán in Ho Chi Minh City or the Lao-Lao whiskey, lime and honey cocktail (with a local edible flower) at Tamarind in Luang Prabang.
The key to beautiful vacation photos…
Make sure to switch it up between landscape shots, details, portraits and selfies (of course!) to give a sense of the whole experience. My secret weapon for iPhone photography is Snapseed.
Secret only a local would know…
The real night market in Siem Reap, Cambodia, is at 60 Road. Brave the bugs (there are lots) for a real taste of local life.
More to explore in
Travel