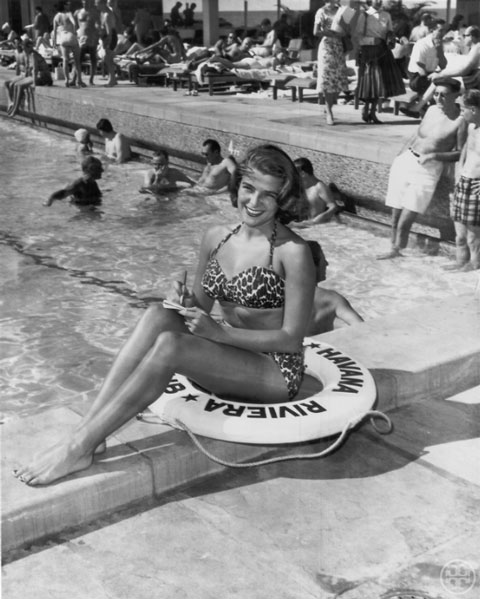 We talk to the original Tory Burch muse here.

The backstory behind this photo…
I'm in Havana — this is before Castro, of course — by the pool at the Habana Riviera hotel, in the Fifties. I'm sure I'm doing something for publicity. They had asked me to pose for the hotel.
The story behind my leopard-print bikini…
I designed it and had it made in Havana! I chose the fabric in a store there. I've always loved the print.
And the reason why…
Leopard is a sexy yet ladylike look. You can make it what you want, and it's a great pattern to work with…
You can accessorize it with…
Marvelous chunky jewelry, like big earrings.
Favorite pool getaways around the world…
The Quisisana hotel in Capri. And The Gritti Palace in Venice, right on the Grand Canal, is divine.
Most memorable pool party…
My own. I threw great pool parties. They usually had a theme, depending on the time of the year. We would do everything from fabulous barbecues to Caribbean or Western nights.
The party I was most famous for…
My barbecues — they were very luxurious and fun. We had everything everyone loves in a barbecue, from hot dogs and hamburgers to steaks, potato pancakes and caviar — all beautifully done.
My poolside party drinks…
Bloody Marys, screwdrivers, mojitos.
And favorite poolside game…
Lying in the sun and not talking.