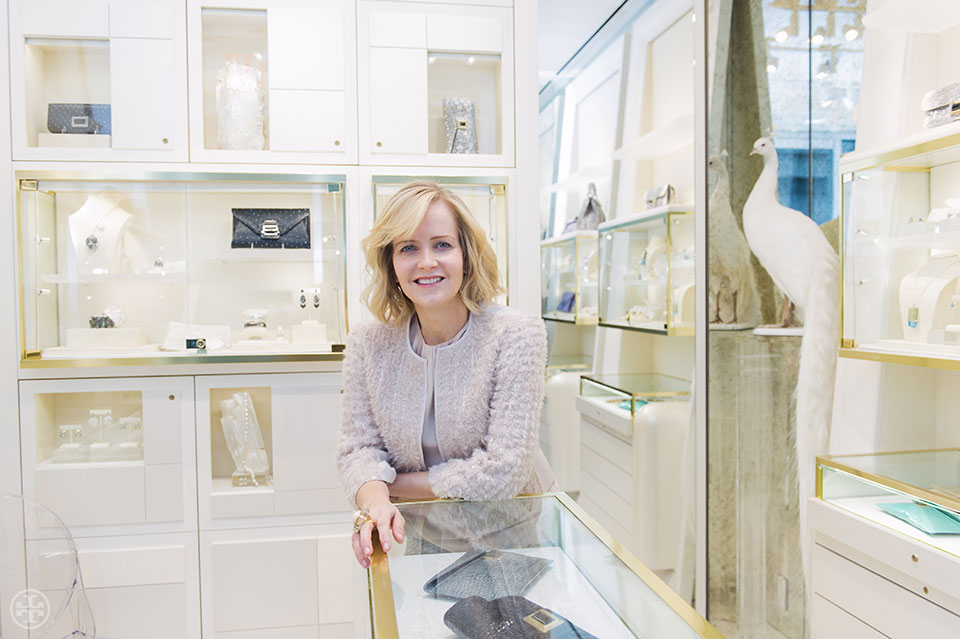 With a brand-new boutique on Madison Avenue, accessories designer Kara Ross — here wearing Tory's Shirley jacket — took some time off to share her advice on holiday gifting and style.
Top three rules for holiday accessorizing…
Use accessories with sparkle or shine to make outfits more festive. Choose one or two bold items to elevate your look. And have fun accessorizing! The holiday season is a wonderful time to dress up and highlight accessories you may not wear on a daily basis.
My own fail-safe cocktail party look…
A chic, minimal dress with a bold necklace, cocktail ring or handbag. Wearing statement pieces is an easy way to add elegance to a look and a great way to express personal style.
Best accessories gift to give when going for broke…
One-of-a-kind pieces are some of my favorite to gift because they are truly meaningful. You want the piece to feel as if it were made for the person receiving it.
And when on a budget…
Look for items made with alternate materials. Resin and crystal accessories can be fashion-forward and unique — you don't have to spend thousands of dollars for a gift to be stunning and special.
The best gift I've ever given…
I enjoy designing and creating gifts because it allows me to add my own personal touch. Though I didn't directly gift the magnolia wood pieces to White House guests, having the opportunity to create them for President Obama and the First Lady was an honor and a major milestone in my life.
And received…
When I was 15 years old, my parents took my family to Africa and allowed us each to pick out two gemstones. When we got back to Philadelphia we designed our own rings — the experience elucidated my passion for jewelry design. This is the best gift I ever received because it evokes memories of my childhood and marks a significant moment in my life.
Most memorable holiday party I've attended…
Those with my family. Family is everything to me and the holidays have always been a time to unwind and enjoy each other's company.
Best style advice I've received…
My mother has been a source of style inspiration my entire life and helped to spark my love of vintage clothing. The best advice she gave me is that elegance is timeless and to wear what I love. If you love what you are wearing, it shows — elegance suits everyone!