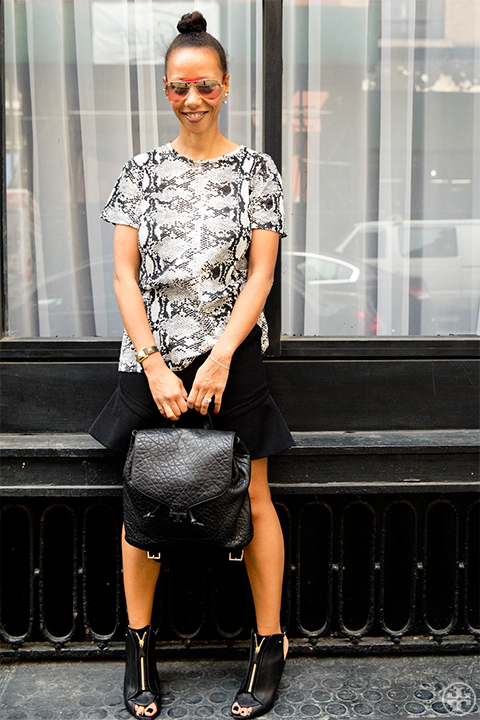 The veteran French stylist and VeePost writer, here wearing Tory's Parkan backpack, sheds light on Parisian style.
My personal style is…
Very Parisian, I think.
And my personal styling trick…
I always wear statement accessories: shoes, bags, jewelry, hats.
In my bag, you'll always find…
My iPhone, sunnies, lip gloss, creamy blush, my camera and raw almonds.
The secret to French style…
Never too much and don't focus on perfection.
Films that show French style the best…
Movies from the Sixties and Seventies like The Tall Blond Man with One Black Shoe or The Great Spy Chase, both with Mireille Darc.
My favorite or most memorable fashion shoot…
My next shoot will always be the one.
The fashion magazines or websites on my daily must-read list…
Now with social media I have less time for magazines, but my faves are Self Service, The Gentlewoman, LOVE, Interview. And for the websites: Style.com, Vogue.fr, Vogue.it, Ma Récréation, PLEASE! Magazine, Make my lemonade.
Virginie Dhello's Guide to Paris would include stops at…
Colette and my Japanese cantine Toraya.
If I could ask my influences — Coco Chanel, Azzedine Alaïa and Jeanne Toussaint — one question…
I would ask them about their vision of fashion or jewelry around year 3000.