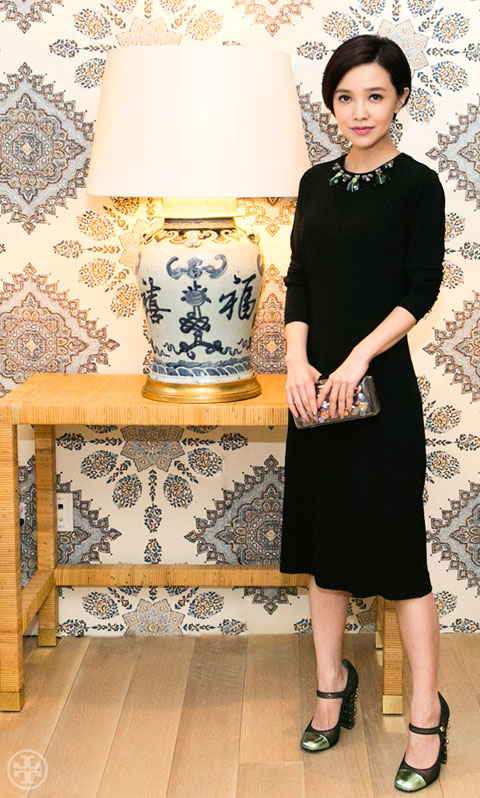 We got some one-on-one time with Taiwanese singer and actress Amber Kuo, here wearing Tory's Deena dress.
My style icon…
It changes all the time. My first one was Mary-Kate Olsen, then Agyness Deyn. Now, it's people on the street. Sometimes, when I don't know what to wear, I'll check out street-style blogs.
My style onstage…
Colorful. Weird and colorful.
My most memorable role…
I've mostly played characters that are like me. The first movie I did was Au Revoir Taipei, which was produced by Wim Wenders. The lifestyle of the girl I played is my true lifestyle. But in my most recent film, Tiny Times, I play [Shanghai heiress] Lily, who is really different from me. I never believed actresses who said they could not leave a role behind when they're done shooting, but it took a longer time to walk away from Lily.
My favorite part about shooting Tiny Times in Shanghai…
It's like Taipei — you can walk everywhere, and I love walking in a city. And I love how Shanghai combines the old and new.
My dream directors would be…
Spike Jonze and Wes Anderson. They always have interesting storylines and the scenes and images are beautiful, but in a freaky way.
My music is…
Another amazing way to tell a story. Although it's hard to express what I really want to say. I'm not a songwriter — I sing somebody else's words — but in the past two years, I've been recognized more as an actress, so there's less restrictions on my singer life. Hopefully, I'll have more freedom to do what I want to achieve as a singer.
My dream music collaboration…
This Brooklyn band, Sleigh Bells. Do you know the story of how bandmates Derek Miller and Alexis met each other? He was working at a restaurant, started chatting with this woman about how he wanted to find a singer for his band. She volunteered her daughter, Alexis. I love that story.