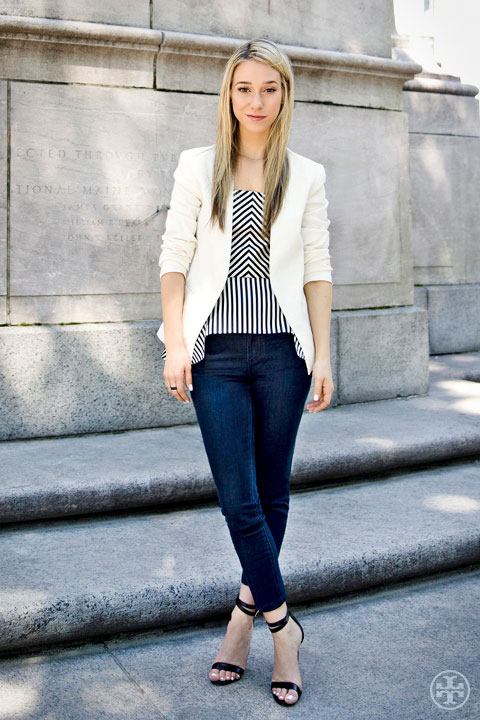 The L.A.-based stylist gives us her tips on the denim look.
What I'm wearing…
Tory's Cropped jeans in Rinse, Sass & Bide top, Helmut Lang jacket, Tibi shoes.
Where I'd wear this…
To dinner or a work event. I wear pants much more often than
dresses or skirts.
Two ways to wear the same pair of jeans…
I'm rather short, so I always wear skinny jeans. Any other cut kind of "swallows" me. I'd wear them dressed up with heels like this or with a t-shirt, leather jacket and a flat boot.
My denim icons…
Kate Moss, Bianca Jagger and Marianne Faithfull in
The Girl on a Motorcycle.
Favorite decade for denim…
As I said, I'm a fan of a skinny cut — the tighter, the better — so probably the Eighties, when "shrink to fit" was all the rage. I love the pictures of women in the bathtub trying to button their jeans!
When trying on a new pair, always…
Buy a size down because they stretch out.
To wash or not to wash every time you wear…
I wear my jeans as many times as I can before they start to look baggy or loose. I wash them inside out in cold water and dry them on high.

For more style tips and to shop the denim collection, see here.
For Tory's pointers on denim, see here.
For Tory's denim-inspired playlist, see here.
To catch our jeans in action, watch the video here.
For denim-on-denim dressing ideas, see here.