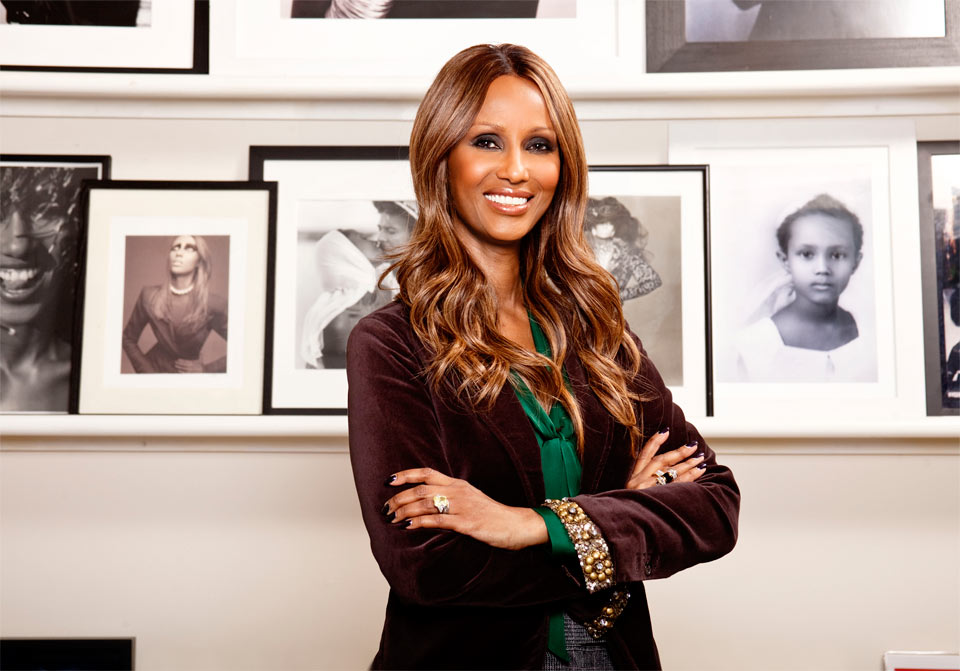 The model and entrepreneur talks beauty and business — and reveals the style tips she shares with her husband, a.k.a. Mr. David Bowie.
As an entrepreneur, I must…
Pay it forward.
The best business advice I've received is…
Ask for help, especially from other women executives. You will be amazed how they will lift you up.
Never underestimate…
The power you unleash when you empower a young girl.
Never be afraid of…
Owning your mistakes, even to your staff!
The best way to give back…
Mentor and empower women to be financially independent, locally and globally.
I launched IMAN Cosmetics because…
I wanted to create a new language for beauty that was inclusive. Beauty is in the eye of the beholder and the beholder should be you. Beauty has many faces and skin tones.
Best beauty advice I've ever received…
My mother said, "The skin you take care of in your Twenties is the one you will inherit in your Fifties and beyond."
My morning makeup routine…
After cleansing my face with SK-II facial treatment cleanser and applying IMAN Time Control All Day Moisture Complex SPF 15, I use IMAN Skin Tone Evener BB Crème SPF 15 in clay medium deep, IMAN Loose Powder in clay medium, IMAN After Glow Bronzer on my eyelids and cheeks, Nars' Velvet Matte Lip Pencil in Belle de Jour and Lancôme Hypnôse Star Mascara in Noir Midnight.
Being a mother has taught me…
To choose your battles, be patient and, finally, show and teach my children that they are not an extension of me, but each their own individual and divine person.
The key to a lasting marriage…
Respect and a sense of humor.
Style tip my husband has picked up from me…
Make sure that there are no tags still attached to clothes before going out.
Style tip I've picked up from my husband…
Make up your own rules and be daring.
My ultimate bohemian getaway and why…
Morocco. The smell, the souks and the riads — it's everything!
What I pack…
Nothing — I come back with loads and loads of goodies! My husband calls me a chic hoarder.
Soundtrack of my life…
Amazing Grace. There's actually a beautiful spiritual story behind the conception of the song. I love it because it transcends time and pop culture and celebrates universal ideals. It has been a refuge and shined light in my life.
More to explore in
Beauty