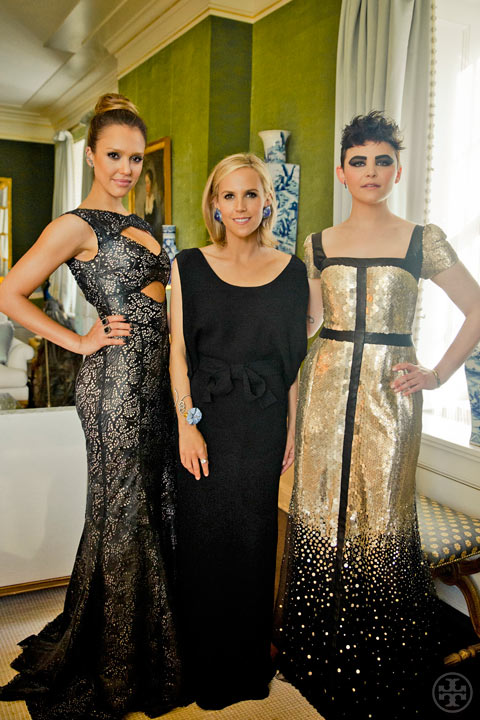 Tory hit the punk-themed Met Gala with actresses Jessica Alba and Ginnifer Goodwin, both in custom Tory gowns. For the full back story on Jessica's laser-cut leather dress, head over to WhoWhatWear. Meanwhile, we chatted
with Ginnifer, who plays Snow White (a.k.a. Mary Margaret) in ABC's fairytale remix Once Upon a Time.
The most punk thing I ever did…
Apparently short hair on a young woman is still considered somewhat anti-establishment, even in Hollywood.
My favorite punk song…
Siouxsie and the Banshees' Peek-A-Boo is considered "post punk," but that's about as punk as I go, musically speaking.
My style (and personal styling trick) is…
I like to mix classicism and modernity and am always pushing myself to take bigger risks. My personal styling trick? I tailor everything to my body.
If I could do a guest spot on any show…
I would kill to guest star on Downton Abbey — because it is perfect.
My hidden talent…
I am a master of stain removal.
When I have time to kill on set…
I read, embroider, write letters and listen to music.
A behind-the-scenes anecdote from Sunday's Once season finale…
We spent a couple of days filming at sea and the cast did not want to act in the background of the scenes in which we were not written. And yet all the characters were supposed to be on the ship. So you may catch us in the distance, at various times, pretending to walk down nonexistent stairs to a nonexistent lower cabin. We really just laid down on the deck.
This summer…
I will be working on two films. I cannot yet divulge any details, but I will be gabbing all about these movies soon!