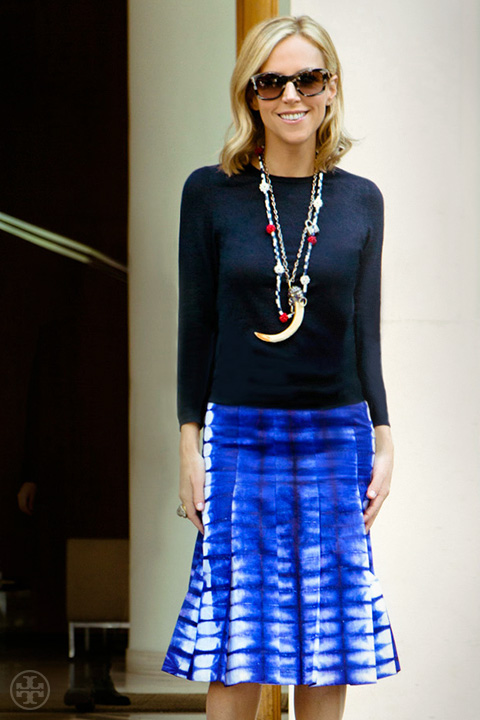 What is bohemian style?
Bohemian style is defined by a free-spirited sensibility and mind-set. For me, it's about mixing together special pieces I find while traveling with my favorite sportswear. I like that balance of old and new; American classics and global finds.
What are essentials of the look?
Anything that has a global spirit to it and might spark a conversation with "Where did you find that?" Think about vibrant prints or patterns or pieces that have artisanal touches, such as elaborate beadwork or colorful embroidery. It doesn't have to be a head-to-toe explosion of print and pattern; it could be as simple and effortless as a beautifully detailed bag or shoe. For spring, I also love the idea of working tie-dye in more ladylike silhouettes.
Why do you love tie-dye?
It reminds me of high school and college…of my first concerts and endless summers. It's a happy print. So many countries have a tradition of tie-dying, like India, Japan and African countries, and they're all different and beautiful.
How do you wear it?
I like pairing tie-dyes, batiks and more tribal prints and patterns with something minimal. We did these prints in streamlined silhouettes for spring. Again, it's all about the mix. But there are other ways of adding it into your look, like an unexpected bag. Our Maddie bag is a ladylike look, but it has a fun feel with cabochon stones and a pink batik.
Tell us about the skirt you are wearing.
It's our Kelby skirt and is actually made from a fabric that was hand-dyed by women artisans in the Kindia region of Guinea. We partnered with There Is No Limit Foundation on these one-of-a-kind fabrics, used in several tie-dye looks this season. The artisans use century-old techniques, keeping traditions alive while supporting their families and communities.
More to explore in
Spring