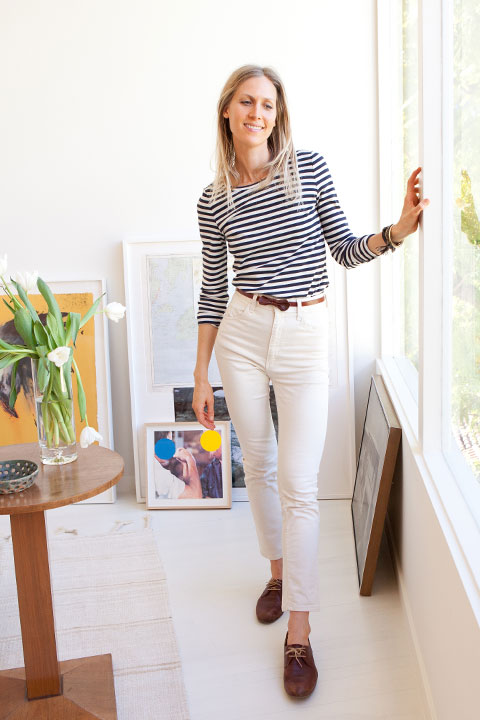 Talking art and California style — both in the wardrobe and at home — with the L.A.-based fashion stylist.
My style, both at home and in fashion…
Easy elegance. Classic, simple with a little patina.
I'm wearing…
A Tory Burch striped t-shirt, imogene + willie high-waisted jeans, Annie Costello Brown for Deskohann belt, Alyssa Norton bracelets and Dieppa Restrepo oxfords. Lately I've been into wearing off-white denim in winter, especially with an oversized coat and boots. Always classic and cool but a little unexpected at this time of year.
This room is…
An extension of our living room. We live in a mid-century house designed by Gregory Ain. The original owner was an artist. This room was built to be her painting studio and we have made it into our library.
I love it because…
The light is spectacular as you can see from the vast windows — and the ceilings are 14-feet high. It is also the only room in the house with white painted hardwood floors.
My favorite elements here…
A large vintage kilim rug, a Milo Baughman chair we found at a garage sale years ago and our collection of books, art and ceramics.
And the mood we were going for…
Well, as you can see we are still in the decorating process! We moved into the house in September and saved hanging the artwork for last. In this room we wanted to create a comfortable and calming space where we could come together as a family to read, watch movies and just kick back.
As for that artwork, it's by…
Elad Lassry — an L.A.-based artist and dear friend with whom I have been lucky enough to be the subject of some of his incredible works. Ian Baxter — the piece belonged to my late mother-in-law who collected great Canadian artists. John Baldessari — a smaller piece by the iconic artist that my husband and I collected together. Tony Scherman — the vibrant piece was a wedding gift from a family friend.
More to explore in
Spring