London model and DJ Morwenna Lytton Cobbold talks about the collections circuit in New York and at home, as well as her ultimate runway playlist — listen to it now on Spotify.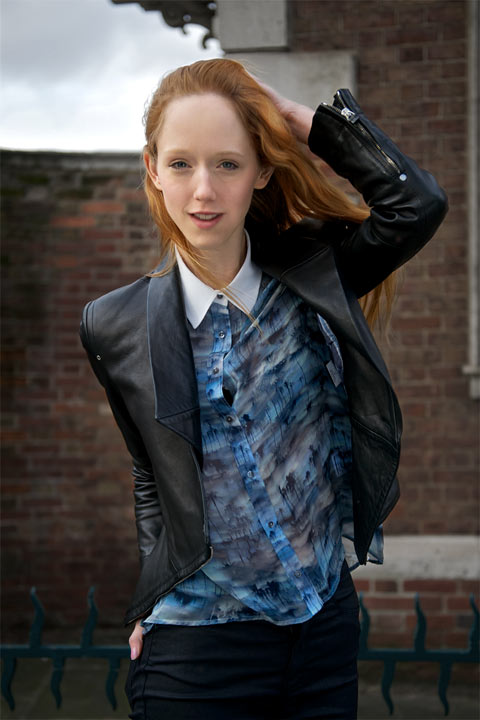 My fashion week style is…
Eclectic and depending on my mood! I do have a few wardrobe staples. If I have to get up early I'll default to a pair of black jeans (generally Paige Denim), a t-shirt, my Religion leather jacket and lace-up ankle boots. I do love getting dressed up in heels and glam dresses but only in the evening!
And my DJ style…
The same, though if it's a fashion event I'll make sure to wear something from the brand.
I got into DJ-ing by…
Hanging around with DJs and taking over when they went for a cigarette! I covered for some friends in the Parlour at Sketch a few times and ended up getting my own Saturday residency there, which I still have. My first gig was in a dodgy dive bar in Old Street — I had the 3 – 4 AM slot. My friend Matthew and I played David Bowie's Let's Dance about four times as we didn't have enough music! We fixed that pretty quickly….
Fashion in New York vs. fashion in London…
I think you can get away with dressing a little crazier in London, though I feel like the two are becoming very similar! I love people-watching in both. I took a lot of portraits out on the streets of New York last time I was there.
And fashion week in New York vs. fashion week in London…
As a model, there are so many more castings in New York because the city's smaller, so the agencies know you can fit more into a day! To me, fashion week in New York is much slicker and upmarket, though I do love the energy and creativity in London.
Most memorable modeling moment…
Shooting with Steven Meisel was amazing. I'd just finished my 14th casting of the day during New York Fashion Week and got a call from my agency saying that I needed to run home, get my passport and head to the airport, as I had a shoot for Italian Vogue the next morning at 7 AM in Los Angeles! The whole thing was such a whirlwind. And the catering was amazing!
As for that famous relative of mine…
My great, great, great, great grandfather was Edward Bulwer-Lytton, who was a famous Victorian novelist. He wrote, amongst others, The Last Days of Pompeii and coined the phrases "the pen is mightier than the sword" and "it was a dark and stormy night." It was so much fun growing up in a house my family has lived in for so long — every room has a story. Edward Bulwer-Lytton and Charles Dickens used to put on plays together in the banqueting hall where we have Christmas lunch every year!
Fashion Week Playlist
Say My Name — Destiny's Child (Cyril Hahn remix)
Ticking Heart — Feon
Sneaking Back In — BL_NK SP_C_S
More to explore in
Fashion Week