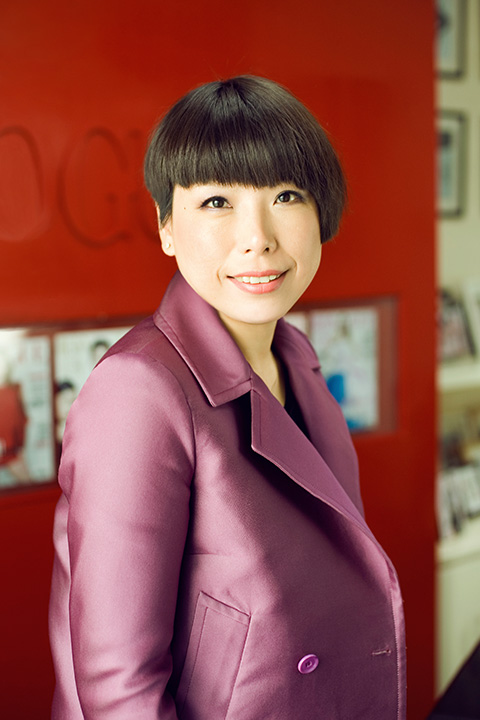 The Editor-in-Chief of Vogue China on the Lunar New Year, the Chinese fashion scene and her would-be career (well, if she hadn't landed the country's top editorial spot).
My favorite part of the new year…
Like Christmas is in the West, Chinese New Year is about being with family and, every year, it's just great to have these few days to focus entirely on your loved ones.
And favorite new year superstition…
In northern China, where I'm from, everybody eats dumplings (jiaozi) on the eve of the new year. The tradition has been around for centuries as dumplings are considered an important symbol of prosperity for the coming year.
On New Year's Day, I will be…
On a beach in Thailand surrounded by my family and friends, with no access to internet!
The best advice I've received in my career…
It was actually from a brand executive over lunch one day, who told me that whilst everybody faces trials and tribulations in their careers, the most important thing is perseverance, because only a reasonable amount of time can tell whether something is worth pursuing. Unbeknown to this person, I was actually going through some problems at work then, and it really woke me up to the idea that I couldn't give up too easily and I'm really thankful for the timing of that advice.
My advice for women trying to balance family and work…
I can't stress enough the importance of prioritizing and being efficient with your time. At the same time, don't get ill and learn to say no!
Emerging Chinese designers to watch…
We've been very particular about always keeping up with new design talent in China. Recently, Masha Ma has been doing so well both in China and abroad, and Yang Li is coming up with some great things in Paris.
When I fly from China to the U.S., I combat the jet lag by…
Just working through it. I try to take flights that land in the morning and, if you work through the day, you'll fall asleep at night exhausted.
Chinese fashion in Shanghai vs. Beijing vs. Hong Kong…
Hong Kong is much more cosmopolitan and international, which, I think, is reflected in the way people dress — it's not very different from London or New York. Beijingers are more open-minded in terms of experimenting with different styles, while Shanghainese are, in general, more polished and groomed. However, this is just a broad generalization, as each individual is different.
The Chinese fashion scene when I launched Vogue China in 2005 vs. now…
I would say that in the eight years of Vogue China, we've really witnessed the Chinese fashion scene going global. When we started there was not a single Chinese supermodel on the international catwalks; now, of course, they're so prominent everywhere. We have Chinese fashion designers who now show at international fashion weeks, and even Chinese brands that have opened major stores abroad.
My fashion week survival items…
It's funny, because I never see fashion week as an ordeal that needs to be survived.
When in New York, the one place I always visit…
Every time I'm in New York for a trip, my stay is always so short so I try and do new things each time. I'll always stay in different hotels, go and see any good exhibitions currently on, look in on any new stores and try different restaurants.
If I wasn't an editor in fashion, I'd be…
A lawyer. I studied law and had an MBA and used to plan to go back to practice law once I had gained enough experience and skills working in the media. I was just going to do that eight years ago when Condé Nast asked me to launch Vogue in China and I postponed the plan. Guess it is slightly too late now….
More to explore in
Fashion Week