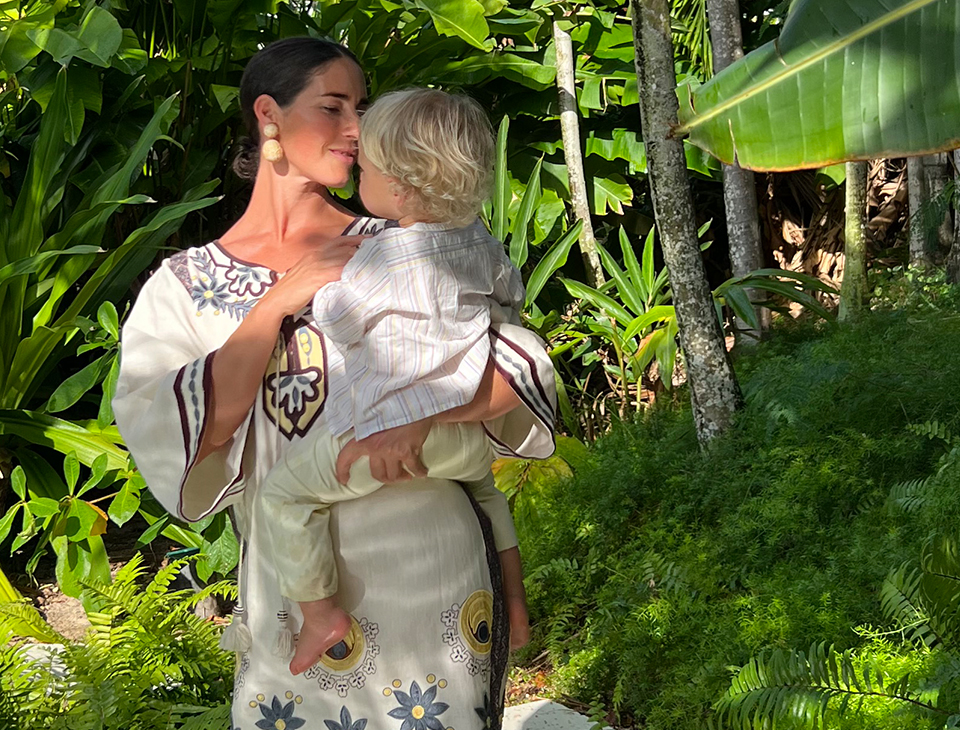 Designer Rebecca de Ravenel — pictured with her son, Charlie — wearing our
Embroidered Caftan
and her own Les Bonbons earrings
When Rebecca de Ravenel's beloved thread-wrapped Les Bonbons launched in 2015, the shoulder-dusting earrings landed with a splash. Today, the designer has expanded her eponymous line to include new earring shapes, monogrammed straw market totes and hand-painted homeware. A childhood spent between the Bahamas and Paris informed de Ravenel's island-meets-city chic aesthetic, which she continues to hone with frequent travel.
To close out our "Mother's Day Morning" series — a collection of interviews with inspiring moms — we caught up with de Ravenel as she soaks up the Bahamas sun with her toddler, Charlie.
What is your perfect Mother's Day breakfast?
This Mother's Day, we are back home in the Bahamas. It is my first time bringing Charlie to my most special place. We've been walking the beach and collecting coconuts in the morning, which has become our little ritual together. It is the sweetest and most ideal Mother's Day breakfast I can think of.
You have 24-hours without children or work. What are you doing?
That's such an easy answer. Lots of sleeping and even more cocktails. ;)
What are the three things every mom needs to have in her bag?
A sticker book (endless entertainment for my toddler), a snack and Ziplock bags for all sorts of accidents.
How do you relax after the kids are in bed?
This is very much dependent on my sleep deprivation level at that moment. Some nights, I like to switch off my phone, have a bath and watch something in bed; others, I like to go out for a fun dinner by the sea with my sisters or a girlfriend. I have also always loved a night of dancing.
What apps do you find most helpful as a mom?
I used the app What to Expect but, after I had my son, I turned to books as I tried to let go of my phone a little bit. My two most helpful books were and still are: Baby to Toddler Month by Month and How to Build my Baby's Brain by Dr. Gail Gross
Modern motherhood can be challenging. Can you share something that helps you feel empowered as a mom?
My son is healthy and happy and so am I. Some days are exhausting and hard and I feel like a total failure as a parent but seeing Charlie shine bright with a huge smile makes me know that I am doing something right. Understand that you are doing your absolute best and not everything has to be perfect. Now that Charlie is starting to understand and communicate the things I've been showing, sharing and teaching him, there are so many feel-good moments watching him grow into a little person.
More to explore in
Entertaining