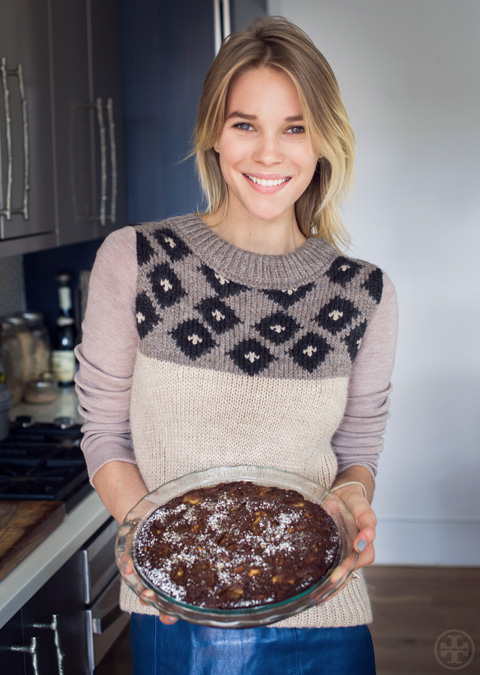 The model and self-described foodie baked her signature Spiced Pumpkin Apple Molasses Cake for us and shared her holiday entertaining plans.
What's your holiday specialty?
I always help my mom cook big holiday dinners for our family. I love using what's in season and what looks good at the market. We usually pick ingredients like squash (kabocha, delicata, spaghetti), brussel sprouts, parsnips, fennel, etc. for savory dishes, and apples, pears, ginger, persimmons, cranberries, pumpkins, etc. for sweet dishes.
What are the key elements for a great holiday party?
Food that looks and tastes delicious, as well as some fun drinks! I have a major sweet tooth, so I love baking something festive. My best friend's blog, Ripe Cuisine, is great for healthy, seasonal and delicious recipes. Good holiday music doesn't hurt either!
Holiday childhood memory?
Cookie exchanges! My mom still hosts them to this day and I get to have tons of delicious cookies.
Favorite cocktail?
Glögg, a Swedish drink of mulled spiced wine served with sliced almonds and raisins, is delicious. My family drinks it every Christmas Eve. I also love Baileys with coffee, and Southern Tier Pumking Beer!
Favorite holiday dessert?
Way too hard to pick just one! I love this harvest cake, molasses ginger cookies, pear persimmon crumble, roasted chestnut cinnamon buns, pumpkin spice puppy chow (with speculoos spread)… I could go on and on!
Spiced Pumpkin Apple Molasses Cake
1 cup whole wheat pastry flour
1/2 cup whole wheat flour
1/2 cup oats
1 1/2 teaspoons baking soda
1 teaspoon cinnamon
1/2 teaspoon pumpkin pie spice
1/2 teaspoon sea salt
1/2 cup coconut oil
1/2 cup blackstrap molasses
1/2 cup packed brown sugar
1 large egg (vegan by using 1 flax "egg")
1 tsp vanilla
1 tbsp fresh grated ginger
1/2 cup canned pumpkin
1/2 cup boiling water
4 apples, peeled and cut into chunks
Powdered sugar for dusting
Heat oven to 350° F. In a mixing bowl, whisk together the flour, baking soda, cinnamon, pie spice, and salt. In a separate mixing bowl or stand mixer, whisk together the oil, molasses, brown sugar, egg, ginger, vanilla, pumpkin, and ½ cup boiling water. Mix the dry ingredients into the wet until just combined. Fold in the apples last until they are just combined. Pour batter into an oiled cake pan. Bake for about 45 minutes. Let cool, and dust with powdered sugar before serving.
More to explore in
Entertaining