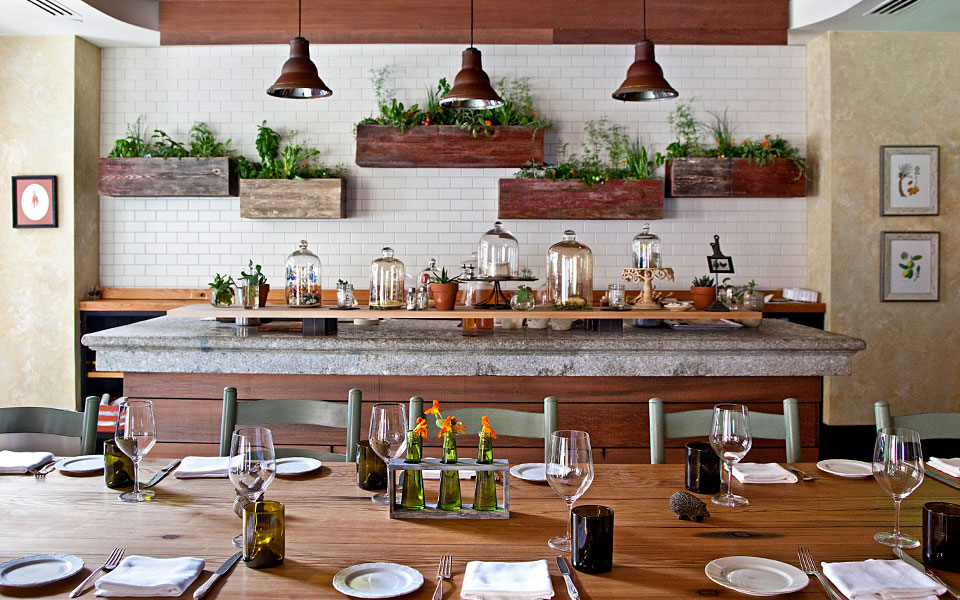 Get the 411 on cheese and healthy eating from Aimee Olexy of Talula's Garden and Table in Philadelphia — and the recipe to her famous caramel apple and cheddar tartlet, too.
My restaurants are…

Personal. There's a lot of recreating every day — new menus, new art, new blouses on the staff depending on the colors of the season. I have that bug in me where I need to change. If you're going to build relationships with clients, they need to see you grow.

I have a soft spot for cheese because…

I love entertaining and, for me, cheese coaxes an entertaining experience for people. Like wine, it combines travel and food history. Plus, I have never yet tired from it. I crave it, I enjoy it.

When putting together a cheese plate…

Don't overlook the temperature. I think, as Americans, we're obsessive about refrigeration. If you're going to have people over, take the cheeses out early and get them to the right temperature (you can find out what that is from your cheesemonger). And find out if the cheese should be served with the rind on or off — I believe in serving a plate where guests can eat everything.

I pair my cheeses with…

Lots of little nuts, dried fruits and veggies. And I often cut the cheeses in a way so they can be nibbled on their own. I try not to pump a lot of carbs into people; they get enough bread and carbs on their own. Even at my restaurants, we build our dishes around the vegetables.

And I do that because…

When people leave, I want them to still feel good and light on their feet. Some chefs don't think about that. I actually get resentful when I go out, have a meal and it destroys me. And for very avid diners, I want to be able to support their habit in a very healthy way.

The one cookbook I always recommend…

Anything Alice Waters. Her recipes work and are well-tested.

Healthy ingredients every kitchen should have…

One, citrus of all kinds — it's an alternative to using a ton of salt. Two, nuts — they give you a very satisfying feeling and have a nice protein to them. Three, vinegar — it's a nice way to brighten and balance out the richness in a dish.

My Proust madeleine…

Ice cream. As a kid, there was always an ice-cream shop around and I remember it was a very special after-school day when I got some good ice cream. There's something about having it scooped for you and having it be your own personal thing.
Aimee Olexy's Warm Caramel Apple and Cheddar Tartlet
Cheddar Shortbread:
½ lb butter
¼ c sugar
1 egg yolk
1 ½ c flour
⅓ c cornstarch
½ tsp salt
1 c grated white cheddar
In mixer, combine butter and sugar and mix for 30 seconds. Add yolk and mix to combine. Add flour, cornstarch and salt and mix until just combined and crumbly. Do not overmix. Roll out to ¼-inch thickness between sheets of parchment and chill thoroughly. Cut into 4 x 2 rectangles and lightly bake at 325° until lightly browned around edges. Set aside to cool.
Caramel Sauce:
1000 g sugar
1 oz corn syrup
4 oz water
Juice of ½ lemon
700 g cream
50 g butter
Place sugar, water and corn syrup in pot. Add lemon juice. Heat over high heat until amber in color. Slowly add cream and whisk to combine. Add butter until melted and set aside to cool.
Apples:
8 apples
Peel and slice apples to ¼-inch thickness. Line a ½ sheet tray with foil and spread enough caramel on foil to cover. Layer apple slices in rows over caramel, overlapping the slices. Bake at 325°, uncovered, until caramel bubbles and the apples become slightly tender. Cool to room temperature.
Cranberry Sorbet:
1 c sugar
2 c water
680 g fresh cranberries
¼ tbsp salt
¾ c orange juice
2 tbsp Grand Marnier
In saucepan, combine cranberries, sugar and salt and 1 cup of water. Cook over low heat until very soft. Place in blender and strain through a fine mesh strainer set over a bowl. Add remaining 1 cup of water along with the orange juice and Grand Marnier. Chill and spin in ice cream maker.
Assemble:
Place shortbread on sheet tray, spread a thin layer of caramel on top. Fan apples along shortbread, with the caramelized side up. Sprinkle with Cabot Cheddar crumbles and heat until melted and warm. Serve with a scoop of the cranberry sorbet.
More to explore in
Entertaining