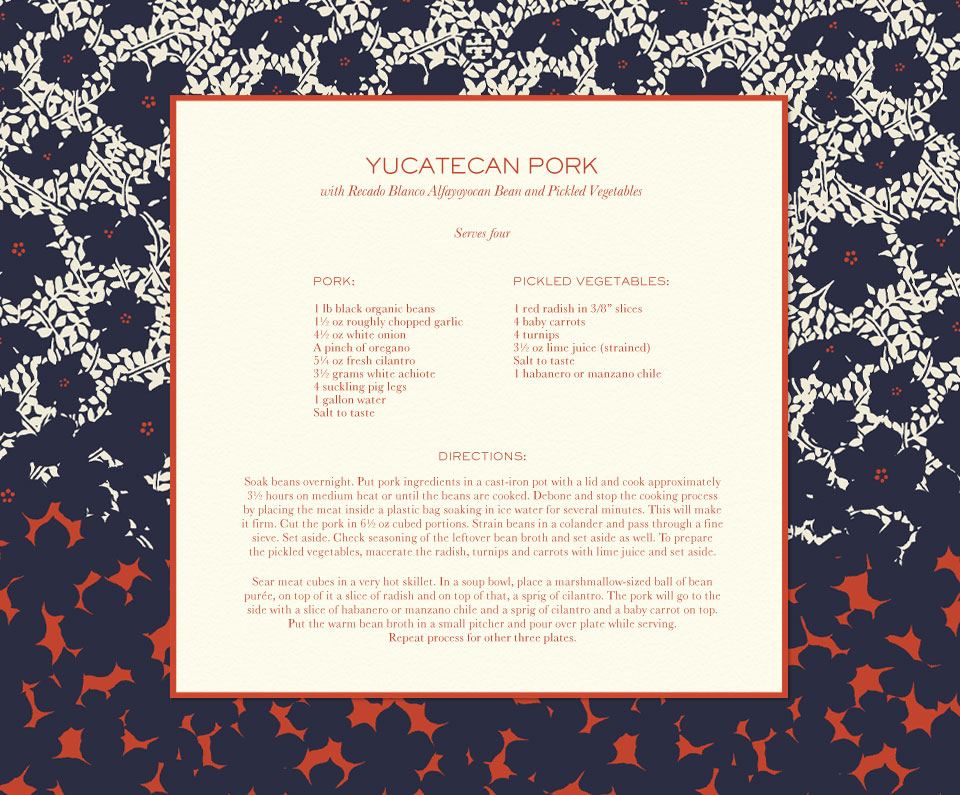 The chef clues us in on Mexican Independence Month and his own culinary life
We celebrate by…
What usually happens is what we call dar el grito — shouting "Viva Mexico!" together. You join up with friends and family to have dinner, drink and wait for the moment when the cry of independence (the grito) is uttered by the president in Mexico City's main square, the Zócalo, or by the governor in respective state capitals.
The story behind el grito is…
The cry commemorates when Miguel Hidalgo y Costilla, a priest from the city of Dolores, made his famous call to arms against the Spanish, known as El Grito de Dolores. And though things get a little more buttoned down every year, it's still very common for people to shoot off fireworks.
The name Pujol means…
It's a version of a nickname I had in high school that had to do with food: a hominy stew called pozole. From there it kept changing until Pujol just sort of stuck.
I knew I wanted to be a chef when…
My grandparents on both sides were bakers so I was in the kitchen from the time I was a boy. The handwriting was on the wall.
My most treasured kitchen tool…
Taste.
The one ingredient I can't live without…
Chilies. They make life so much more flavorful.
My earliest food memory…
Banana baby food.
Most memorable meal ever…
If I have to mention one, it would be Noma, in Copenhagen.
My dream dinner dates…
My grandfather, Yoda and Confucius.
My favorite restaurant in Mexico (besides my own)…
In Mexico there is this huge offering of fantastic, exquisite food — even in street stalls and markets. It wouldn't be logical to speak of just one. But if I must choose one, I'd say Azul y Oro.
True Mexican food is all about…
Openness to diversity.
More to explore in
Entertaining