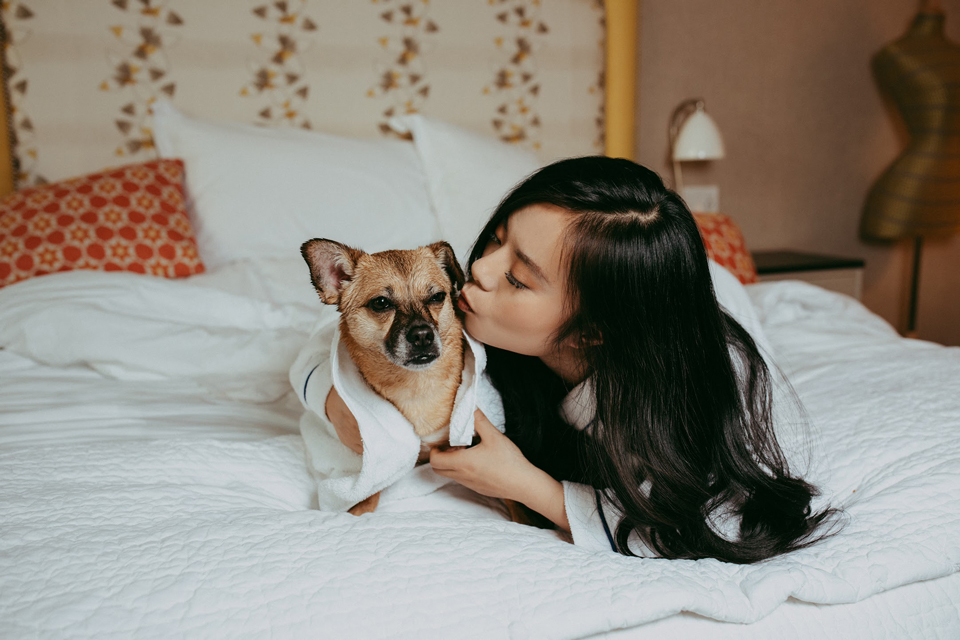 Dogs have been man's best friend for millenniums. They are subjects of myths, movies and legends — Balto, Lassie, Marley, Skip and Toto, to name a few— and, more recently, dogs are the inspiration for Nöel Duan's growing business,
Argos & Artemis
. Launched in 2019, Argos & Artemis is a community and lifestyle platform that shines a spotlight on dog owners, from Duan's former employer and mentor
Bobbi Brown
to sisters
Danielle and Gabi Prescod
to fashion industry veteran
Linda Rodin
. In addition to creating original content like animal-friendly travel guides, Duan has also curated the perfect holiday present for dog-lovers — the Argos & Artemis
Sit, Stay (In), Treat Yourselves Gift Box
. Before the holiday season kicks into full gear, we checked in with the entrepreneur and her rescue pup, Artemis. Read our conversation below.
The idea for Argos & Artemis came to me when…
I realized that we're not just dog owners—we're dog parents. It's a lifestyle and dedicated community. These days, we're humanizing our dogs more than ever. I wanted to create a place for humans to gather, digitally and in real life, who share that passion.
The most rewarding part about starting my own company…
Building relationships with fellow dog parents (and aspiring dog parents) around the world, driving important conversations in the pet care community and helping dog parents find the best solutions that fit their lifestyles.
And the most challenging…
Just starting. I mused about Argos & Artemis for an entire year before buckling down and doing it.
The best career advice I've ever received…
Emily Weiss of Glossier told me, "You should always reach out to people. The worst thing that can happen is that they ignore you, and then you can try again in six months."
The people or companies I look to for inspiration…
Michelle Obama for grace under pressure. Dolly Parton for giving back to her community. Zadie Smith for always finding the right words. My first-ever mentor, Bobbi Brown, for taking the risk of being an entrepreneur again after 25 years at the eponymous beauty brand she founded. All four are dog moms.
When I'm not working, you'll find me…
Admiring the pinnacle of the human mind and form by watching Alvin Ailey American Dance Theater performance archives in my sweatpants.
And during the holidays…
Getting muddy in Central Park in New York City or Hampstead Heath in London with my dog, Artemis. She hates the bath that comes afterwards, but we love the cuddles once were warm and dry.
My favorite holiday memory or tradition…
Hongbao — red envelopes that are gifted during the holidays in Chinese culture. They're usually filled with money, but I give one with treats to my dog.
On my wish list this year…
For my friends and family to stay healthy and safe so that someday they can visit the home I've made. A velvet sofa from Portuguese furniture brand Munna that my dog will treat as a second bed. Wallpaper from Flat Vernacular, whose founder, Payton Cosell Turner, did the illustrations for Argos & Artemis' website. A textile sculpture from the artist L.J. Roberts, a member of our Argos & Artemis community who explores queer politics in their work and has two very cute rescue dogs, who like to roll around in the studio. (Art with dog fur included? Priceless!)
My greatest goals for the New Year…
Nurture my relationships with pets and humans alike. Enroll in dance classes again. On the business side: We're launching something new at Argos & Artemis, and we'll be raising a funding round. It's innately terrifying for me to admit this, but I'm #EmbracingAmbition for the New Year.