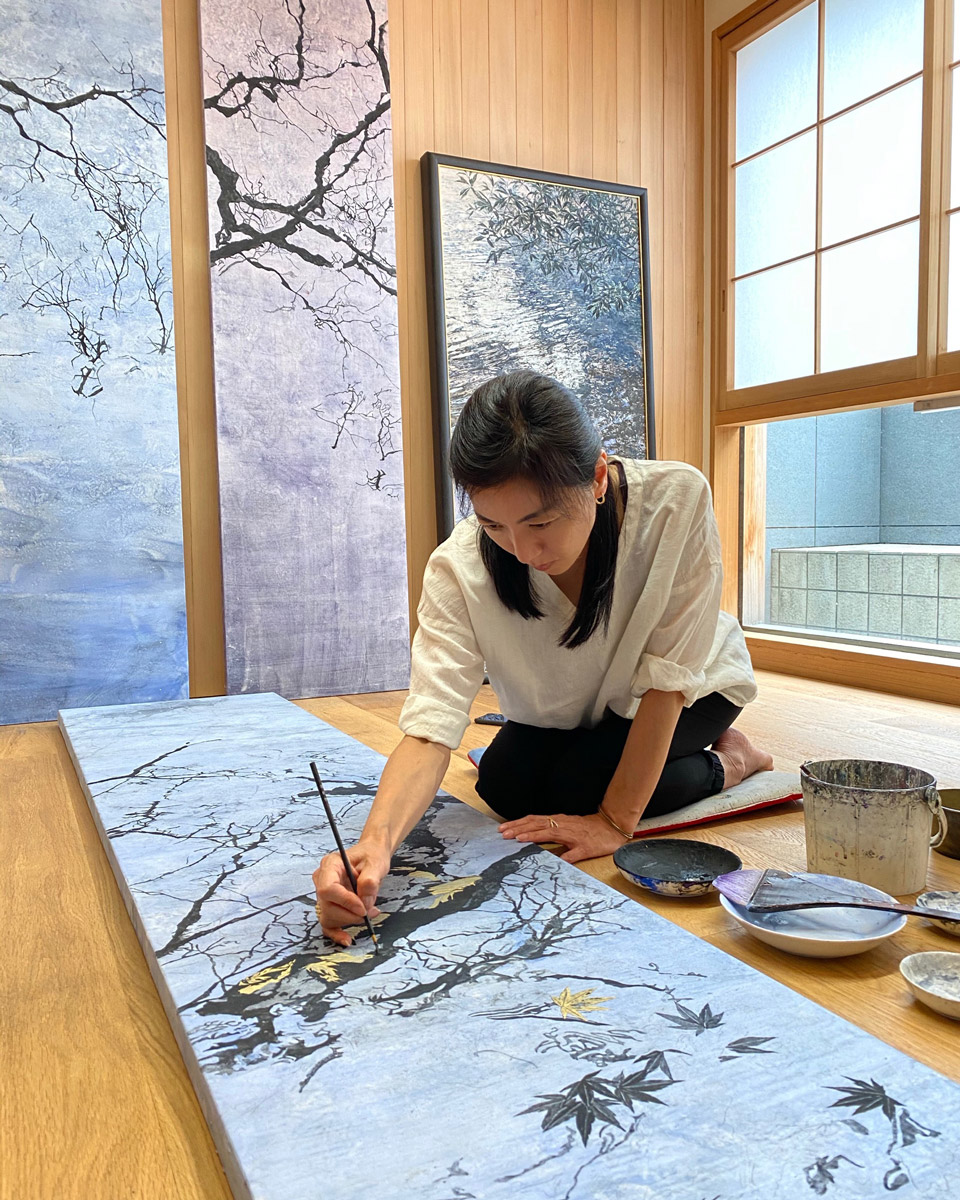 The annual festival DESIGNART Tokyo returns this week — October 23 through November 3 — and Tory Burch is proud to exhibit seven artworks by artist 
Risa Murakami
at its Ginza store location. Below, we learn a bit about the Japanese-style painter.
I knew I had to be an artist when…
My father was a Japanese painter, so I was exposed to art from a young age. My parents also created an environment at home where I could draw freely at any time — they told me that there was always plenty of drawing paper and crayons by my bedside when I would take a nap, and I would fall asleep while drawing.
I draw inspiration from…
The beauty of nature, but especially shadows and the light of plants and trees reflected on water. I go out to look for subjects such as untouched ponds and rivers. The surface of the water changes its expression in an instant, depending on the season, weather and time of day. I always feel that it is like a mirror that reflects my mind as I paint the many faces of the water.
I aim to combine the traditional techniques of Japanese painting with modern interior design.
Hours a day I spend working…
I usually work in my studio for 5 or 6 hours, but, when it comes to the finishing process, I sometimes stay in my studio for 10 or more hours with the help of my family.
When my children were little, I was not able to make time for my work. Now that my youngest daughter is in high school, I am very grateful to have more time to concentrate on it.
And when I'm not working…
We try to spend time together as a family. We try to have meals together and, on a sunny day, we enjoy barbecuing on the balcony. When I am in my studio, they come in freely and talk about their happiness, sadness and futures. I want to support them as much as I can, just as my parents always understood and supported me in what I wanted to do.
To see my artwork hanging in the Tory Burch Ginza store…
I am very honored and thrilled to have this opportunity and I am very excited to create a memorable exhibition that will leave a lasting impression on the audience.
I hear that Tory Burch Ginza store is like a reproduction of Tory's house, so having my artwork displayed there is exactly what I have been aiming for with my artwork — a fusion of Japanese painting and modern interior design.
I embrace ambition by…
There is a great joy in finishing a painting that I have devoted myself to. It is what motivates me to create the next one.
And the person who inspires me to embrace ambition is…
My husband. He has been watching me work since his student days and is my biggest supporter. He helps me look for good landscapes and gives me precise advice when I'm painting or struggling with something. He has inspired me a lot.
デザイン&アートの祭典DESIGNART TOKYOが今年も10月23日から11月3日まで開催されます。
トリー バーチ銀座店では、日本画家の村上里沙氏を迎えて店内に7点の作品を展示いたします。今回は、彼女についていくつかの質問をしてみました。
アーティストになろうと思ったきっかけは?
父が日本画家だったことから小さい頃から芸術に触れる機会に溢れ、自宅ではいつでも自由に絵が描ける様に両親が環境を作ってくれました。お昼寝する時はベッド脇にいつでも沢山の画用紙とクレヨンがあり、いつも描きながら眠っていたそうです。
どんなものからインスピレーションをうけますか?
基本のテーマは自然の美しさで、この10年程は特に水面に映る草木の影と光をテーマに取り組んでおります。手付かずの池や川など、題材を探しに出掛けます。
水面は季節、天候、時間によってその表情をあっという間に変化させます。それはまるで自分の心を映す鏡の様だといつも感じ、その沢山の表情を描いております。
日本画の伝統的な技法も大切にしながら現代的なインテリアとの融合を目指して描いております。
一日に何時間、作品と向き合っていますか?
家のことをしながら普段はアトリエで5、6時間程制作しますが、仕上げの段階になると家族にも協力して貰い、アトリエに10時間以上籠って制作する事もあります。
子供達が幼い頃は中々纏まった時間が作れませんでしたが、末娘が高校生になり、子育ても落ち着いてきましたので、集中出来る時間が持てる事にとても感謝しております。
それ以外の時間はどの様に過ごされていますか?
家族での時間を大切にしております。特に食事はなるべく一緒に摂る様にして、天気の良い日にはベランダでバーベキューする事等が私達の楽しみの一つです。また、私がアトリエにいる時は子供達が自由に入ってきて、嬉しかったこと、悲しかったこと、将来についてなど何でも話します。私の両親が私のやりたいことをいつも理解し、応援してくれた様に、私も三人の子供達の目指す道を出来る限り応援したいと思っております。
トリー バーチ銀座店にご自身の作品を飾ることについて、今のお気持ちを教えてください。
この様な機会を頂けたことは大変に光栄な事で感激しております。観る人々の記憶に残る様な展示にしたい、と胸が一杯です。
トリーバーチ銀座店は創業者のトリーさんの邸宅を再現されているとの事ですので、そこに自分の作品が飾られることは、これまで私が目指してきた正に日本画と現代インテリアの融合であり、こんな幸せはないと感じております。
どのような時に、野望や志を感じますか?
身を削る思いで作品を仕上げた時に大きな喜びがあります。それと同時に次の作品への意欲が湧きます。更に自分が納得できるものを描きたい、その繰り返しでここまで描き続けていると思います。
頑張ろうという気持ちを奮い立たせてくれるような人や、やる気が湧くインスピレーションをくれる人はいますか?
主人です。私の作品を学生時代から見てきて私の一番の理解者であり応援してくれる存在です。良い風景はないかと色々探してくれたり、その場所まで一緒に何度も足を運んでくれたり。また、描いている時、悩んだりした時は的確なアドバイスがあります。主人は私の作品作りに大きく影響していると思います。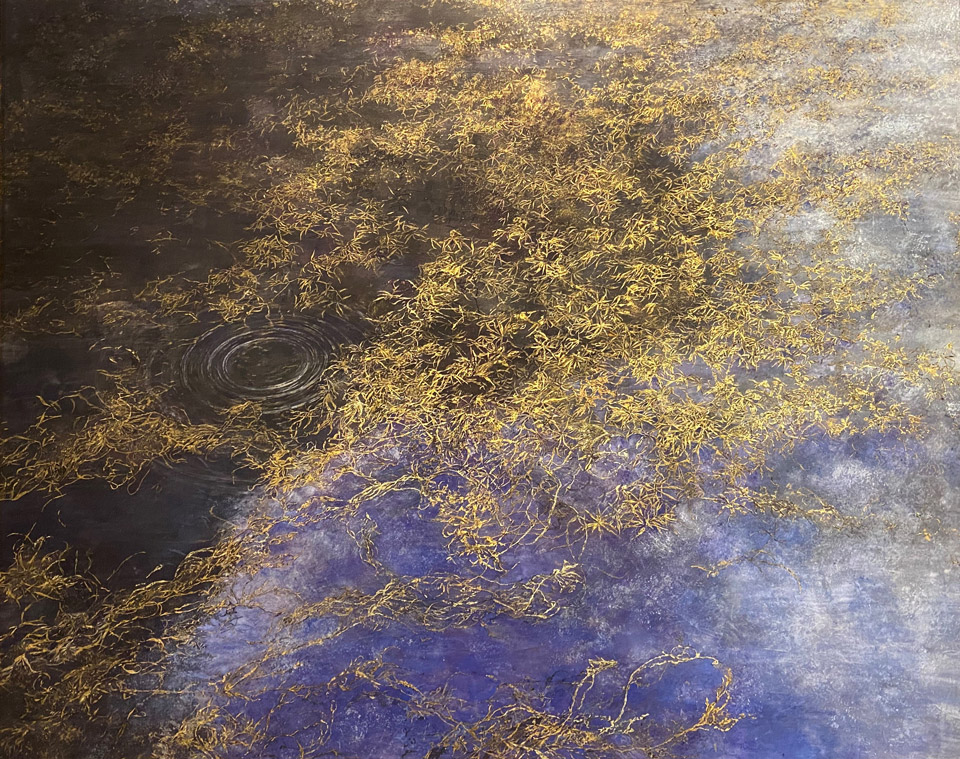 More to explore in
Culture