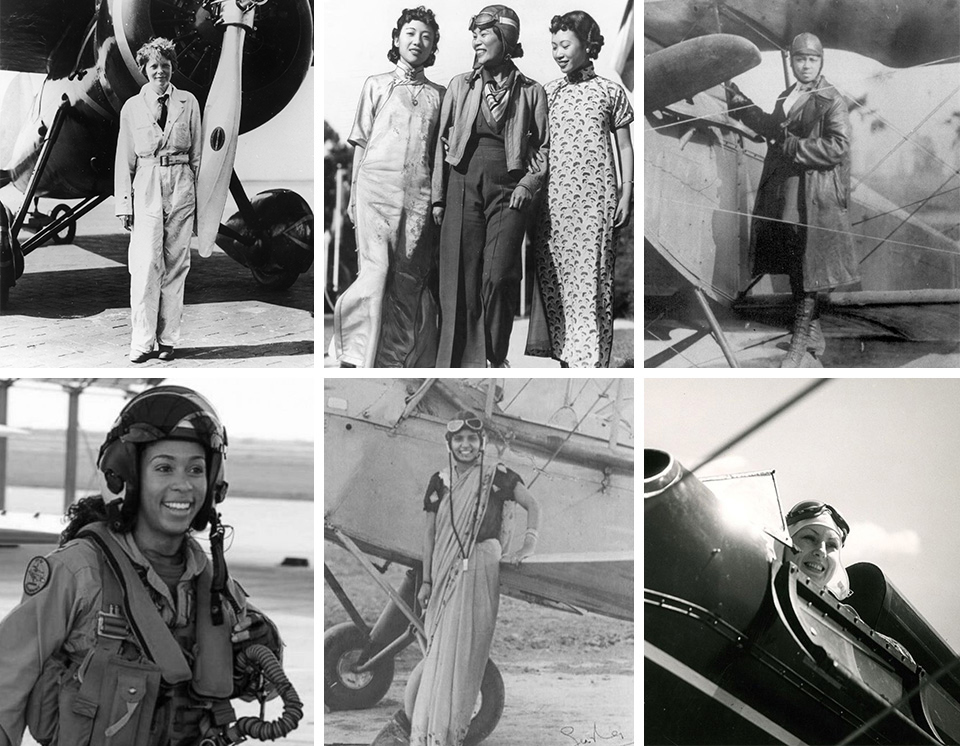 "For Pre-Fall 2020, we looked to the first wave of female aviators who broke boundaries at every turn." — Tory
Amelia Earhart has been immortalized in our collective history for her incredible life as an aviation pioneer. And she's not alone — the list of trailblazing early women aviators is long and mighty. Earhart's best friend, for example, was Jacqueline Cochran, who held more speed, distance and altitude records than any other pilot during her career. In 1943, she founded and was named director of the Women's Airforce Service Pilots, WASP, and was the first woman to break the sound barrier in 1953.
There was also Bessie Coleman who, in 1921, became the first African-American woman pilot. Nicknamed "Brave Bessie," Coleman is remembered for performing bold flying tricks such as loop-the-loops and figure eights. The first Chinese-American woman to earn her pilot license was Katherine Sui Fun Cheung in 1932. Like Coleman, Cheung was known for her daredevil aerial stunts and fierce independence. She married but only under the stipulations that she would not give up flying or her name.
Women were taking flight outside of the United States, as well. Chinese film star Lee Ya-Ching was the first woman to receive her license from Ecole Aero Club de Suisse in Geneva in 1933 and, three years later, was the first to obtain a license from the Chinese government. At just 21 years old, in 1936, Sarla Thakral was the first Indian woman to fly an aircraft — which she did so elegantly wearing a sari.
Most recently, U.S. Naval officer Lt. j.g. Madeline Swegle made history when it was announced that she was to become the military branch's first known Black female tactical jet pilot.
These incredible women just begin to skim the surface of early aviatrixes, who embodied exploration, freedom and adventure at every turn.
More to explore in
Culture