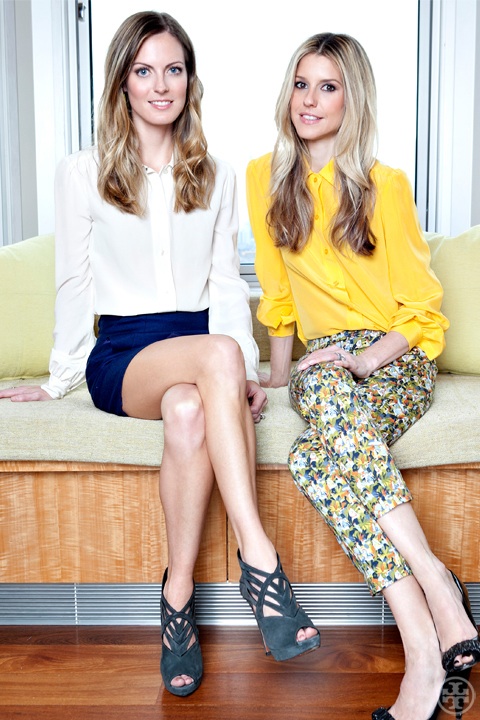 Feyt's founders style Spring 2012's bright colors.
Feyt is inspired by…
Ferebee (left): Recommending things people didn't even know they want yet.
Eleanor (right): Women being able to experience great style without having to go through all the work. Our talent lies in discovering things and putting them together.
Five items I can't live without… (from right)
Ferebee: My old Balenciaga motorcycle jacket, Céline bag, hightop sneakers, Isabel Marant suede and shearling jacket and t-shirts from The Row.
Eleanor: My worn-in 3×1 skinny jeans, Proenza Schouler P.S. 1 bag, Rick Owens leather jacket, Maison Martin Margiela hightops (for chasing after my kids) and YSL snood.
An easy update to your spring wardrobe is… 
Ferebee: Wear florals! Even if you're like me and think you're not girly enough to pull it off.
Eleanor: Don't be afraid to mix prints when wearing structured shapes.
In this photo, I am wearing… 
Ferebee: Tory Burch's Angelique blouse, Hakaan skirt and Alaïa shoes.
Eleanor: The same Tory blouse in yellow, Suno pants and YSL shoes.
Yellow is a favorite this spring because…
Ferebee: It's the happiest color. It looks great next to nude, black, white or orange.
Eleanor: It's fun to wear. It livens up any look and gets you in the mood for sunny days.
My style icons are…
Ferebee: Kate Moss (hey, I was a teenager of the '90s), as well as Françoise Hardy and all those Birkin-Gainsbourg gals.
Eleanor: My Nana (think vintage Lily Pulitzer meets Sophia Loren), Jane Birkin, Edie Sedgwick… and I've gotta go with Kate Moss, as well.
My sign is…
Ferebee: Cancer.
Eleanor: Sagitarius.