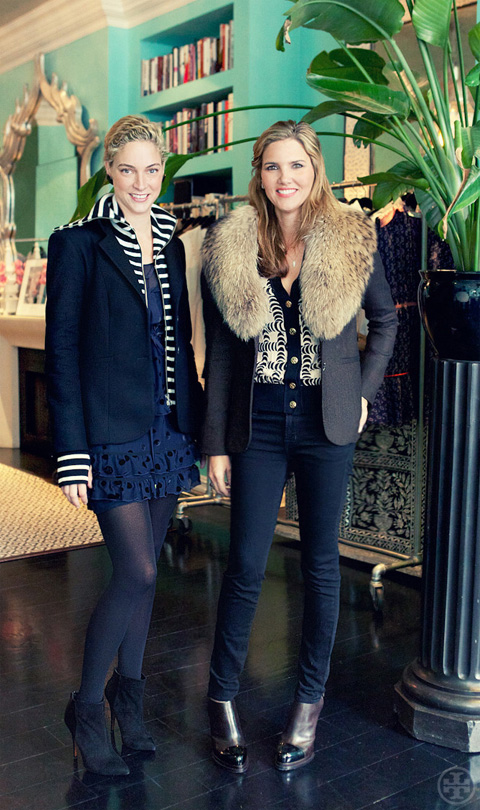 The sisters-in-law share a name and a design passion.
Veronica Beard is…
Veronica S (left): The answer to 'what should I wear?'
Veronica M (right): Living life to the fullest. Being the best mom, sister, daughter, friend—and in constant quest for the effortless chic.
My style mantra is…
Veronica S: A blend of feminine and masculine, somewhere between classic and bohemian…big chunky gold bracelets and clip-on earrings.
Veronica M: Sexy without showing a lot of skin. European but made in the U.S.A.
In this photo I am wearing…
Veronica S: Tory's Myrtle dress and a Veronica Beard jacket with a striped dickey.
Veronica M: Tory's Roxana cardigan with Veronica Beard Twig jacket.
I would wear this look to…
Veronica S: Work, then out at night to a cocktail party and dinner with my husband.
Veronica M: A horse show, the office, out to dinner, to a Broadway show.
I plan on spending the holidays…
Veronica S: In Florida with my husband, kids and parents.
Veronica M: With family at home because that's where Santa knows we are.
My secret for last minute entertaining is…
Veronica S: Flowers and candlelight. Good music and a well-stocked bar.
Veronica M: Make sure you get the wine right. Swanson [Veronica Swanson Beard's family winery] has the best hostess wines that make the evening fun!

The best piece of fashion advice I ever received is…
Veronica S: Take something off—less is more.
Veronica M: Compliments should be complements.
My favorite charity is…
Veronica S: Memorial Sloan Kettering and Baby Buggy.
Veronica M: Baby Buggy.
My sign is…
Veronica S: Cancer.
Veronica M: Cancer. I own it—the good, the bad. I am the daughter, sister and sister-in-law of Cancers.
More to explore in
Holiday