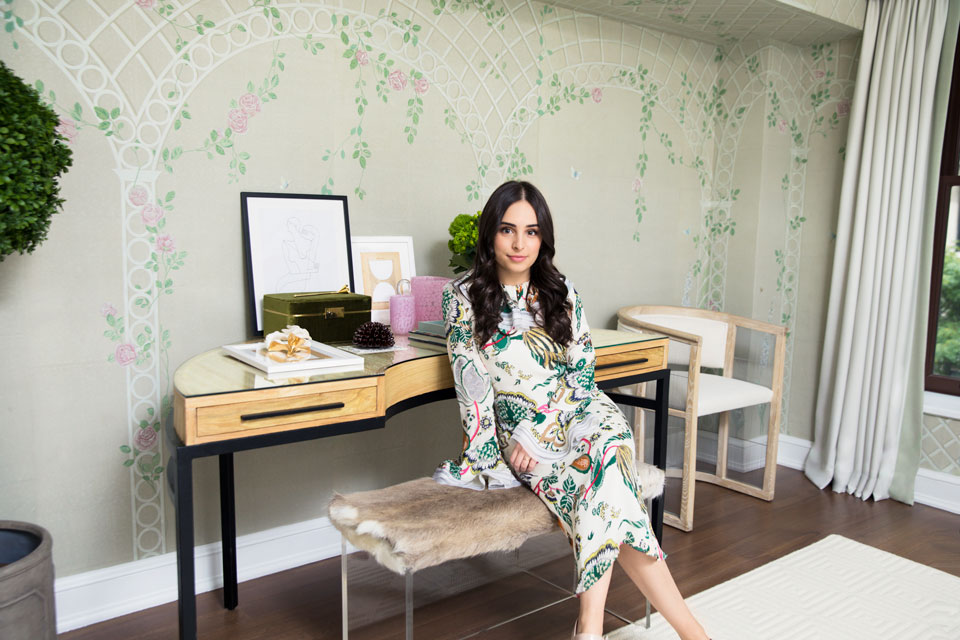 Holiday House — an interior design showroom in New York City benefiting breast cancer research — transforms the historic Academy Mansion on Manhattan's Upper East Side each fall with the help of talented designers from across the country. Here, we chat with interior designer Ariel Okin, who started with the idea of an English rose garden to transform her very own room at this year's Holiday House.
I first started designing when…
I began taking on small projects for friends while working at a day job in public affairs; after the first project or two, I quickly realized I had found my calling. My mother is an interior designer and worked in fashion when I was a child, so I grew up around color, pattern and fabrics my entire life. It wasn't until I started designing on my own that I realized this was a career that I was extremely passionate about.
I am often inspired by…
Designers and icons of eras past; Billy Baldwin, Nancy Lancaster, Mario Buatta, Lee Radziwill, Estée Lauder — I love the way their rooms still hold up in such a classic and sophisticated manner all these years later. I always strive to create a timeless sensibility in my own projects. I also find a lot of inspiration in nature; the way the light hits the leaves on a tree, a color palette found in Central Park…
Holiday House is special to me because…
I recently lost a dear friend of mine, Susannah Levin, to Stage 4 metastatic breast cancer this past summer. Susannah was an indomitable force, and one we lost far too soon at the age of 29. I am proud to be able to honor her fight against breast cancer by participating in Holiday House and raising awareness and funds for the prevention and cure of such a horrible disease that affects so many women we know and love.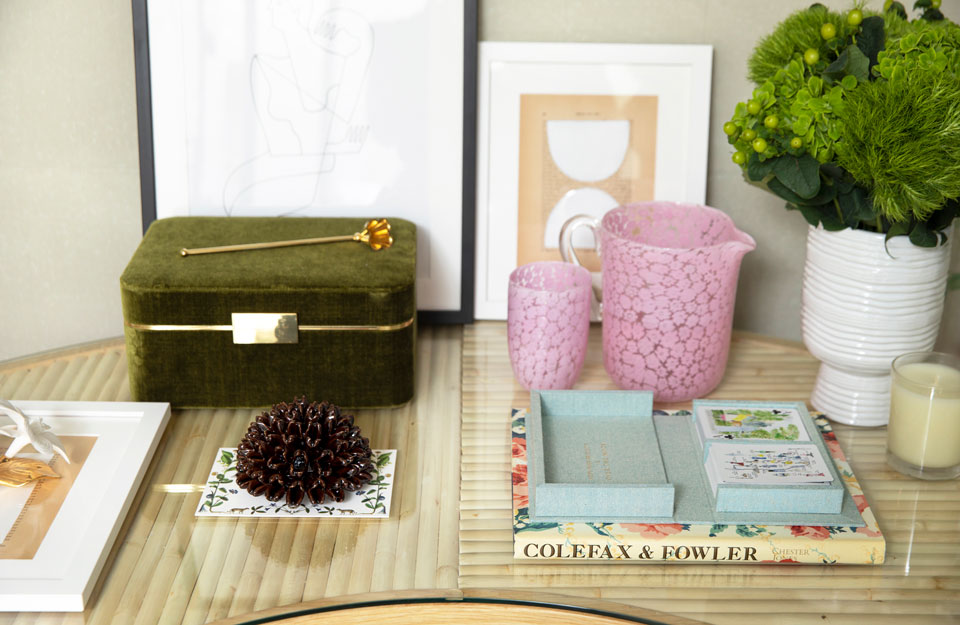 My room was inspired by…
An English rose garden. Working with De Gournay to create this trellised, never before seen pattern for the wallpaper was a dream come true. The contrast between the more modern furniture pieces — like the wrought iron and brass four-poster bed by CB2 and the vintage Royere nightstands — paired with the lilting, lush garden brings to mind the bedroom of a modern royal princess. The idea was to mix old and new, city and country, for a fresh take on classics.
I would describe my style as…
A new take on traditional. I love blending old world elements, like chinoiserie or silk drapery, with more modern elements, like a stark white lacquered wall or a sleek wrought iron light fixture. I find so much beauty in that contrast — it feels fresh yet reverential to me.
A room isn't complete without…
Fresh flowers, a candle burning and great music playing softly in the background. A beautiful dish of candy never hurts, either!
My pro tips to beautiful interiors…
You don't have to spend a fortune to have a space that feels utterly chic and well-edited. Neutrals are always a classic base. Jute and sisal go with everything. And enjoy the process!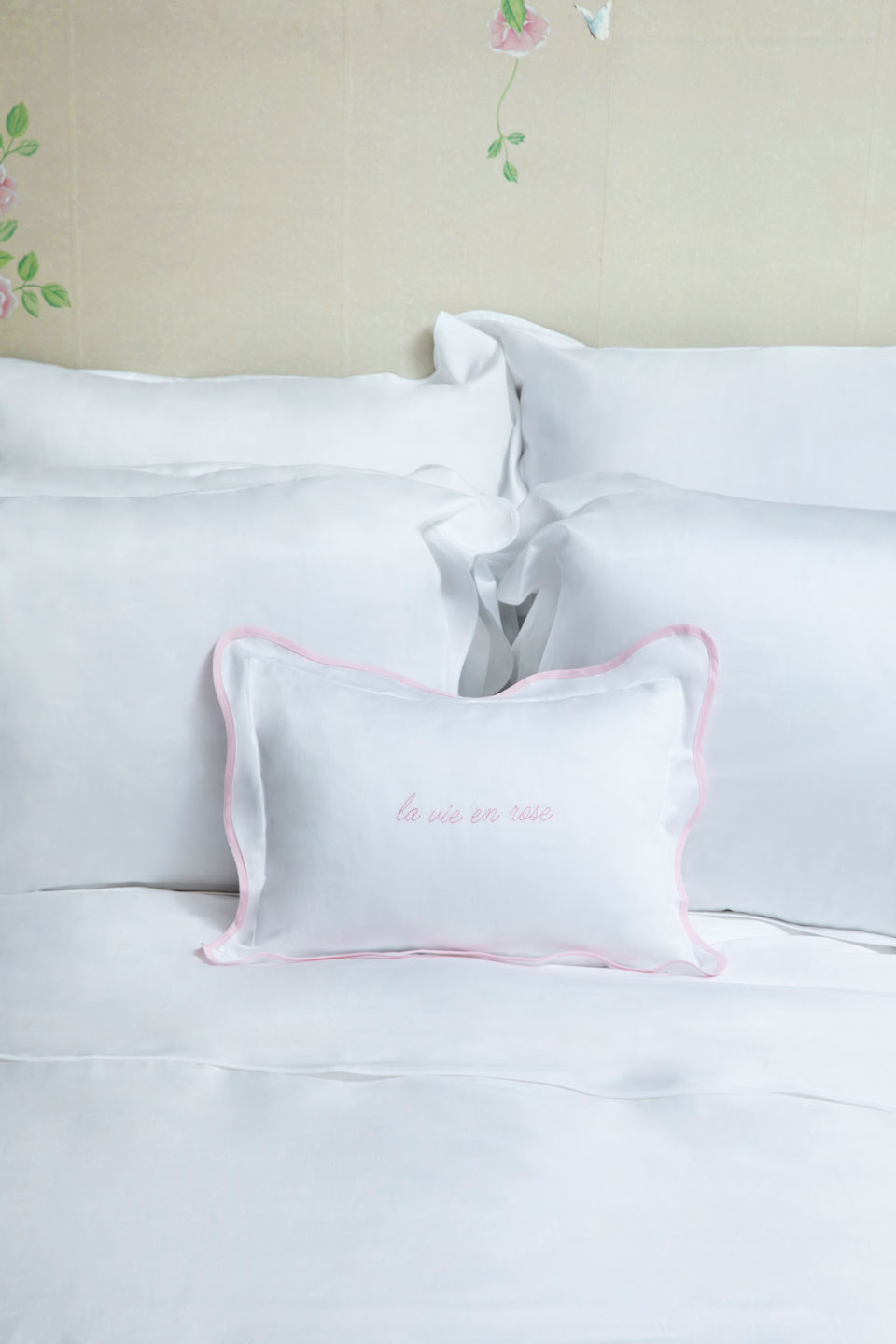 Some of my favorite design books…
Billy Baldwin Decorates, The Big Book of Chic by Miles Redd, Vogue Living: Country, City, Coast, Vogue Living: Houses, Gardens, People, Timeless by Patrick Ahearn, Beautiful by Mark D. Sikes, Carrier & Company: Positively Chic Interiors, The Decoration of Houses by Edith Wharton, and Tory Burch In Color (of course.)
Best piece of career advice ever received…
Two pieces of advice: one, surround yourself with a great team because you can't be everywhere at all times; and two, success isn't instant — it comes from a lot of hard work, late nights, and determination. Also, be nice to everyone!
My favorite color palette is…
Blue and white, with a little green thrown in for good measure.
And I love pink because…
It has personality! Pink is bold, fearless, feminine and fun. Pink is the shocking hue of a 1950's Dior coat and the pale blush of a summer peony. Pink is timeless — and pink represents the pursuit of a cure.
More to explore in
Entertaining