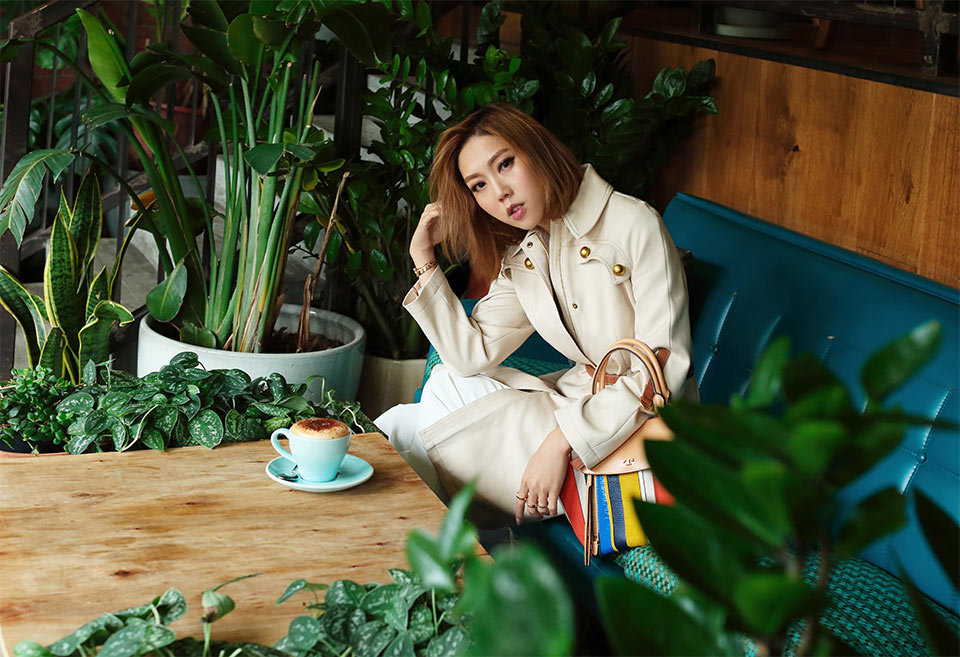 Passionate and self-motivated, Faye Tsui is one hard-working stylist in Hong Kong. See for yourself on her blog Fayevorite and her Instagram @faye_tsui. Here, as Tory Daily turns its lens to the busy city in celebration of our Landmark Alexandra store, Tsui shares her top style tips and opens up about Hong Kong fashion.
My style is…
Very mood driven. You will usually find me dressing down with a boyish touch: a blazer, T-shirt and jeans.
My personal styling trick…
When in doubt, go for monotone.
And when it comes to accessories…
I love to stack bracelets and rings, and balance that with simple necklaces.
My very first fashion obsession…
A timeless tweed jacket.
My pro tip to wearing color and/or pattern…
Just be bold and let the colors and graphics lead you.
One thing you'd be surprised to know about Hong Kong style…
There are diverse styles and personalities — I guess it is very much related to what Hong Kong's geography has to offer. You can be at a trendy world-class cocktail bar in Central and, with just a 20- to 30-minute car ride, be at the beach at Repulse Bay or hiking in Dragon's Back.
The quintessential item every Hong Kong woman has in her closet…
A statement handbag or a fine pair of heels in a neutral shade.
My insider's guide to Hong Kong includes stops at…
Tom Dixon on Hollywood Road for coffee. Woaw for some fun lifestyle goodies. And the Chinese antique stores you'll find along the way.
Faye Tsui(崔乘飛)是香港最勤快努力的形象設計師之一,做事積極投入,從她的部落格Fayevorite及Instagram專頁@faye_tsui可見一斑。隨著Tory Burch Landmark Alexandra 專門店的盛大開幕禮,《Tory Daily》亦聚焦於繁華香港,與Faye Tsui暢談其個人形象秘訣及香港時尚點滴。
我的風格…
視乎心情而定,不過一般都穿得隨意又帶點男子帥氣,例如一件西裝外套配T恤及牛仔褲。
衣著配搭貼士…
如果拿不定主意,最好都是以單色配。
飾物方面…
我愛配戴多條手鏈及戒指,然後配一條簡單的頸鏈。
我第一個時裝情意結…
一件永不過時的Tweed jacket。
我對配搭顏色及/或圖案印花的意見…
不妨大膽一點,相信自己對顏色及圖案的直覺。
分享較為獨特的香港風格…
我覺得香港是一個多變的城市,相信與地理環境有關:這一刻你身處中環一家極時髦的酒吧,不消二三十分鐘車程就可以去到南區淺水灣或者到龍脊徑遠足。
香港女性必備的時尚單品…
一個搶眼的手袋或一對中性顏色的高跟鞋。
香港精品店推介…
我會去荷李活道Tom Dixon專門店喝咖啡,挑選生活時尚精品就去附近的Woaw,沿途所見的古玩店自然不可錯過。