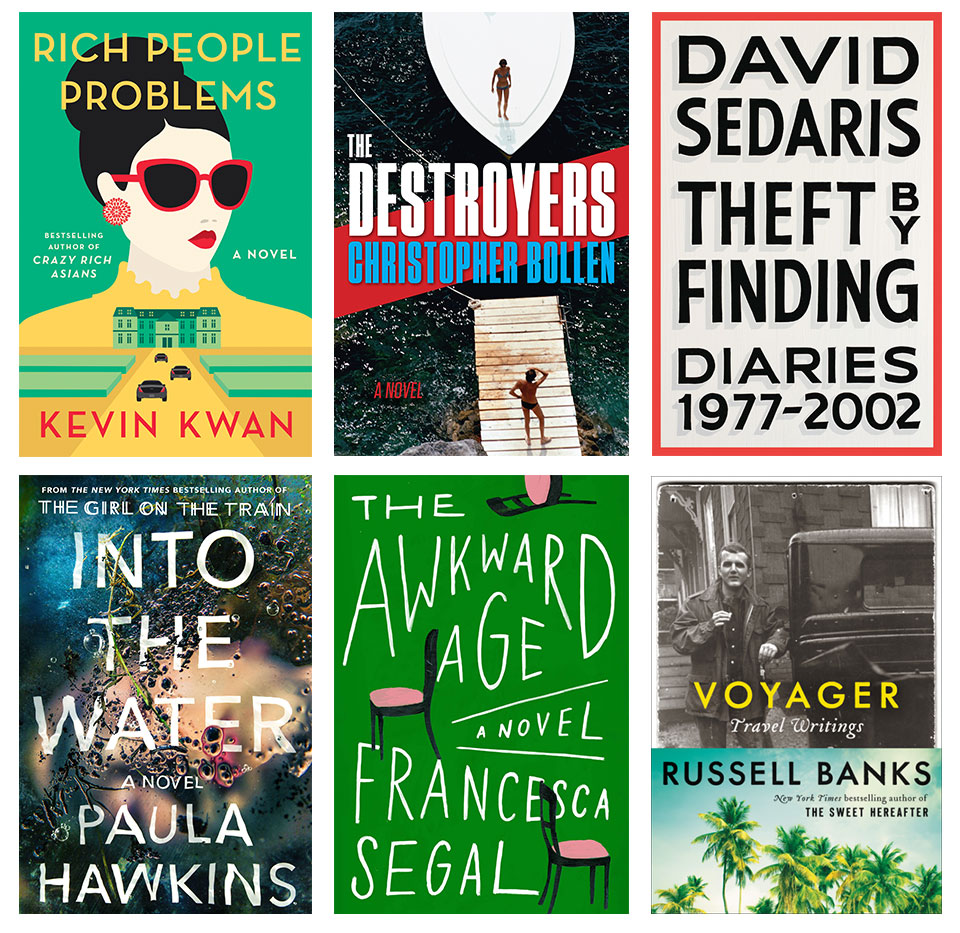 Our recommendations on the season's best reads, from guilty pleasures to the books that have the literary world all abuzz
After the runaway success of 2015's The Girl On The Train — which was made into a film starring Emily Blunt the following year — author Paula Hawkins returns with a new novel squarely in that ominous comfort zone. "Seriously: how is anyone supposed to keep track of all the bodies around here?" observes a police officer of the dead women surfacing in one area of the local river called, appropriately enough, the Drowning Pool. The story centers on two sisters — one is a victim; the other, investigating her murder. But Hawkins spreads out the scope to include 11 narrators (eight more than The Girl On The Train). Which begs the question: Whose voice does the reader trust? Well, that's part of the suspense.
You'll love this book if…
Female-centric psychological thrillers are your Achilles' heel. Your jaw dropped with Gone Girl and you fell off your seat with The Girl on the Train. You know who Laura Palmer is and binge the dead-women-found-in-rivers-in-small-towns-with-small-town-secrets genre.
Ian Bledsoe is on the run. After the death of his father — who has cut him out of his will — Bledsoe is in search of an escape from his New York environs to sooth his wounds, both emotional and financial. He finds refuge on the other side of the world with his childhood friend, Charlie, on the Greek island of Patmos. And it is paradise. Charlie is insanely wealthy — it's a life of yachts and jet-set leisure. "I'm three vodkas in and back at sea, adrift," Ian notes. "I'm also comatose from my sunburn, and the salt on my skin feels as leaden as an X-ray vest in a dental office." But then Charlie disappears and The Destroyers — named after a rather morbid game the friends played as kids — kicks into suspenseful high gear.
You'll love this book if…
You love glamour, sun-soaked destinations and the BP (that's Beautiful People) as much as you do thrillers, dark turns, disappearances and deception. And The Talented Mr. Ripley ranks among your film favorites.
What family is perfect? If you're nodding in agreement at that statement, then dig into Francesca Segal's The Awkward Age, a tale of family dysfunction set in North London. Single mother meets a new love. Daughter disapproves, wanting mom to herself. The beau moves in — with his son. Battle lines are drawn. Then blurred, as the ice thaws between the two teens and they fall in love. (In Segal's prose, it comes across much less cliché.) The book is not so much about this twist as it is about mother-daughter relationships and a rumination on parental sacrifice vs. your own happiness.
You'll love this book if…
That last line resonates deeply with you. You've ever wondered, What if The Brady Bunch was a primetime drama? You loved the 1970's Love Story, starring Ali MacGraw and Ryan O'Neal — it was written by Segal's father.
Follow acclaimed writer and humorist David Sedaris' career in a compilation of his diary entries, from 1977 to 2002. (A second volume covering the later chapters of his life is to come.) It's a take on the rags-to-richs story — except here it's the poor and struggling writer to the prosperous and world-renown writer, and no one has an eye for sharp observations quite like the brilliant Sedaris. "If nothing else, a diary teaches you what you're interested in," he writes in the introduction. "The point is to find out who you are and to be true to that person. Because so often you can't. Won't people turn away if they know the real me? you wonder. The me that hates my own child, that put my perfectly healthy dog to sleep? The me who thinks, deep down, that maybe The Wire was overrated?"
You'll love this book if…
You worship at the altar of David Sedaris. You are a struggling writer who daydreams of being in the The New Yorker while you work as an apple picker to make ends meets. (Yes, Sedaris did just that.) You love IHOP.
Russell Banks found his place in the literary spotlight as a novelist. The Sweet Hereafter (1991) and Affliction (1989) were eventually made into films; Cloudsplitter (1998) and Continental Drift (1985) were both Pulitzer Prize finalists. His latest book, a nonfiction entry, is his most intimate. Voyager is part memoir, part travel journal; given his peripatetic life, there's no extricating one from the other. He zigzags from Cuba to the Andes, Alaska to the Himalayas, all while tracing his relationships and life. "Like a lifelong sailor, I find myself wondering, now that the end of my final voyage is in earshot and sight, how and why I ended up where I have ended up," he writes.
You'll love this book if…
Your passport is stamped with all shapes and colors. Or, if you're landlocked, you like to live vicariously through someone else, seeing the world through his or her eyes…
Kevin Kwan and his clan of obscenely wealthy Singaporeans are back. With Rich People Problems, the author finally closes the trilogy he began with Crazy Rich Asians (2013) and China Rich Girlfriend (2015), which skewer the one percent of the one percent. All the familiar faces appear again — from social climber Kitty Bing to ABC Rachel Chu (A.K.A. American-born Chinese) — because matriarch Shang Su Yi is dying and everyone wants in on the will. It's a soap-opera-worthy formula that Kwan juices up with froth, fashion and fun.
You'll love this book if…
You love over-the-top high-society dramas in the vein of Bonfire of the Vanities or Dynasty. You're eager to learn more about plastic surgery for your pet fish, which one character actually does, getting an "eye lift" for her six-figure endangered Asian arowana. Or you're fans of Michelle Yeoh and Fresh Off the Boat's Constance Wu — both are starring in the upcoming film adaptation of Crazy Rich Asians.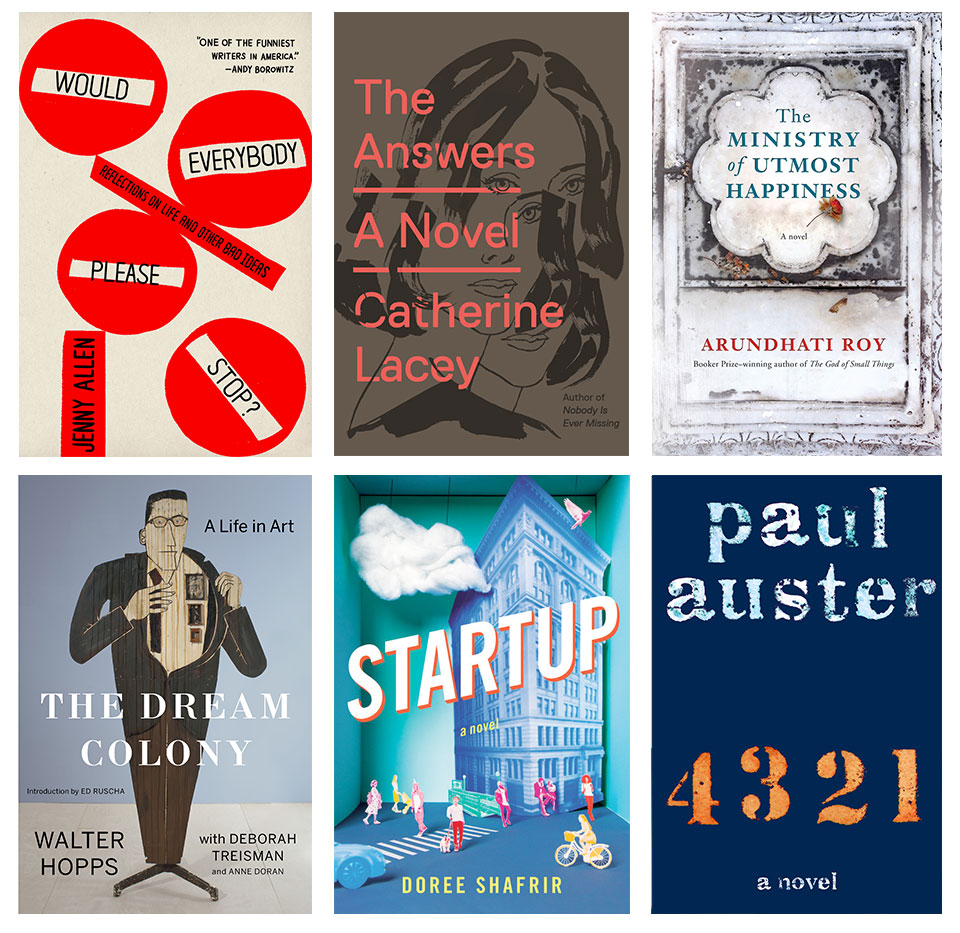 The premise of The Answers is way out there — psychological pseudo-sci-fi out there. Thirty-year-old Mary Parsons is in debt, at a dead-end job and constantly ill, from headaches, back pains, stomachaches, the whole lot. Her doctors are of no use, so she seeks help of the alternative kind and discovers Pneuma Adaptive Kinesthesia: "feng shui for the energetic body, guerrilla warfare against negative vibes." This isn't even where the strange meter rises. To pay for the pricey treatment, Mary answers an ad to participate in the "Girlfriend Experiment," helmed by Kurt Sky. His goal: Uncover the secret to the perfect romantic relationship, with a team of biotech researchers. His method: Divvy up girlfriend functions into separate roles, including a Maternal Girlfriend (groceries, laundry), an Anger Girlfriend (for fights), and so on, all of whom wear sensors giving the researchers constant neurobiological feedback; Mary is the Emotional Girlfriend. The Answers is fascinating, boosted by Lacey's prose and poetic and philosophical meditations on love, biology, intimacy.
You'll love this book if…
You don't have all the answers on love. You embrace New Age. You Goop. You have more than one dating app on your phone.
Arundhati Roy's debut novel The God of Small Things was a blockbuster, garnering rave reviews and nabbing the 1997 Booker Prize for Fiction. So the world has long been excited for her followup — 20 years later, we finally got it. Not that Roy has been resting on her laurels in the interim. She focused on journalism and nonfiction and made a name for herself as an outspoken critic of the Indian government; in 2014, she was named to Time Magazine's 100 list of most influential people in the world. The Ministry of Utmost Happiness delves beautifully, densely and richly into life in India, primarily through the eyes of two protagonists on the periphery of society: Anjum, a transgender woman, and Tilo, an architect who travels to Kashmir to be with her freedom-fighter lover. It's definitely not a breezy read but is so lushly written and vibrant in its epic scope, you easily lose yourself in her world.
You'll love this book if…
You love sweeping, grand tales with myriad interwoven threads. You rally with the outcasts. You love a dose of the political with your summer reads.
Walter Hopps was an art-world mover and shaker, a pioneering curator who had a hand in bringing a number of art stars to the light: Ed Ruscha, Roy Lichtenstein, Frank Stella, Craig Kauffman… He was the first to hold an exhibit dedicated to Pop Art — before the movement had a name — and helped create Houston's acclaimed Menil Collection as its founding director. In 1967, at age 34, The New York Times called him "the most gifted museum man on the West Coast (and, in the field of contemporary art, possibly in the nation"). Published posthumously, The Dream Colony acts as his memoir of sorts — he died before it was done — and is drawn from hundreds of hours of taped conversations. And because Hopps was a maverick, equally known for his eccentricities, the book is as entertaining as it is informative.
You'll love this book if…
You know your Rauschenberg from your Rosenquist. You happily spend your weekends indoors at the local galleries. You hear the word "Corcoran" and think not of Shark Tank but the bygone museum in Washington, D.C.
The debut novel by Doree Shafrif, the BuzzFeed writer and previous editor at Gawker, Rolling Stone and The New York Observer, offers a biting and satirical sendup of tech startup culture. There's Mack McAllister, the founder of a wellness app, who's in a casual relationship with a younger employee, Isabel Taylor. She breaks it off, but an ambitious reporter at a hot tech site learns about it nonetheless — via text, of course, seen on Taylor's unattended phone — which kickstarts the book's drama. Shafrif skewers this New York bubble — VC presentations, new media, Snapchats, Ubers, açaí bowls — with aplomb.
You'll love this book if…
You work in tech. You work at a startup. You work in digital media. You worry about increasing traffic — and not the car kind. You struggle to find your voice in a bro-culture work environment.
4 3 2 1 BY PAUL AUSTER
When esteemed writer Paul Auster was 14, he got caught in a thunderstorm with other boys at summer camp. As they ran to safety, the boy in front of him was hit by lightening and died — it would have been Auster, if not for the difference of a few seconds. That episode goes a long way to explain the premise of his latest novel, the wildly ambitious 4 3 2 1, which centers on a man named Archibald Isaac Ferguson. The book begins with his birth and then divides to follow four different Fergusons leading four different yet parallel lives against the backdrop of mid-20th Century America. One loves sports, for instance; another hates it. Each individual narrative is shaped by chance happenings, the result of that proverbial butterfly flapping its wings. While some points remain the same, like the presence of his soul mate Amy, even here there are shifts: She's a lover in one story, a stepsister in another.
You'll love this book if…
You're a Paul Auster devotee. You have ever wondered how your life would be different if, say, you woke up an hour earlier or made that left turn instead of right. You like your books so hefty they can double as doorstops. (At nearly 900 pages, 4 3 2 1 clocks in at 2.2 pounds.)
Do you ever hear the phrase "Let's discuss offline" and want to shout, your fists shaking in the air, "Don't you just mean 'talk later?!'" Or cringe at the use of "download information" when it's a person-to-person verbal exchange? Then Jenny Allen is your patron saint. In the title essay of Would Everybody Please Stop?, she rallies against linguistic pet peeves: "Would everybody please stop saying iteration?" she writes. "Isn't it just a stuck-up version of 'version'?" Known for her wonderfully witty and incisive writing — in The New Yorker, Esquire, The New York Times, among others — Allen recently released a fantastic compilation of her greatest hits, plus a few new essays. Both heartfelt and hilarious, the book covers a range of topics, from her own bout with ovarian cancer to email ("Every morning, I face my email as if it were a firing squad").
You'll love this book if…
After reading all the books on this list — the thrillers, the fantasies, the heavyweights — you just want to sit down and laugh so hard you have tears in your eyes.
More to explore in
Culture