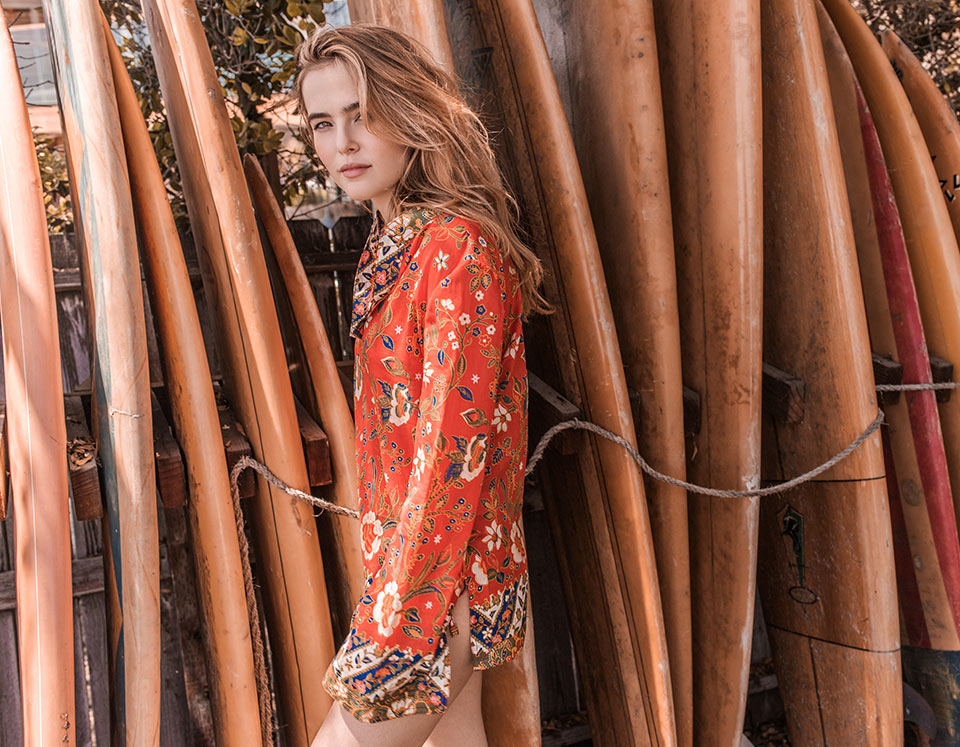 We can't get enough of Zoey Deutch around these parts. Tory Daily last spoke to the actress at the Met Gala (read the interview here) and, now, she's opening up about a more pressing matter at hand: summer plans. Wearing Tory's Stephanie tunic, she talks to us about her warm-weather getaways, beach reads and bohemian icons.
I love a great tunic because…
It's both comfortable and chic (plus I can eat whatever I want in it and not worry). What more could a girl ask for?
My tip to styling a tunic…
I easily ruin fine jewelry when I'm not at a beach or in the ocean, so that trend of pairing delicate pieces with tunics is definitely lost on me. So instead of fine/thin bracelets or necklaces, I like a few big chunky vintage turquoise rings that I got at estate sales. Especially when it's a high quality tunic, I like to add something different to it — mix high with low.
And my tip to make a splash with your summer style…
I am loving big (but thin) silver hoops right now. When I'm feeling lazy or don't know how to make a boring look work, it helps tie things together and make it more fun. P.S. Also, important to note, I'm obsessed with JLO and she's been wearing them for ages, so they must be cool. Right?
My summer getaway…
The beach on the East Coast. I've been going to the same spot every summer of my life since I was born, and have known all of my friends there since we were little kids. It's so special and I cherish that experience and oasis so much. There are no cars, only bikes, boardwalks not roads, and no one wears shoes.
And what I love to do there…
We eat, swim, sleep, repeat (and maybe add some wine in there). There are few things I love more or that make me happier than swimming in the ocean.
Favorite beach read…
So much of my job is reading scripts, majority being fictional writing, which I think is why when I read for hobby/fun, I prefer to read non-fiction. I love Reviving Ophelia, The Sixth Extinction, Men Explain Things To Me. Obviously I sneak in the occasional magazine read (and I guess depending on the publication, it's either fiction or non fiction, or both, lol).
And beach eats…
I do not mess around when it comes to bringing beach snacks. I'm the one in charge to bring a plethora of shenanigans. I like things that take a long time to consume so that I'm not left snackless at the beach (which would be a tragedy, of course). I like goldfish, grapes, pretzels, lime lays, peanuts, more goldfish, giant bottles of sparking water, candy — you know, all the healthy stuff.
My summer playlist includes…
Kendrick Lamar's "DAMN."
My bohemian icon…
Kate Moss. The queen of melding bohemian with glamour and effortlessness.