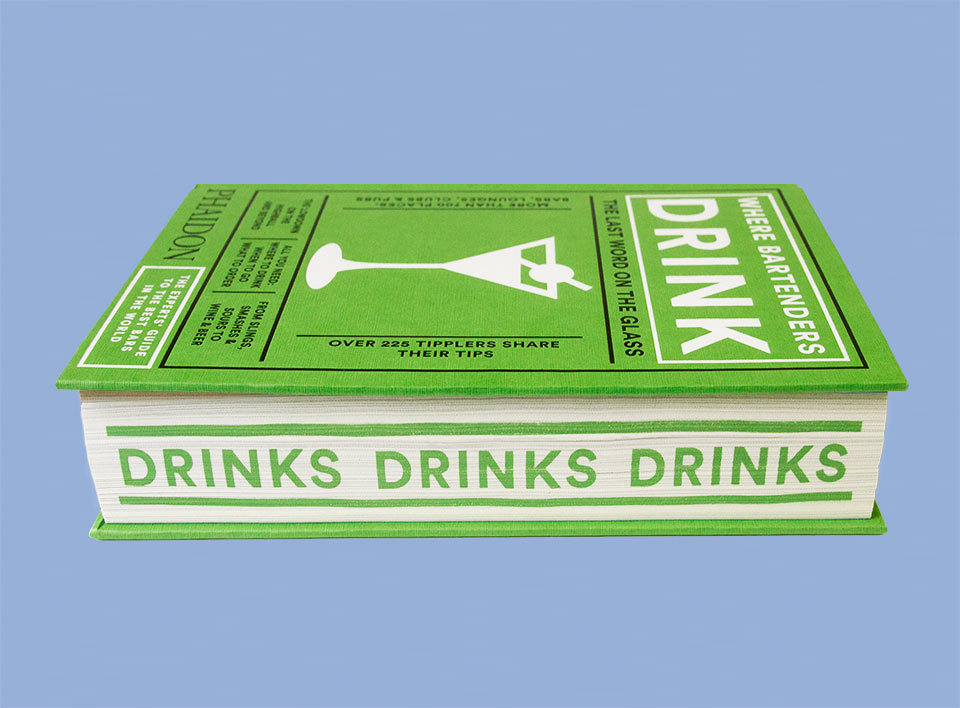 Phaidon's latest book is a cocktail guide like no other. Where Bartenders Drink by Adrienne Stillman offers insider intel on the best places in the world to tuck into a first-rate cocktail — straight from the pros, the mixologists themselves. They share everything from the best late-night destinations (as in late, late, at-the-end-of-a-long-shift late) to the establishments they wished they opened themselves. In the — no pun intended — spirit of Fashion Week, here's a look at some of the top spots to bookmark as you wind your way around New York for the shows and beyond.
Sew Fine
What better place to celebrate NYFW — and the craft, talent and imagination of the fashion industry — than a bar named Seamstress? You can nip into the incredible cocktails, including Baby Jean (aged rum, NeverSink apple brandy, Zucca and creme de cacao) and Spring in My Step (Reyka voda, Pineau des Charentes, Cocchi Rosa, absinthe and snap peas), while surrounded by iron chandeliers, sewing machines and even a small accessories-and-leather good shop by the entrance.
The Original, Remixed
New York's legendary Milk & Honey is credited with sparking the city's cocktail revolution in the early aughts. And while the hot spot is closed, there's a new cocktail sensation in the very same locale — and founded by two longtime Milk & Honey bartenders to boot. Attaboy, at 134 Eldridge Street, is the number sixth most-recommended bar in Where Bartenders Drink, and for good reason. "What Sam Ross and Michael McIlroy were able to pull off with their amazing bar Attaboy is nothing short of amazing," says Joaquin Simo. "They respected the bar they worked at for eight years, but didn't slavishly copy it when it was time for their update. A marvelous reinterpretation of a history bar that nails the current boozy zeitgeist."
Rooms with a View
There's no shortage of watering holes with stellar views in New York. Drink, be merry and soak up the city at panoramic altitudes at Gallow Green on the rooftop of the McKittrick Hotel, the Standard Hotel's penthouse lounge Top of the Standard and Bar SixtyFive at the Rainbow Room (located on a nose-bleed 65th floor).
For Surf…
Oyster enthusiasts can head to Bar Belly, formerly known as Leadbelly, and Maison Premiere. The nautical-themed Montero's Bar & Grill, meanwhile, offers a shot of actual maritime history: "Memories of the longshoremen and sailors who frequented the place prior to and after World War II can still be found and felt throughout," says Richard Boccato.
…And Turf
Calling all carnivores… The Breslin from Michelin-starred chef April Bloomfield, a culinary treasure to meat lovers everywhere, makes the Where Bartenders Drink cut as does the centuries-old Keens Steakhouse. Also on the list: P.J. Clarke's — Nat King Cole once dubbed its bacon cheeseburger "the Cadillac of burgers" — and nearby Hudson Malone, which was founded by the original P.J. Clarke's bartender.
Speakeasy Pickings
If you're searching for an intimate speakeasy escape, head to The Raines Law Room. Named after an 1896 New York state law that prohibited the sale of alcoholic drinks on Sundays, the bar taps into the decor not to mention mystery of the era — to enter, you have to walk down a flight of stairs and push a buzzer on an unmarked door. Then there's the New York classic, 21 Club, an actual speakeasy from the city's Prohibition Era. "If you make friends with the bartender," advises Kyle Ford, "you may even get a tour of their famed wine cellar, hidden behind a brick wall and two-ton door in the basement. Where else can you tour the remnants of Prohibition's past?"
Let's Do the Time Warp Again
Dial it back to the laid-back environs of mid-century Florida and California at The Happiest Hour, complete with of-the-era tunes and palm tree wallpaper. The cocktail list is equally R&R breezy: Pineapple Express, Young Grasshopper, Fall from the Tree… Jump back another decade at Slowly Shirley, which evokes all the glamour of 1940s Hollywood, with drinks like the Ingrid Bergman and North by Nothwest. Or you can flip back and forth between the eras all night long; Slowly Shirley is located in the basement of The Happiest Hour.
Dive Right In
Dive bars are the unsung heroes of drinking joints — and a mixologist's oft-preferred recreational stomping grounds. As one told author Adrienne Stillman, "You know your book is going to be all dive bars, right? Because that's where bartenders drink." In New York, favorites include East Village staple Lucy's — run by a Polish babushka named Lucy — and Bushwick Country Club in Brooklyn, which, contrary to the name, reads more dive hole than tony country club. Although there is a mini golf course in the back… with a windmill made of Pabst Blue Ribbon boxes.
Explore more features from Fashion Week Issues, past and present.
More to explore in
Entertaining