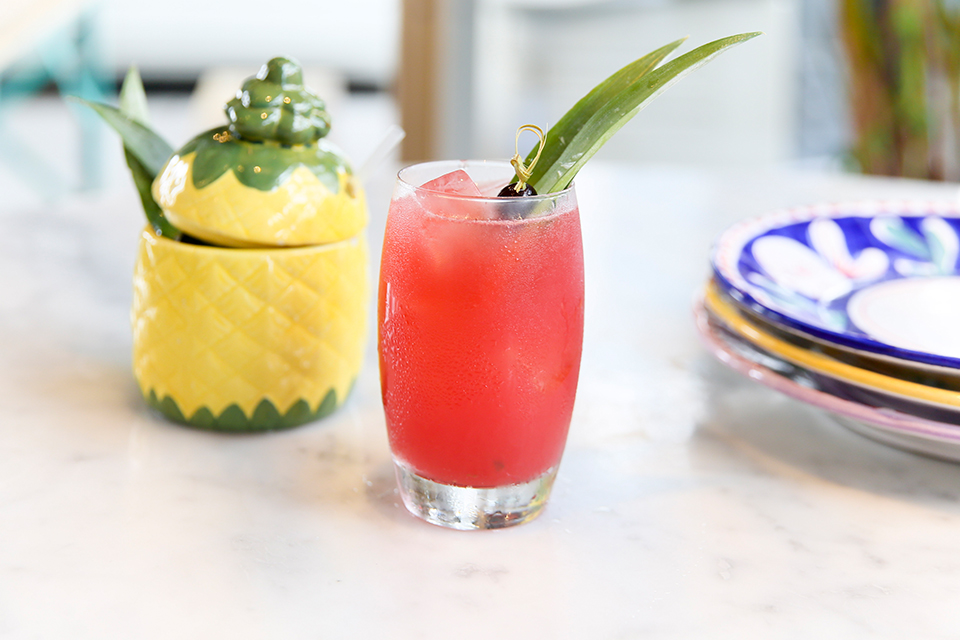 If you're searching for the ultimate cocktail to cap off a week of summery runway shows, look no further than
Santina
, perched a stone's throw away from the site of Tory's upcoming Spring/Summer 2017 show,
The Whitney Museum
, in Manhattan's Meatpacking District.
Housed in a glass structure designed by starchitect Renzo Piano (a natural extension of his museum design next door) underneath the lush High Line park, a breezy — and slightly boozy — lunch at the restaurant is nothing if not transporting. Peer through a canopy of orange-striped umbrellas to a slew of al fresco tables set with vibrant, hand-painted ceramics imported from coastal Italy and, if you squint your eyes, you could almost be in Positano. For a taste of la bella vita, whip up one of the bar's signature cocktails, like the Manganelli Punch, served with a flourish in a pineapple-shaped vessel, left, or the equally exotic Salerno Sling.
MANGANELLI PUNCH
Ingredients
1 1/2 oz tequila
1/2 oz pineapple juice
1/2 oz banana liqueur
1/2 oz lime juice
1/4 oz cinnamon bark syrup
Directions
Start by building up the ingredients in a shaker: Measure out the tequila, banana liqueur, lime juice, pineapple juice and cinnamon syrup. Fill the shaker with ice and shake vigorously until the mix is well-blended.
Find a fun tiki-style ceramic mug — we love Santina's pineapple version; a similar one can be found here — and fill with fresh cubed ice.
Strain the cocktail mix over the mug. Finish it off with grated cinnamon, and garnish with two pineapple leaves.
SALERNO SLING
Ingredients
1 1/2 oz Plymouth gin
1 oz bitter cordial
1/2 oz Luxardo cherry liqueur
1/4 oz Cointreau
1/4 oz blood orange juice
1/4 oz lemon juice
Soda
Directions
In a cocktail shaker, combine the blood orange juice, lemon juice, gin, Cointreau, Luxardo, bitters, and plenty of ice. Shake vigorously.
Pour the mix over cubed ice in a Collins glass, top with soda and stir. Garnish with two perfect pineapple leaves and a cherry.
More to explore in
Entertaining