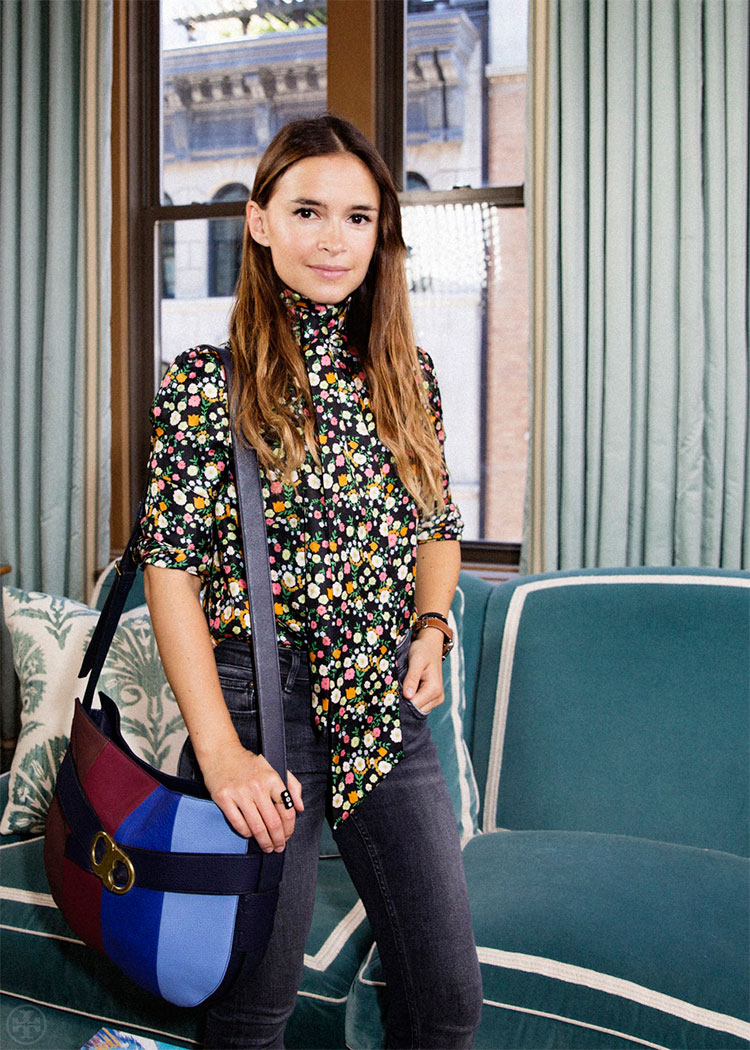 In the pantheon of street-style icons, Miroslava Duma is up there. She's long been a favorite of photographers for her impeccable style and her way with colors and prints. But there's more to the Russian native; she's a journalist and an experienced entrepreneur, having launched Buro 24/7, which, in five short years, has become an impressive online destination with a global reach. We talk to Duma — here wearing Tory's Azra bow blouse and Gemini Link shoulder bag — about her start in the industry and how she does it all. Plus, for would-be entrepreneurs, she offers plenty of wise words.
My backstory…
I started as a Special Projects editor at
Harper's Bazaar Russia
, and then moved into freelance writing for different publications including Russian versions of
Vogue
,
Tatler
,
Glamour
and
Forbes Women
. In 2011 I saw the gap in the market for a lifestyle online platform featuring the latest news and trends and thus the idea for
Buro 24/7
was born. I've always believed that the future of business and media lies in digital, and it's also where my passion is.
First fashion memory…
I always loved fashion, even from a young age. One of my first fashion memories is my mom's Chanel 2.55 bag that I got from her recently and it's my own vintage thing. This bag is more than 25 years old.
Favorite interview I've done…
In 2015 I facilitated a panel with Jack Ma, founder and executive chairman of Ali Baba, at the St. Petersburg International Economic Forum, in front of hundreds of people. It's Russia's most important and largest economic event, hosted by our president, Mr. Putin. Having an opportunity to discuss the future of commerce and trade with such an incredibly successful entrepreneur was priceless.
The most exciting part about owning your own business…
Following your passion. If you do what you truly love, work doesn't feel like work at all. There is nothing more satisfying than knowing that many people around the world enjoy the product you create.
And the most challenging…
When you run your own business it seems that you belong to yourself, that you can control your own schedule. But, in fact, it is never so, because you have enormous responsibility to other people. In the end, you end up working one billion times more than if you work for someone else.
One thing I wish I knew when starting out…
That the initial idea is important, but execution is everything. I always say that idea is 10 percent, while execution is 90. Before Facebook, for example, there were many "Facebooks", like Myspace, SmallWorld, but they haven't ended up anywhere; only Facebook, thanks to its founder and his vision, became a success. There is a real benefit to understanding the process end to end, but at the end of the day you can't control everything. This is why the crucial element is to have a team of professionals, who perform at the highest level and put the plan into reality.
As an entrepreneur, never be afraid to…
Take on the risk. Running your own business is hard, but with risk comes the reward. The better you learn how to manage the risk, the easier it will be to navigate in the business world.
Best career advice received…
The best advice I got was from my father. He said: "Work hard and be nice to people".
One quick tip to the would-be entrepreneur…
If you want to be successful at any job then "work hard" is the best advice anyone can give you. There is a book, Outliers, written by Malcolm Gladwell, where he suggests that to become really good at something you should practice it for 10,000 hours, like The Beatles or Bill Gates did. So regardless of what career path you choose, at the beginning be prepared to work harder and longer hours than everyone around you. It will pay off.
The key to balancing work and family…
Balancing work and family requires some careful planning and determining priorities. There is a saying in Russian: the more you do, the more you manage. I have five top priorities a year, and if something comes to me, a proposal or an invitation, I always look at it from this perspective: Will this idea or this project help me in any of my top-five priorities? If the answer is "yes," I do it; if it's "no," I don't.
Family is still the most important thing in my life, so I try to spend my every free minute with them. I usually finish meetings on time to be with my husband and children at home in the evening. My kids are still very small: my son is five and a half and my daughter is 17 months, so I don't really get enough sleep. If I travel I can take two red-eye flights within 24 hours to make it back home to my kids. I'm spending as much quality time with them as I can, so I'm switching off my phone for one or two hours when I'm with them. While I'm young, I'm going to use the resources of my body to give my kids as much attention as possible.
And the key to balancing the creative and business sides of fashion…
Business and creativity are the two pillars of modern fashion because the product you create has to be both unique and sellable. In order to succeed, one needs to understand how both areas are functioning. But most importantly, you need to love what you do and to divide attention equally between the routine tasks and the creative work.
Left brain vs. right brain…
I am definitely a right-brained person. Since school days I've always enjoyed literature and history more than mathematics or physics.