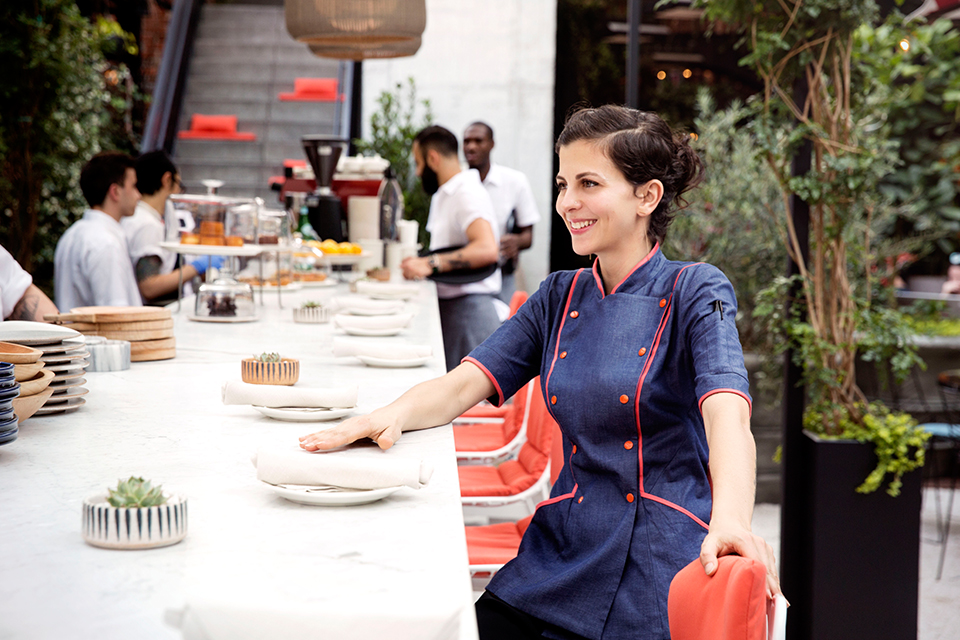 Chef Nina Clemente grew up on a steady diet of high art and high fashion. Through her parents, artist Francesco and costume designer Alba Clemente, she was exposed to both worlds in her family's native Italy, the art scenes in New York and Los Angeles, and a few other inspirational destinations in between. Lauren Hutton is her godmother; Keith Haring, a childhood pal (guess who Haring is referring to in Nina's Book of Little Things?). Choosing cooking as her medium, Clemente has made a name for herself by approaching food with the same curiosity and excitement about presentation and, in this case, flavor, as would any other artist. Originally at the Standard Hotel in West Hollywood, she's moved to its New York spot — just in time for summer.
The first thing I do when I enter my home kitchen is…
Kick up my feet and let my husband Wayne and daughter Indigo cook me a delicious meal.
My kitchen motto is…
Indulge in moderation.
I knew I wanted to be a chef when…
I grew up picking wild arugula and tomatoes from my mom's garden in Amalfi and would watch her effortlessly produce perfect meals with the produce, cigarette in her right hand and wooden spoon in her left.
Favorite dish to cook at home when it's just the family…
Simple spaghetti al pomodoro with lots of fresh basil and a wild arugula, fennel, red onion salad with lemon extra-virgin olive oil and salt.
Favorite thing to eat as a child…
Green mango sprinkled with salt, up a tree when I lived in India.
I never get tired of eating this classic New York…
Pizza by the slice.
Favorite dish by another chef or cook…
Anything by Travis Lett from Gjelina, GTA and Gjusta. His dishes are always perfectly balanced and beautiful.
My ideal summer dinner includes…
Icy cool gazpacho, vitello tonnato and some simply grilled zucchini with mint and lemon. Anything to stay cool on hot New York City days.
And the cocktail or drink to serve with it is…
Amaro amore (Amaro Montenegro, strawberry, Aperol, Averna, lemon, seltzer).
Best advice I ever received in the kitchen…
"The food on the plate should look like it fell from a tree or grew from the plate." — Nancy Silverton
If I weren't a chef, I would be…
A photographer who travels the world with my daughter and hubby in tow.
More to explore in
Entertaining