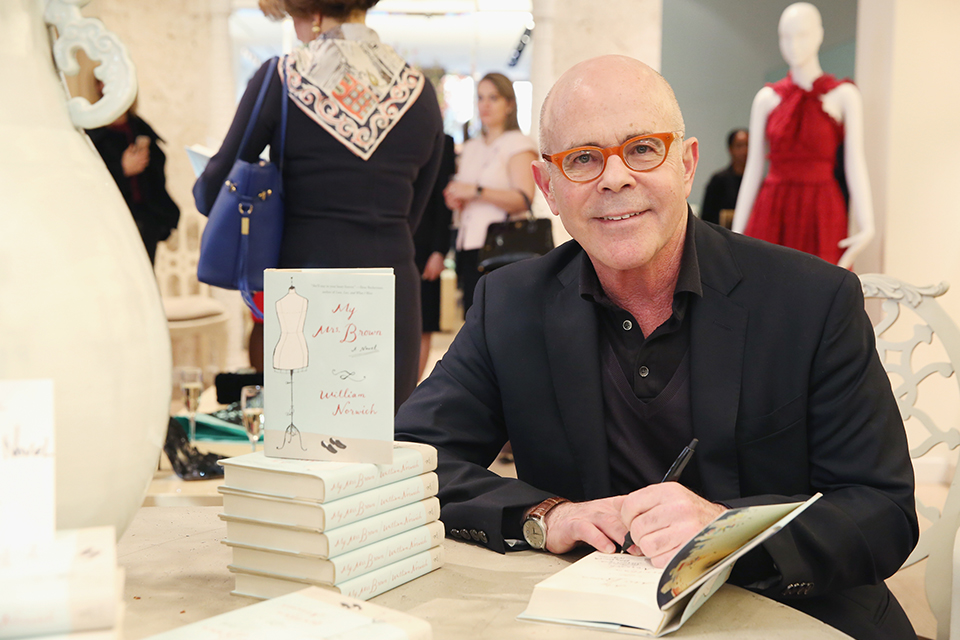 As a front-row fixture, Phaidon editor and journalist, William Norwich has chronicled the fashion world for more than 20 years. His profiles and critiques have appeared in the pages of The New York Times, Vogue, W and Town & Country, among others. As a result, if there's anything he innately understands, it's the true importance of finding the perfect dress. In his new novel, My Mrs. Brown (Simon and Schuster), he chronicles this seminal quest, not from the eyes of a fashionista or celebrity, but from the perspective of a modest woman in a quiet Rhode Island town, who opens up a closet and uncovers an Oscar de la Renta suit that she absolutely must own. The path that she travels over the course of this search leads her into a world she is not a part of and reveals some unexpected secrets about a woman whose life seems, to an outsider, to be very simple and straightforward. Here, we speak to the author.
The inspiration behind My Mrs. Brown…
Way back in 2007 while browsing in a used book shop I found a short novel called Mrs. 'Arris Goes to Paris, written by Paul Gallico and published in 1958. I read it that weekend, a rainy Saturday, and loved it. It tells the story of a London charwoman who while cleaning at one of her clients' apartments sees a Christian Dior couture dress and it is an explosion of exquisite color. After all the deprivations and darkness of London during World War II, this bounty of fabric and color absolutely mesmerizes Mrs. 'Arris. Despite all the reasons she couldn't, nor shouldn't, she vows that somehow, someway, she'll have just such a dress in her closet. It's a wonderful story about empowerment. I couldn't stop asking myself if Mrs 'Arris were real, and if she were alive today, and living in the United States, what would that dress be? I didn't think it would be a red-carpet number, some Cinderella fantasy. It would be a perfect, well-tailored suit. No bells and no whistles. Purposeful and dutiful, and how she gets it, and ultimately where she wears it, would be the surprise of the book. The idea for Mrs. Brown began there. Pretty much as soon as I started writing, Mrs. Brown came through, her life, her voice, her joy and her sadness. I know it sounds corny to say, but I felt like I was channeling, not writing.
My writing process…
I don't get to write every day because I'm blessed to have a day job! So I plan my writing sessions as one might a very important date. For instance, since 2007 when I started writing Mrs. Brown" target="_blank">Mrs. Brown, I haven't taken a travel vacation. All my days off have been planned around having writing time, at home, and of course weekends throughout the year. On writing days, I won't make dinner plans, or any plans, after doing errands or getting some exercise in the morning. Then, once I get started, I can write for as long as I want, or as long as I can hold up before I'm exhausted. One of the tricks I learned is never to stop writing at the end of a chapter, but always leave it hanging so I can pick up where I left off.
And the authors who have influenced my writing style the most…
When I first started writing, age nine actually, I was then and all through my teen and college years very wordy, and very emotional. So wordy that even I, the author of this prose, or poetry, or journal entry, didn't like the writing and I'd get quite lost. Not a good sign! I've been practicing brevity for lo these many years since. The masters of short sentences with strong verbs influenced me the most. These include Joan Didion, William Maxwell, Alan Bennett, Henry Green, Elizabeth Bishop, and Sybille Bedford. I've written a lot of non-fiction and journalism, too. And my inspirations include Nora Ephron, Fran Lebowitz, and the late The New York Times writer Charlotte Curtis.
Fashion is important because…
To paraphrase something the late British costume historian James Laver once said, "fashion, clothing, is inevitable. It is the furniture of the mind made visible." How you dress is also what you are thinking, but it's what you wear that's seen first when you enter the room. Another reason clothing is important is it is an intervention. That's what clothing is in this novel I've written, My Mrs. Brown. Dressing is one of the actions one can take to help remedy a situation, a loss or disappointment. "Feeling blue, wear red," as the fashion designer Pauline Trigere once famously said.
If the runway is relevant to women in small towns, like Asheville, Rhode Island (where the book takes place)…
Absolutely, yes. All women appreciate beautiful clothes as they enjoy all the other aspects of gracious living, whether it's listening to music, going to a museum, cooking something delicious… Even if you can't afford the clothes, why not look at the pictures in Vogue, or Elle, or Harper's Bazaar? Rich or not rich yet, isn't it the enlightened way to be able to look with appreciation and not feel the need to possess? This reminds me of an afternoon a long time ago when the Vogue icon Andre Leon Talley and I were at the Staley-Wise photography gallery in New York. On view was one of, if not the, photograph I love most in the world. It's by Herb Ritts, a picture of Vladimir, one of Herb's favorite subjects. I don't know why I love it so much. It's a man smoking a cigarette, and I don't smoke and certainly don't approve of the habit. Anyway, I told Andre how much I loved the photograph and hoped someday that I'd be able to afford to buy it.
"Why do you need to own it?" Andre asked. "Get the postcard. Put that in a frame, and enjoy that."
And I did. And I do.
Books on my nightstand…
Besides a couple of books that are research for my next novel, enough said, in case I need to laugh at the end of the day, right now there's The Philosophy of Andy Warhol (From A to Be and Back Again) and there's Nancy Mitford's Don't Tell Alfred. I also love reading memoirs, they're kind of like bedtime stories at night, and right now I'm bouncing between David Hare's memoir The Blue Touch Paper and Patti Smith's M Train. I also like mysteries and food books and Recipes for Love and Murder by Sally Andrew is both and very delicious although last night it sent me into the kitchen for a last lap of nibbling before bedtime — not good. And last but not least, there's A Manual for Cleaning Women the selected stories written by Lucia Berlin. This is exquisite writing.
Closet I dream of exploring… 
How about access to the closets of some of the more challenging, dubious newsmakers in the world today? Into any or all of following closets: Kim Jong-un, Bashar al-Assad, Martin Shkreli, to name a few and emerge with stories to write for a proper news outlet, The New York Times, the Wall Street Journal. If James Laver, mentioned earlier, is correct about clothing, and I am confident that he is, then the "furniture" of the minds of these people would be very interesting to take inventory. 
Women whose style inspires me…
Oh, this is difficult because there are so many women whose style inspires me, and for different reasons. I don't think that there's one formula for style. If there is, then it is this: Whatever you wear, wear it well. Meaning, that you wear your clothes, your clothes don't wear you. You've got to be comfortable in them. If you wear high heels, be able to not just walk but glide in them. If you wear a long dress, be able to manage the length as easily as you would if you wearing jeans. I hope it doesn't sound too kiss-up here, but I love how Tory Burch dresses. She wears the clothes she designs, and also the clothes by others whose work she loves and respect. It's all about the mix. And this comfort level to not be a walking advertisement for her label only communicates great appreciation. Not only delight in dressing well, but enjoying an intellectual curiosity, a desire to know and to learn and experience new things across the board. My best-dressed list also includes: Carolina Herrera for always looking so crisp. Anna Wintour for celebrating color and pattern. Queen Elizabeth II for never having made a fashion faux pas in 90 years. Lady Gaga is really hitting her style stride these days focusing more on constructed, geometric clothing and solid colors, instead of camp and glitter, although camp and glitter are certainly fun. Samantha Boardman, MD, is amazing. Here's someone who hasn't succumbed to stereotypes about her work and what one can, or cannot, wear if one is… professional. Away from the hospital, out of her office, especially for evening, her style brings Raquel Welch vivacity to Audrey Hepburn perfection. My list goes on. Stevie Nicks because, well, she's Stevie Nicks. I get a kick out of everything Taraji P. Henson wears as Cookie Lyon on Empire because it's pure high fashion hyperbole. Another way for assessing style, especially a celebrity's, is how do they look when they are "off-duty?" Can they get themselves out of the house without a team of experts to dress them? Beyoncé, the model Lily Aldridge, the deejay Marjorie Gubelmann, the author Donna Tartt, Rihanna, Rooney Mara, and Naomi Campbell are some women I've seen off-duty lately who looked great in an effortless way, each with their own pizazz.