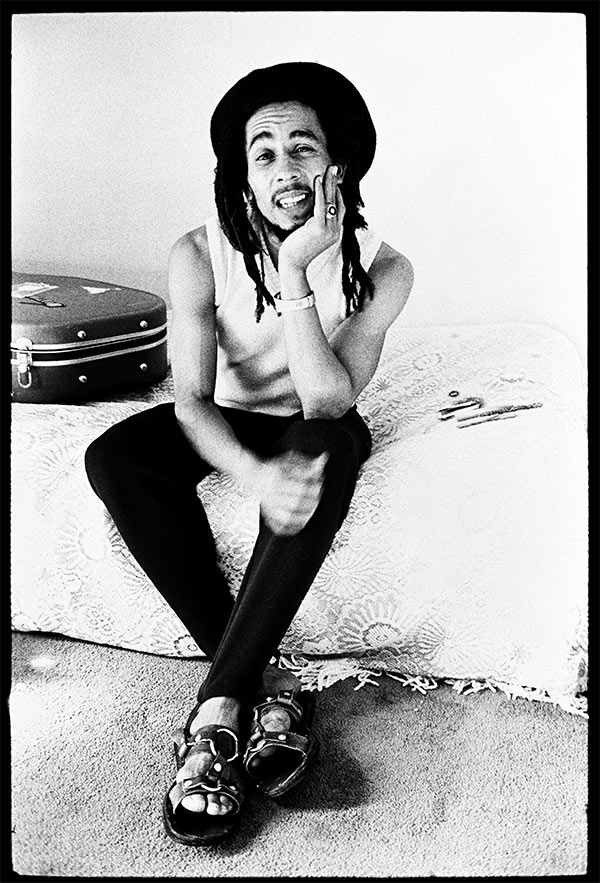 They're bohemian. They're unconventional. They're humanitarian. That's how astrology expert Susie Cox, in her book Susie's Sun Signs, describes Aquarians. But she could very well be describing one Robert Nesta Marley, a.k.a. Bob Marley, born on February 6th. Because what is this reggae legend if not bohemian, unconventional and humanitarian?
"The ultimate Aquarian contribution is your love of humanitarian causes," Cox writes. "Your sign knows that if many gather together with one purpose in mind, change will occur."
That single statement defines the social unity Marley preached throughout his too-brief life. There's no separating his music from his spirituality and Rastafarian beliefs. Remember his lyrics to One Love? "One Love! One Heart! Let's get together and feel all right," he sang. Or his One Love Peace Concert in Kingston, Jamaica? At that 1978 event, held in the midst of a civil war, Marley himself joined the hands of Michael Manley and Edward Seaga, the leaders of the country's two opposing parties.
"[Aquarians] say, 'Everything is perfect,'" continues Cox. "It's all meant to be. Just let it go.'" Or in Marley's words: "Don't worry about a thing cause every little thing is gonna be alright."
To discover your horoscope from Cox, now that we're in the air sign of Aquarius (January 20th – February 18th), keep reading.
Aquarius
Happy Birthday, Aquarius! You have an extra special birthday month because Mars is connecting with your Sun all month long. You will feel powerful and ready to tackle anything that is given to you. Tackle a project you've had on hold for a while.
Pisces
Pisces is the sign of intuition and you will feel even a bit more psychic than normal this month. Your power dates are February 9th to the 12th when you can totally trust your hunches. Don't feel bad if you're more emotional than usual because your inner guidance will be telling you important information.
Aries
The sign of Aries can be a bit headstrong. From February 11th to 13th, you will likely experience a confrontation with an authority figure. Stay cool and calm and all will work out. You will feel like your freedom has been limited and you don't like it.
Taurus
There are a lot of planets in earth signs now that are blessing your Sun in Taurus. The planets line up beautifully for you on Valentine's Day. Even if you're not in a relationship, give hugs to your loved ones.
Gemini
The sign of Gemini loves to learn. The planet Saturn is connecting with you now, which is giving you a focus that is unusual for you, Gemini. Use it while it's there! Organize things, toss old papers, complete correspondence and you will feel free.
Cancer
The sign of Cancer loves family, food and the home. The weekend of January 22nd is the perfect time to have a dinner for your loved ones. Prepare something homemade to wow everyone and show them your love.
Leo
The full moon occurs in your sign of Leo on Saturday, January 23rd. This only happens once a year and is the very best time to get dressed up in your finest and go out on the town. Since the full moon is on a weekend, it will be easier to strut your stuff. Do it in grand Leo style!
Virgo
Jupiter is now retrograding in your sign of Virgo until May 10th, which is a perfect time to rethink your future goals. Are you totally happy or do you want to start something new? Now is the time to decide if you need a new direction.
Libra
The last few days in January will bring you a sticky situation with authority figures. They are changing their minds and want you to comply. Don't say yes unless you really want to… remember that you're in charge.
Scorpio
During the end of January and the beginning of February, you will likely feel even more private than normal. Be cozy, unplug the phone, stay in bed and eat comfort food. I give you permission to indulge in yourself.
Sagittarius
Your power dates this month are February 3rd and 4th, when you will feel the need to release old, outdated emotions. You might want to have a good cry and let that big hurt go away. If you do it during these days, it will be gone forever.
Capricorn
There are three planets in your sign of Capricorn now that will be joined by the moon from February 4th to 6th. You are in a time of power that could change your life pretty quickly.
More to explore in
Culture