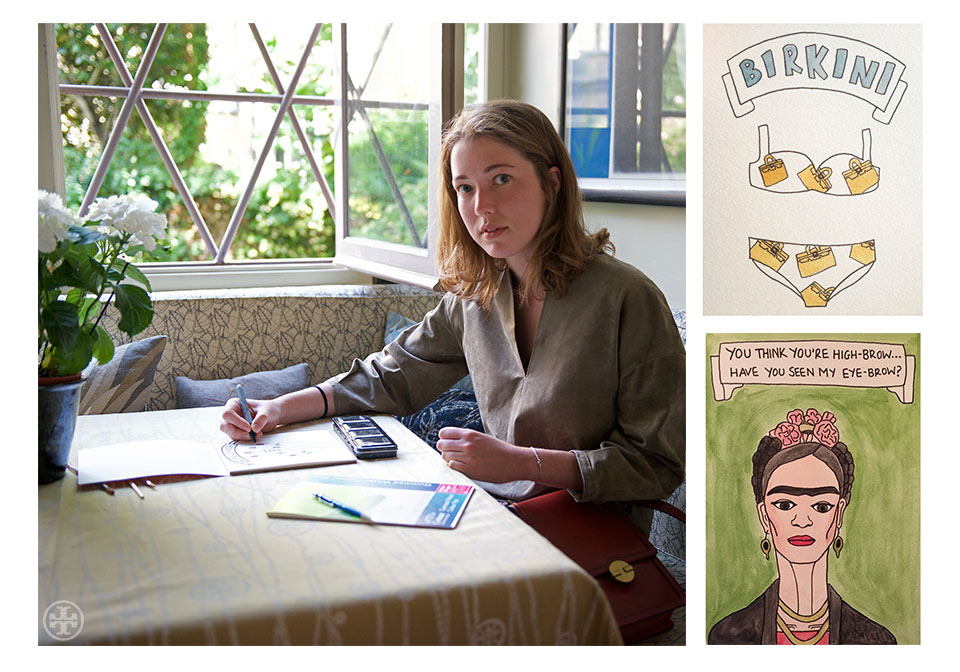 Get to know London-based artist Angelica Hicks, whose witty takes on fashion and culture (and knack for visual puns) are taking Instagram by storm. Here wearing Tory's suede top and tall shoulder bag, she talks to us about her work and her own favorite Instagrammers.
My backstory…
My father
is a decorator and
my mother
is involved in both fashion and interiors so I was brought up with an astute awareness of the importance of aesthetics; everything was either "ghastly!" or "divine!" As a child, my father would constantly urge me to "be more observant," and this emphasis on the visual from an early age, coupled with a photographic memory, have proven invaluable to my illustrations as I cross-reference popular culture with fashion.
The art bug bit when…
I have always made hand-painted presents for family members. I remember one particular Christmas when I decided that I would make the paintings "good." I must have been 12 or 13, and when I had finally finished, I stepped back and realized that I had succeeded and they were, in fact, rather good. From this point I was hooked. I think everyone got three paintings that Christmas as I just didn't want to stop. I think I may have been asked to "look after" a few by relatives who obviously didn't understand how good they were.
And I knew I wanted to pursue art as a career when…
I realized that it would be possible. I took to Instagram to showcase my illustrations (@angelicahicks). Instagram enables you to gain access to people that you might not ordinarily have access to, and your audience is worldwide. Warhol stated that "in the future, everyone will be world-famous for 15 minutes." This 15 minutes of fame is certainly facilitated through Instagram in this digital media age. However, I'm not sure he could have predicted the #rawvolution.
I'd describe my work as…
Sartorial satire. I play around with words and illustration in order to engage (somewhat) intellectually with my audience.
And my art influences and inspirations are…
Egon Schiele, Hannah Hoch, Hilary Knight.
My very first art love…
Maman by Louise Bourgeois — I adored it because it was HUGE and staring up at it made me feel rather small yet at the same time brave. Similar to how I feel right now having just graduated from college.
Favorite museums and galleries in London…
Whitechapel Gallery, Tate Modern, Natural History Museum, the V&A and the Science Museum.
Favorite creatives to follow on Instagram…
@drawbertson (of course), @mydaywithleo, @marceldzama, @jerrysaltz.
As an artist, I could never be without…
My phone. It's my mobile portfolio!
A good work of art should always…
Engage with the viewer, either intellectually or aesthetically. Or both.
When I get the artist equivalent of writer's block…
I sit on the subway with my sketchbook. The constant flux of people and conversations are so inspiring! BuzzFeed articles can also be stimulating.
Favorite works/word plays I've done…
Cigarette Pants, Birkini, Karl Lager, and Little Miss Fendi.
More to explore in
Culture