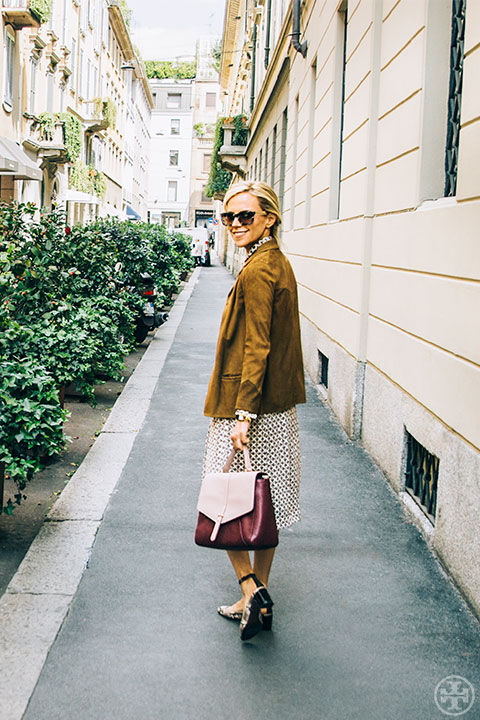 We talk to Tory, here wearing the 797 satchel and Faye sandals, about new additions to the Pre-Fall 2015 collection.
Tell us about the 797 handbag collection. Is it new?
We launched the 797 collection in 2011 to celebrate our New York City flagship at 797 Madison Avenue. We brought it back this season because its clean, structured edge and ladylike polish was a nice complement to the Sixties Carnaby Street story we're telling through clothing silhouettes.
Did the 797 change?
We updated it in a cool two-tone combination of pale, pale pink and berry that complements all our prints this season, especially my favorite, paisley. The new 797 comes in three different sizes: a small or medium size that can be worn as crossbody bags while the large bag, which I'm wearing here, hits a refined yet utilitarian note for day.
Are there any other new additions to the line?
The Bond shoe is also new for Pre-Fall 2015. It has a dashing name, and it's inspired by the ultimate dashing man — my father, Buddy. He was wearing loafers in the Sixties before it became fashionable, and in any photo we have of him, they seem to work with everything he is wearing. So we took the idea of that loafer shape and made it feminine with an interlocking strap design, near-glossy leather and a stacked wood heel.
How do you wear the new Bond bootie or pump?
I wear the high bootie in navy with jeans, skirts and pleated dresses. We styled the lower-heeled pump, which would traditionally be a day look, with our silk jacquard gowns and laid-back peacoats done in chiffon. It's a cool and comfortable juxtaposition.
Jacquard gowns feel like a very dressed-up, black-tie statement…
These gowns were actually inspired by pajamas, of all things. They are done in light-as-air silk, just like all the great, louche pajama styles women have been wearing for day. We sort of brought the idea around full-circle back to evening. Because the gowns are so light and are done in pale icy prints, they can work for so many different kinds of events.