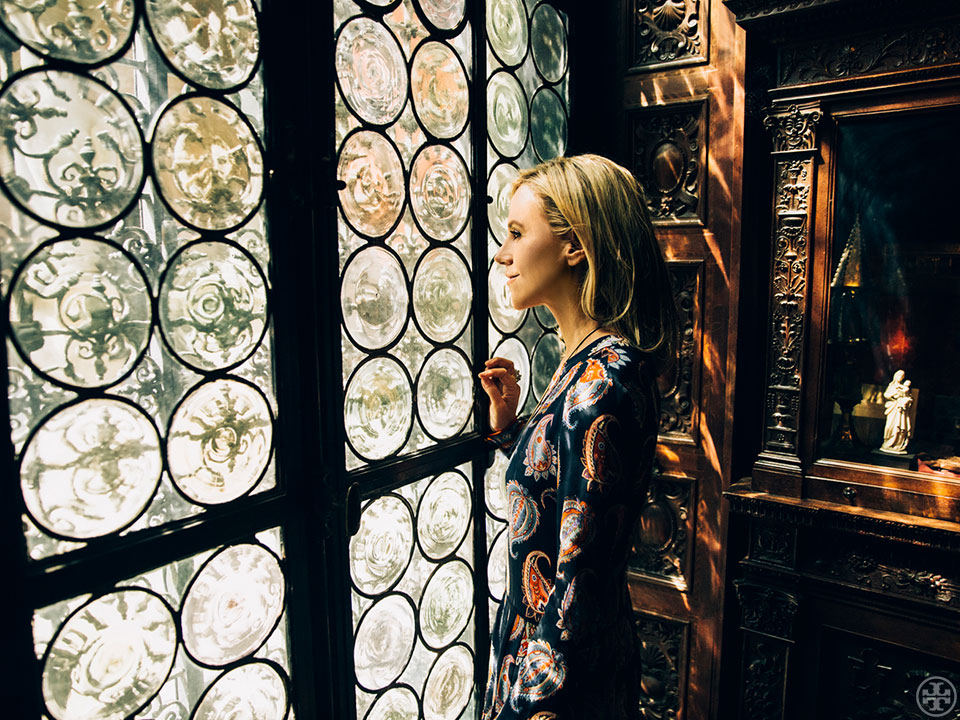 Tory, wearing the pleated silk long-sleeved dress, opens up about the new Pre-Fall 2015 collection.
What's the story behind this season?
Pre-Fall 2015 was inspired by the idea of prim meets free-spirited. We looked to London in the late Sixties, Carnaby Street and English heritage dressing, reworked in an easy and elegant way.
Why Carnaby Street?
This was where everything that was great about Sixties style converged — Mod and bohemian fashion. Girls were wearing their boyfriend's jackets and shirts. There were school uniforms mixed with hippie prints, traditional motifs being skewed and played with. It's spirited.
What are your favorite prints this season?
I've always loved the paisley — it reminds me of trips to India and seeing the incredible tapestries and textiles there. It combines so many great elements: graphics, color, movement, history. We took a scarf print and used it on pleated day dresses, like the silk long-sleeved dress I'm wearing here, a cropped shirt and a pleated mini skirt.
Are there any unexpected pieces?
I brought back the Baja tunic, a look we did a few years ago. I used to wear Bajas all the time with cut-offs and jeans in high school and college when I went to concerts. It's this iconic hippie look, but I love how you can pair it with something really elegant and elevated like a gown or long skirt and create this casual luxury statement.
How do accessories reflect the prim meets free-spirited mood?
There are a lot of versatile pieces that accent the collection. I'm really excited about the Perry tote, a slouchy bag with just the right amount of structure. It comes in four strong colors — an off-white, a berry, a black and a sandy tone — that work with everything.
Any other favorite pieces?
Tortoise always looks so on point. We mixed it with gold cut in modernist shapes, seen in the open I.D. cuff. We also used gold as a way to draw attention, like on the Jones banded sandal, a perfect sandal for pants and skirts, mini or maxi. The stacked wood heel has a gold notch that adds a hit of shine for day.