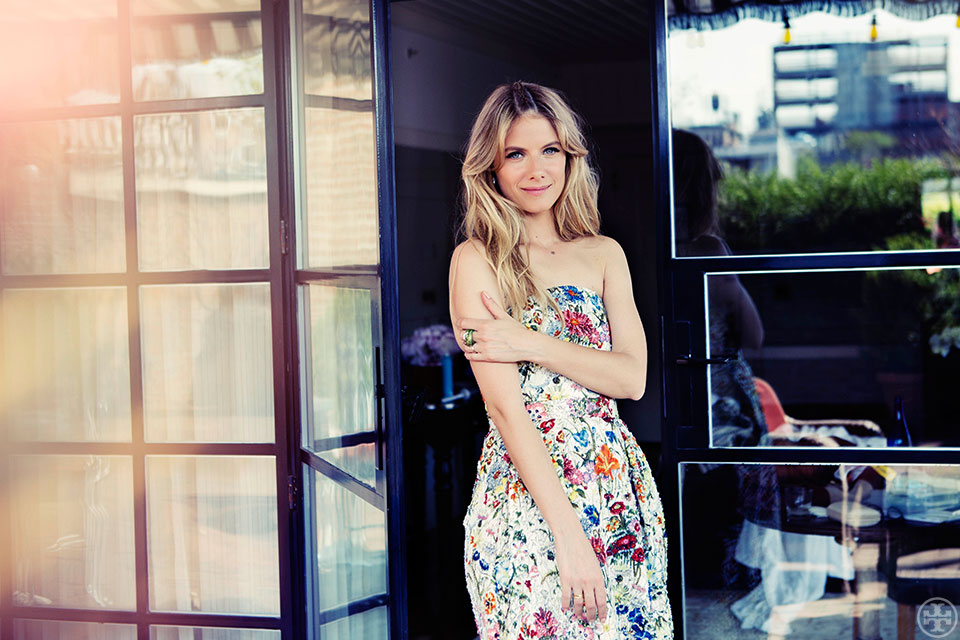 The camera loves actress Mélanie Laurent, and the proof is in the countless awards she's already nabbed for her work in Philippe Lioret's Don't Worry, I'm Fine and Quentin Tarantino's Inglourious Basterds, among others. Later this fall, you can catch her in the Angelina Jolie-directed vehicle, By the Sea, which also stars Jolie along with husband Brad Pitt. And similar to Jolie, Paris-born Laurent is as much a pro in front of the camera as she is behind it; she's already directed a number of her own films, including 2014's Respire, which scored a handful of nominations at both the Lumières and César Awards. Here, wearing a custom gown by Tory, she talks to us about her favorite Parisian books and hometown escapes.

Favorite on-screen scene of mine…
I did a movie called Le Concert. I had to learn to mimic playing the violin. I had lots of fun playing the scene with an orchestra, in an opera.
And favorite behind-the-camera moment when I'm directing…
I can't choose one particular scene because I take so much pleasure every day when I come on the set.
My favorite escape in Paris when I was a child…
When I went to the marketplace with my father on Sunday.
And now when I need an escape…
I go to a French island in Bretagne. It's safe and calm.
My favorite view in Paris…
Montmartre is always a wonder.
My favorite restaurant in Paris…
A small restaurant called Rose Bakery — it's organic food. The design makes you feel like you're in the countryside. I order the tart of the day.
And for drinks…
The mojitos at Hôtel Amour.
Favorite place to take in some culture…
There are so many museums that it's hard to choose, but the Musée du Luxembourg is the one I go to the most. I also love the independent cinema, Studio 28, in Montmartre.
The film and/or book that captures Paris best…
All the books of Philippe Jaenada. They represent another side of the city that's less famous.
For an only-in-Paris experience…
I recommend getting lost and going walking without maps, and observing the city.
Récompensée pour des films comme Je vais bien, ne t'en fais pas, de Philippe Lioret, ou encore Inglourious Basterds, de Quentin Tarantino l'actrice Mélanie Laurent irradie sur les écrans. À l'automne dernier, elle a joué dans le dernier film d'Angelina Jolie, By the Sea, aux côtés de Brad Pitt. Comme Angelina Jolie, la Parisienne Mélanie Laurent est aussi à l'aise devant que derrière la caméra. Son film Respire (2014) a notamment été nommé dans plusieurs catégories aux César et aux Lumières. Pour nous, vêtue d'une robe longue Tory Burch réalisée sur mesure, elle nous parle de ses livres et adresses préférés.

Ma scène préférée, dans l'un de mes films…
Pour Le Concert, j'ai dû apprendre à faire semblant de jouer du violon et j'ai beaucoup aimé jouer une scène avec un orchestre, dans un opéra.
Moment préféré quand je suis derrière la caméra…
Je ne peux pas choisir une scène en particulier, car je prends énormément de plaisir au quotidien, dès que j'arrive sur le plateau.
Mon activité préférée à Paris, quand j'étais enfant…
J'adorais aller au marché avec mon père, le dimanche.
Et, maintenant, quand j'ai besoin de prendre l'air…
Je vais sur une île, en Bretagne. Je m'y sens au calme, en sécurité.
Ma vue préférée de Paris…
Montmartre est toujours un émerveillement.
Mon restaurant préféré à Paris…
Rose Bakery – la nourriture est bio. Côté déco, on se croirait à la campagne. Je commande en général la tarte du jour.
Et pour boire un verre…
J'ai un faible pour les mojitos de l'Hôtel Amour.
Endroit préféré pour se cultiver…
Il y a tellement de musées que c'est difficile de choisir, mais le Musée du Luxembourg est celui que je fréquente le plus. J'aime aussi le cinéma indépendant Studio 28, à Montmartre.
Le film et/ou livre qui dépeint le mieux Paris…
Tous les livres de Philippe Jaenada – ils présentent une facette moins connue de la ville.
Pour une expérience typiquement parisienne…
Je recommande de se perdre et de se promener sans carte, en observant la ville.
More to read…
More to explore in
Travel