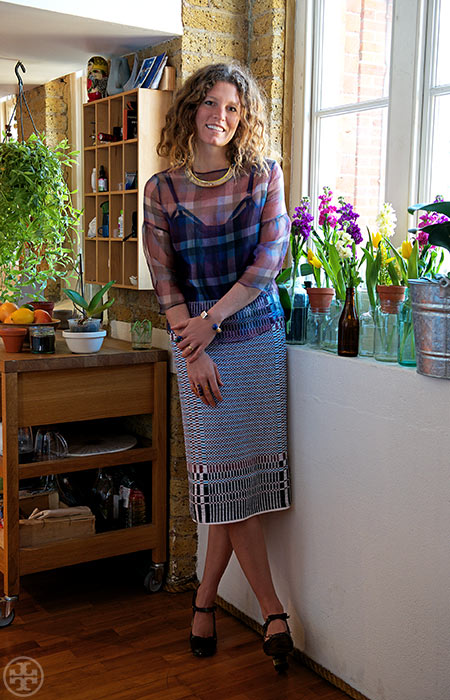 We chat with London-based jewelry designer Tiffany Phillips, who, after years working for Chanel, Kenzo and Loewe, among others, launched Uribe with her partner in both business and life, Sion. Here wearing Tory's jacquard skirt, she delves into her inspirations and background — and shares some entrepreneurial tips, including how to make it work when you're working with your husband.
The story behind the name Uribe…
Uribe is part of my maiden name. In Chile, where I was born, you take both your mother and father's surnames. When I took Sion's surname, Phillips, I dropped the Uribe. It was sentimental in a way — you are a name all your life then it's gone! So, calling our brand Uribe was a natural and personal decision. Also, Sion loves its symmetry and how well it translated into his vision for our branding.
I'd best describe our jewelry collection as…
The initial objective is always to find a common tendency in our aesthetics. We achieve this by pushing our common ground of exploring several ideas to juxtapose; in a way, this is also how we work as a couple. I am from Florida via Chile, where I was born, and Sion is from South Wales — two very different places, however, here we are and we try to focus this similarly in our design process. We establish the research and concept of each collection, I then design the pieces while Sion comes up with our creative strategy and campaign. We are now in the process of sales and launching our AW15 collection, and there's a really exciting project coming. A year in business now, and all the pieces carry the same principles of interaction and modern finish.
My design influences…
I draw a lot from my current, daily surroundings. The more I am moving about, traveling and seeing things, if even locally, the more I draw inspiration. I love the Memphis movement, especially Ettore Sottsass — he even had a very amazing jewelry moment! Architecture from Calatrava, Richard Rogers, Mies van der Rohe; Shiro Kuramata design; Alphonse Mucha; Claude and François-Xavier Lalanne; Nirvana and Kurt Cobain; our friends like Justin Morin and Laurence Owen, and travel… It is a long and eccentric list, but inspiration can be everywhere!
And my favorite jewelry icons…
Suzanne Belperron beautifully captured the essence of precious stones balanced with beautiful shapes and structure. In terms of jewelry-wearing icons: Elsa Schiaparelli for being eccentric, Audrey Hepburn for being graceful, Edie Sedgwick for the amazing earrings she wore, and Mr. T — who else can really pull off those chains?
The jewelry bug bit when…
I grew up on the beach in Florida and making things out of shells was always a big deal. I always incorporated them into homemade earrings or woven into friendship bracelets or strung through a gold chain. There was also an abundance of flea market finds in Florida, with amazing Fifties, Sixties and Seventies jewelry that I started collecting as soon as I realized how great they would be for years to come if they were still cool at that moment. So I could blame it on my surroundings, really!
First piece of jewelry I fell in love with…
A 13th-Century traditional stirrup ring in a jewelry history book and, at some point thereafter, through glass at Les Arts Décoratifs in Paris. I was in awe of its shape, the beauty of the simplistic bezel setting and how modern it was after centuries of being popular. At the beginning of our engagement, Sion and I looked around to have a bespoke ring made and nothing seemed right; then I saw an original stirrup ring, dating from the 13th century as well, with a sapphire cabochon, at Grays Antiques in London. When Sion surprised me with this exact ring shortly after, I was (and still am) in a total state of shock! I never take it off and still find it to be the most beautiful piece of jewelry I have ever seen.
Sion and I decided to go into business together when…
When we met really! We had a very instant connection. It was a fast and sudden love that has only progressed as time goes on. As we both grew up in family businesses it was a very natural progression to want to share this experience together as well. And as Sion's expertise in advertising and graphic design were somewhat different to mine in fashion, we found that developing a brand would enable both of us to work in our territories, and then collaborate together in the business aspect as that is new to both of us.
Best thing about owning your own business…
Being in charge! We have both worked a lot in the creative industries and learned so much along the way. Now the freedom to creatively develop and produce, without waiting long hours for validation, is amazing! Collaboration does remain a really important part of our business though, and something that we encourage and want to do more of as we have always worked in that way.
And the challenges…
Are a daily force that keeps us going. We are faced with budget issues and constraints that not only allow but push us to think creatively "outside of the box" and deal with what we have. We are fortunate to avoid a lot of outsourcing through maximizing our skill sets in house and having a very talented group of friends. Eventually, we will not be as easy to pin down; however, for the moment it is incredibly satisfying to be PR, management, design… Well, the list goes on!
Best business advice ever received…
We went to a Stefan Sagmeister talk a few years ago. He gave not only excellent tips we use as a business, but he focused a lot on discussing happiness and how to be certain that what you are doing every day, as a creative, should make you happy and when it stops feeling that way, figure it out and change the formula. He said something like, "Be able to change direction so that new challenges and growth are possible, then utter boredom can be avoided." I took notes that I reference regularly to be reminded of that.
Our advice to couples working together…
Be patient and understand each other. Although you may speak the same language each of us has a different perception on life and methods; through communication and patience we achieve our goals. Sion and I always aim to remember they are OUR goals — it's a partnership!