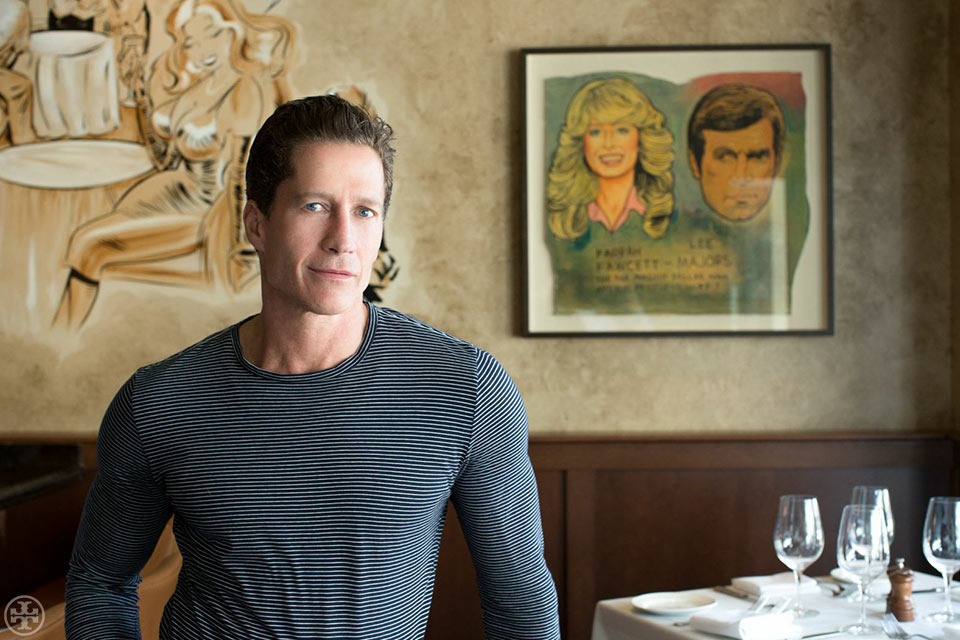 There's a certain indescribable alchemy that takes a restaurant — think Le Voltaire in Paris or Harry's Bar in Venice — and turns it into more of an exclusive club. It's a little bit about the food and the vibe, a little bit about the owner and the chef, and a lot about who you'll see if you're able to get a table. The ingredient that makes The Palm in Beverly Hills one of these buzzed-about joints, especially around awards season? As far as we can tell, in this case all roads lead to Bruce Bozzi, Jr., the great grandson of the man who founded The Palm in New York in 1926 and who now oversees the entire group of 29 restaurants for the family. Here, he tells us about his glam life, how he spent this Academy Award weekend and that one time he kissed Madonna at an Oscar party.
The Palm in five words…
Scrumptious, original, family, Italian-American and Dean Martin.
If I had one last meal there…
18 oz USDA Prime charred sirloin (medium rare), sautéed spinach, hash browns and a side of chicken Parmesan.
Favorite cocktail…
Nothing better than a Casamigos Cocktail! Our fireside margarita! Ingredients: 2 oz Casamagios Blanco, 2 oz chili syrup and 2 oz fresh lime juice. Directions: Fill shaker with cube ice, add 2 oz of lime juice, cap and shake well. Strain into a martini glass filled with crushed ice and toast Rande Gerber, George Clooney and Mike Meldman!!!!
Best night ever at The Palm…
Celebrating my boyfriend's birthday at Palm Too in New York. We recreated an iconic downtown juke joint, Marie's Crisis. Dinner started at 8 PM. Our close friends and family were there. SJP, Billie Lourd, Jon Hickey and Matthew Broderick sang songs along side an upright piano…. I'll leave the rest to your imagination. The evening ended at 4 AM!
First memory of The Palm…
On a Sunday when [the original] The Palm was closed, my dad got a call that there had been a fire in the joint. I was four years old. He took me and we went and met my grandfather there to see what had happened. I was not taller than the bar so my dad picked me up and sat me down on the bar, with my legs dangling, to watch them assess. My dad opened up the vent and a barrel of soot came flying down, like a cartoon, covering the poor guy in soot so you could only see the whites of his eyes. We all laughed! The Palm was fine. Still stands there at 837 Second Avenue.
Perfect day in L.A…
SoulCycle! A hike with my daughter Ava and Bryan [Lourd], a stroll down Abbot Kinney and lunch at the The Tasting Kitchen!
And perfect evening…
A cozy night at home with good friends, good wine and good food being cooked by the best chef in L.A., Dorte Lambert! Classic Al Green playing in the room!
Favorite Oscar-weekend memory…
Sharing a kiss with Madonna at the Vanity Fair Party.
And my Oscar weekend this year…
Friday lunch at the Beverly Hills Palm packed with Oscar fever! The CAA Party: the ultimate pre-Oscar Friday night party ever. Saturday lunch at DVF and Barry Diller's house for Graydon Carter, ending the day with the traditional Bozzi/Lourd Palm dinner with close friends. Sunday evening we broke with tradition and headed back over to the wonderful home of DVF & BD's to enjoy one more delicious meal and watch the show. The minute the show ended I threw on my Hedi Slimane Saint Laurent tux and headed out party hopping till the sun came up.
More to explore in
Entertaining