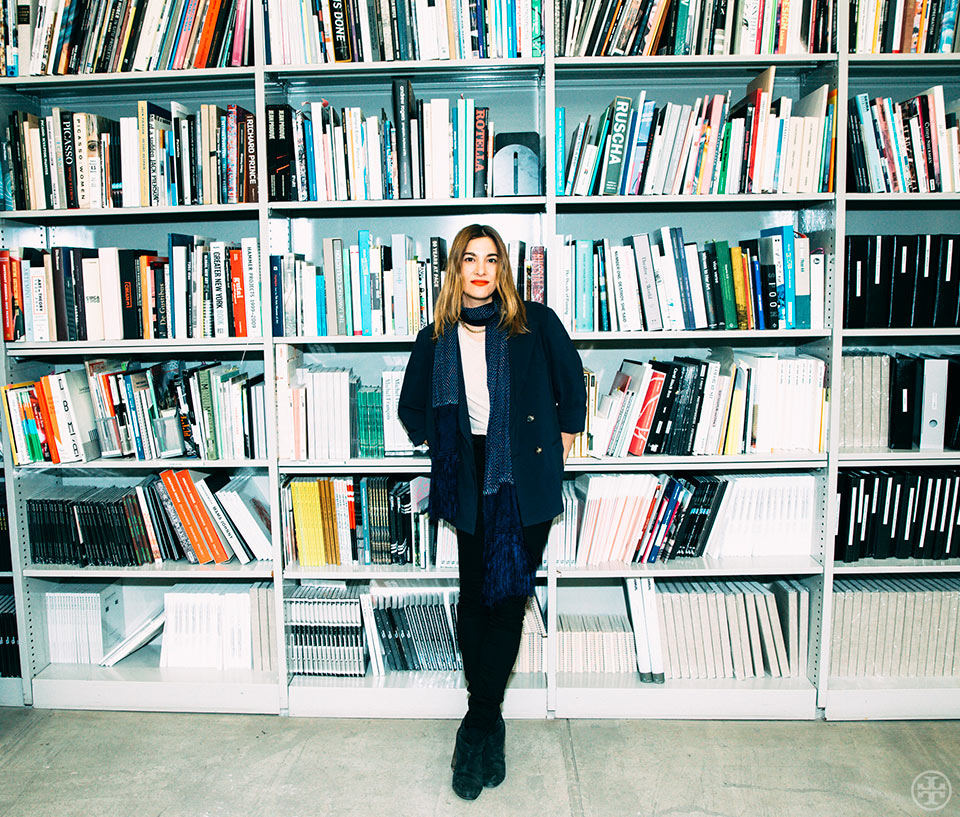 You could head down to Art Basel Miami Beach this week and not know your Ryan McGinley from your Robert Longo and you'd still have a good time. But wouldn't you love to navigate the fair — and the satellite events — like a true art-world insider? Here, we ask Christine Messineo, partner at New York's Bortolami Gallery, to share some intel. Keep reading to get her tips on what to pack, what to see, where to eat and… how to maneuver the art show's labyrinthine aisles like a pro.
Art Basel Miami Beach (ABMB) is like no other art fair because…
Great art and great parties. 
This year, I'm looking forward to…
So much! The launch of The Posters at a pop-up shop in The Standard. The Baibakova housewarming dinner. Art Production Fund's beach towels at The Standard. The Public sector of ABMB, curated by Public Art Fund Director Nicholas Baume. Electronic Arts Intermix at the Sagamore Hotel, an essential nonprofit organization, based in New York, that preserves, archives and makes available video art. They are showing video, film and digital works by artists — including Joan Jonas, Dara Birnbaum, Lawrence Weiner, Jacolby Satterwhite — in an exhibition, SCREEN PLAY: Moving Image Art, curated by Lori Zippay. And seeing friends from outside of New York who travel to Miami for the fair.  
Tips to navigating ABMB itself, for the serious collector…
Make a map! Do the research beforehand — ask for previews directly from the galleries, or spend time on Artsy really looking at the work that each gallery is bringing to the fair. Make a list of artworks that catch your eye, note the booth numbers and galleries, and then spend time imputing this info into the ABMB map. This way you have a plan and won't miss anything. Remember that galleries do not bring all the artists they represent down to the fair, so if you have been following someone, ask. 
And for the casual attendee…
Don't try to see everything!  
Other can't-miss satellite fairs in Miami… 
NADA — it is consistently a fair to make discoveries. They really have a network of galleries from all over. I'll be checking out HACIENDA, Tomorrow Gallery, Bodega, Shane Campbell Gallery, Essex Street, JTT and Overduin & Co.  
When in town, art lovers should also visit…
The collections. There are serious collectors in Miami who have wonderful exhibition spaces that they make public during the fair. They are not to be missed.  
If you need an escape from the crowds…
Canyon Ranch and a green juice. I rarely see anyone from the art world that far from the fair.
My go-to restaurant…
It's always so hectic in Miami during the week of the fair, so I have my standard places that I have been going to for years. A small Italian restaurant, Sardinia, for the branzino. Toni's Sushi for a quick sushi meal. Soho House for a festive dinner. This year I'm looking forward to trying Matador Room in the Edition.  
And favorite place for a cocktail…
After dinner at The Raleigh.  
My packing essentials for the trip… 
I wish I could say sunglasses, but I spend a significant portion of my day in the art fair, so I would have to say a stylish and comfortable wedge! A lightweight scarf to go from air-conditioning to the breezy evening. And I always make time to stop by The Webster, a great shop on Collins.  
My must-read art sites and publications…
I always read ARTnews. They recently hired a new group of journalists with Sarah Douglas at the helm of the arts section and it hits the right tone — funny and educational. For images, Contemporary Art Daily is a constant.
More to explore in
Culture