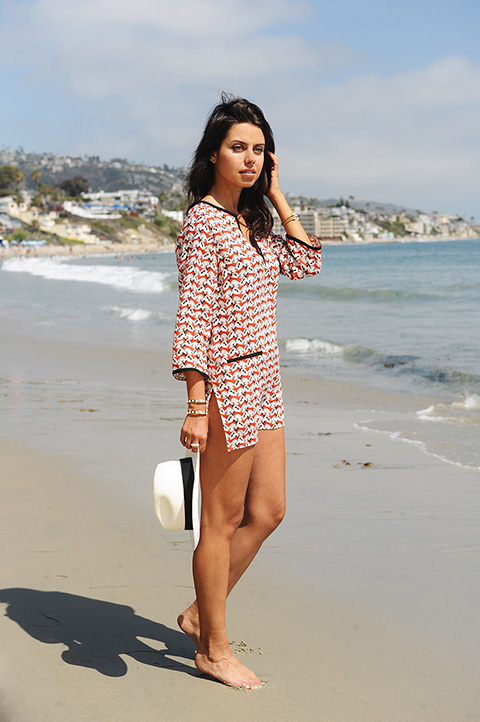 Warm West Coast sun, bare legs and Tory's breezy Calyx Tunic… it's the makings of a summer dream — and Annabelle Fleur's reality. The L.A.-based VivaLuxury blogger took us on a recent excursion to Laguna Beach and we chatted seaside dream destinations and all things beach along the way.

My beach style is…
Effortless chic.
Beach must-haves…
A great bikini, cute cover-up, roomy tote and a pair of oversized sunnies.
Beach beauty routine…
I always apply a really good sunblock before going to the beach and spray a leave-in hair conditioner all over my hair, paying special attention to the ends. As far as beach makeup goes, I prefer a minimal look. Normally, I opt for a bit of waterproof mascara and a tinted lip balm.
Beach icon…
I would have to say Brigitte Bardot — her beach style is so cool, carefree and effortless.
Favorite West Coast beach…
It's a tie between Bluebird Beach in Laguna Beach and Carbon Beach in Malibu.
Favorite beach in the world…
Maroma Beach in Riviera Maya.
My perfect day at the beach…
Involves a little bit of everything. As much as I love laying about working on my tan, I also love being active — swimming, kayaking or paddleboarding are definitely my particular favorites at the moment.
Best beach read…
I never go to the beach without bringing a copy of Agatha Christie's
A Caribbean Mystery with me.
Favorite beach snack…
Fresh fruit or apples with a bit of peanut butter!
Favorite beachy tune…
Happy by Pharrell Williams.
My dream beach getaway…
I've always wanted to visit the islands of Sicily — Rabbit Beach in particular.