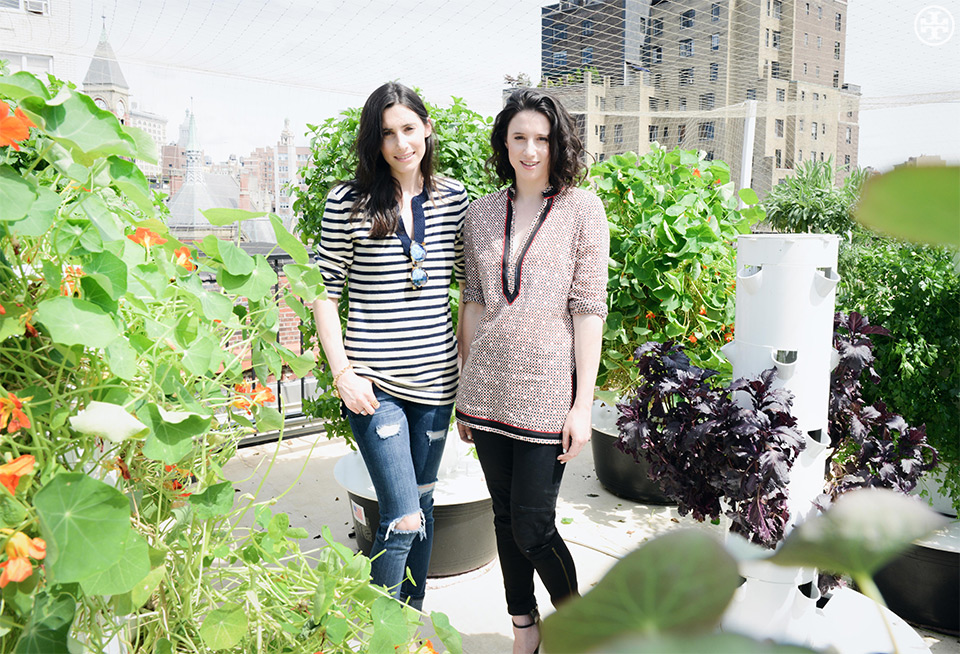 On the food blog The New Potato, sisters Danielle, left, and Laura Kosann interview everyone from designers and editors to restaurateurs, celebrities and fellow bloggers. Among the Q&A gems: Chef Jonathan Waxman's culinary guide to Toronto, a reflection on the restaurant-as-time-capsule from Vanity Fair's Graydon Carter and discovering why Martha Stewart's go-to hostess gift is a basket of eggs. We turn the tables on the duo — here wearing the Lizzie and Tory tunics, respectively — with a Q&A of our own.

The story behind The New Potato name…
LK:
We wanted "the new" something. But we didn't want it to sound too uber-foodie or pretentious. At some point we blurted out "The New Potato," and loved it because of the double meaning — as it's a play on fashion's "the new black" as well as an ingredient.
This summer, "the new potato" in food is…
LK: I think people are putting more and more stock into members-only drinking and dining.
DK: At this very moment, it's heirloom tomatoes, which are currently in season. They are so delicious and literally need nothing — I just slice and sprinkle them with a tiny bit of good salt. They also make for a very beautiful plate.
Ideal food day…
LK: Smoked salmon and everything at Jeffrey's Grocery; soup dumplings in Shanghai, and roast chicken and rosé at Barbuto
DK: We get asked this a lot and my answer is always different depending on the day — but dinner is always the same. Today it would be scrambled eggs and Viennese coffee at Café Sabarsky in the Neue Gallerie, the chopped salad with a side of fries at Freds at Barneys for lunch, and roast chicken (the best I've ever had), fresh pasta and rosé at Barbuto for dinner.
Best place for an outdoor brunch…
LK: The Standard.
DK: Can I say Barbuto again? Jack's Wife Freda is also one of my favorites.
When entertaining, I always put out…
LK: I like surprising people by making each person's favorite cocktail.
DK: Good cheese, olives and fresh flowers.
All good hosts should be prepared with…
LK: Some fun personal tidbit about each of their guests that they can incorporate into the cocktails and food they serve and put out.
DK: A go-to recipe that can be prepped beforehand. You want to be able to enjoy the party and not spend the entire time in the kitchen, so choose something you can make ahead of time.
Biggest dinner-party faux pas…
LK: Showing up late. Food gets cold!
DK: If you're a guest, canceling at the last minute. If you're the host, waiting too long to feed your guests. Cocktail hour is always so much fun, but standing around for (several) hours before being seated isn't.
Most memorable dinner party…
LK: I love going to dinner parties where it's families and friends. A column on the site I love is "Dinner With…," where we go to the homes of couples like InStyle's Editor-in-Chief Ariel Foxman and Brandon Cardet-Hernandez, Christian Siriano and Brad Walsh or Rebecca Minkoff and Gavin Bellour. They cook and we sit for dinner with them and hear stories about how they met, etc.
DK:
Usually, my most memorable dinner parties are ones with close friends and family that are really thrown together at the last minute. Recently though, my sister and I hosted a dinner at
Bergdorf Goodman
in honor of our mom (designer
Monica Rich Kosann
) for Mother's Day. It was such an amazing group of women and everyone had so much fun. It's always the company that makes a dinner great.
Best gift to give the dinner-party hostess…
LK: It really depends on who the host or hostess is. I feel like you can never go wrong with a very special bottle of wine, Diptyque candles, flowers or some incredibly special dessert (like a cake from Momofuku Milk Bar).
DK: A Diptyque candle is my go-to, but you can never go wrong with a good bottle of wine.
Favorite interviews we've done…
LK: Alain Ducasse's is always near and dear to me because it was the first one we ever did. British Vogue's Editor-in-Chief Alexandra Shulman. And Robert Lee Morris, who's such an icon and whose stories about Andy Warhol sort of put everything in perspective.
DK: In terms of recent favorites, we were just in London and sat down with both Alexandra Shulman and [ELLE UK Editor-in-Chief] Lorraine Candy. Both women are so inspiring — and so different! Iris Apfel and Martha Stewart are also up there.
More to explore in
Entertaining