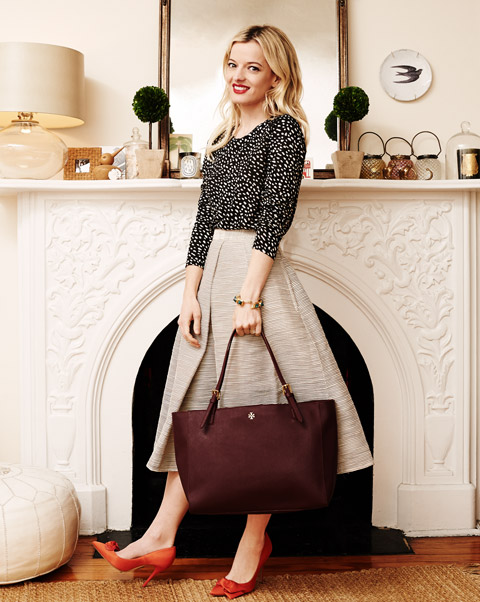 The Shopbop Fashion Director, here wearing Tory's Kasia top and York tote, details the goings-on of her workday.


6:30 AM

Hit snooze

7:00 AM

Mild panic; feed, wash and dress Honor, my daughter, before applying a lot of dry shampoo to my own head and pulling together a quick look that usually consists of an Edith A. Miller striped top, Mother skinny jeans and Alexander Wang pointy toe pumps.

8:15 AM

Drop Honor off at daycare and ride the F train to Times Square. I try to stop at Organic Avenue to pick up the Sweet Greens juice before heading into the office.

10.00 AM

Meeting with the fashion styling team to discuss upcoming shoots for the week, including mood boards and run-throughs.

11.30 AM

Fashion office meeting with the marketing team to plan the homepage calendar.

12.30 PM

Vendor market appointment — I accompany Jane, our contemporary buyer, to market to view Rag & Bone's latest collection.

2:00 PM

Lunch! I'm in a constant wrap rut. I try to avoid bread, but salads are so boring, so a wrap seems like a good compromise.
3:30 PM

I'm in the fashion closet styling up the shoots I have scheduled for the week. It's my favorite part of the day — being surrounded by so many clothes and shoes and accessories. And the best part is that they're all for sale on Shopbop!

4:00 PM

Coffee with Jay Ahr designer Jonathan Riss whilst he's in town from Paris.

5:15 PM

On the dot, I literally run out of the office to collect Honor from daycare on time.

6:15 PM

Honor and I hit Carroll Gardens Park and then pop into the baker's for a cookie treat.

8:00 PM

After feeding and bathing my daughter, I'll throw a red lip on and probably a higher heel and head out with my husband to Extra Virgin, our good friend's restaurant in the West Village — always a delicious meal.

12:00 PM

Sleep!