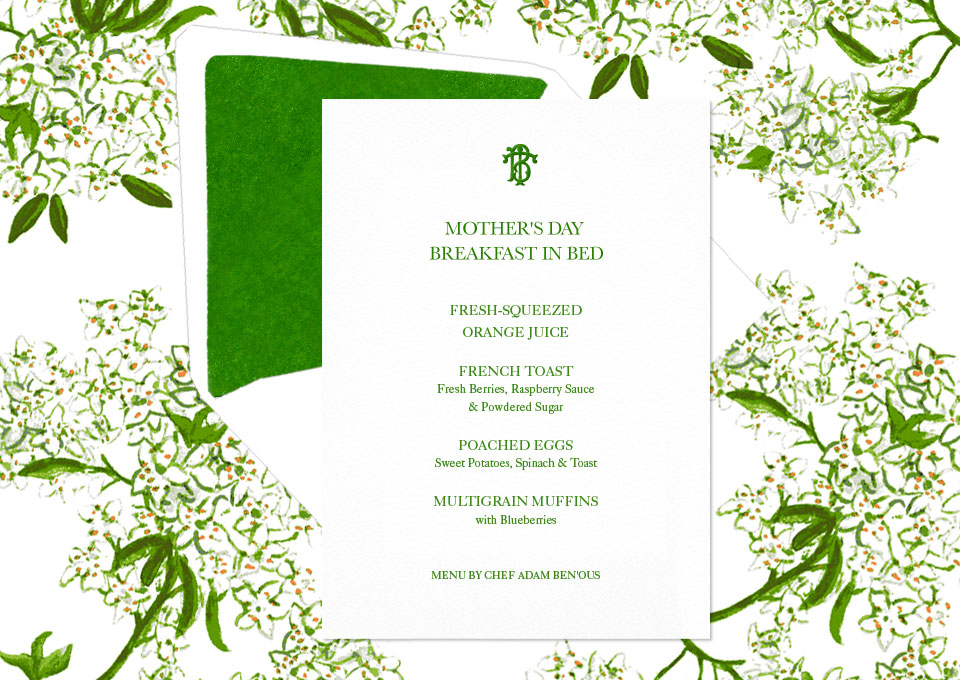 What's Mother's Day without breakfast in bed for the lady of the day? Here, a glimpse at the menu at Tory's house — plus the recipe for those morning muffins, courtesy of Chef Adam Ben'Ous.
Multigrain Muffins with Blueberries
Ingredients:
1 1/2 c whole wheat flour
1 1/2 c unprocessed natural bran
1 1/2 c oats
2 tsp baking soda
1 tbsp cinnamon
1 tsp nutmeg
1 tsp of cardamon
1/2 c dry blueberries
1/2 c dark chocolate
1/2 c golden raisins
3 egg whites
1/2 c buttermilk
1/2 c water
2 small ripe bananas, mashed (1 c)
1 tsp vanilla extract
Directions:
Preheat oven to 400°. Spray muffin tins with nonstick spray. Mix all dry ingredients, including blueberries, chocolate and raisins. Blend egg whites, buttermilk, water, mashed bananas and vanilla, then add to dry ingredients and stir. Fill each muffin tin halfway. Bake for 15 mins. Let cool.
Read more features from our Mother's Day Issues, past and present.
More to explore in
Entertaining