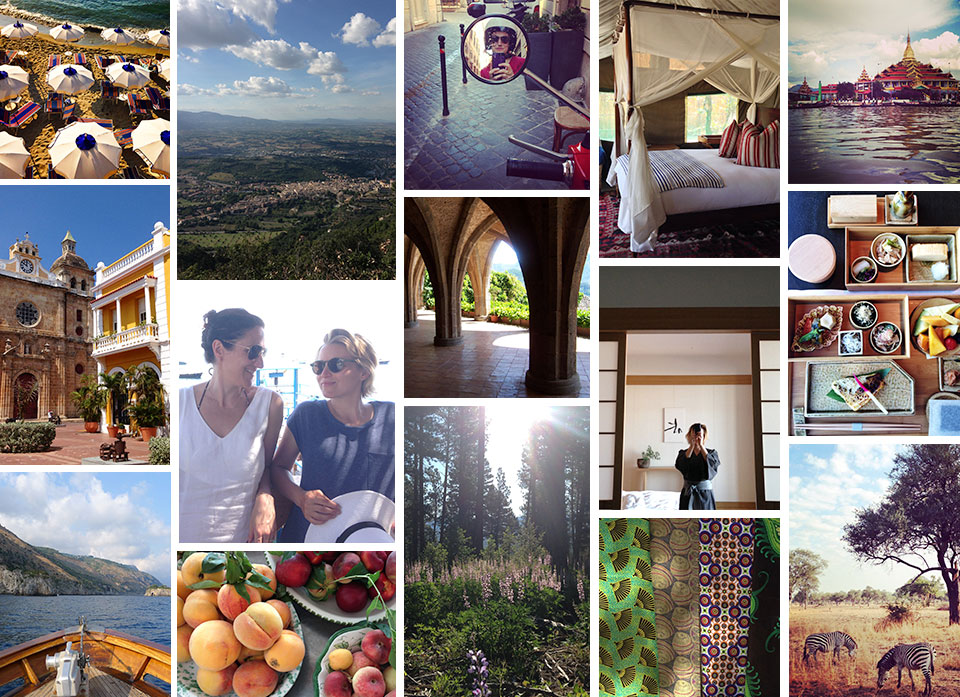 For the perfect intel on the best getaways this time of the year, we turned to Pavia Rosati, left, and Jeralyn Gerba, who founded the popular travel site Fathom.
Fathom is…
The indie, award-winning travel website for travelers with a case of wanderlust who need cool recommendations for where to go and what to do once they get there.
And the inspiration behind it…
We wanted to create a beautiful and fun place where we could compile our favorite travel recommendations, resources, images, tips and tricks — and share them with like-minded people who, in turn, share theirs.
Best places for a fall getaway…
The U.S. West: Montana, Wyoming, Nevada, Utah. The summer crowds are gone from the national parks, but the weather is still beautiful and the foliage and animals are out in full force. Dips at the riverbank and naps in the sun are still possible during the day, and there's just enough of that dry nip in the air at night to justify a big campfire and a round of whiskey. 
And for a beach vacation…
Go to Mexico. To Tulum if you want to run into the people you see at Brooklyn dance parties. To Sayulita if you want to feel one step ahead of the gang. To Puerto Escondido or Todos Santos to connect with your inner hippie. To Punta Mita (well, Imanta) if you crave unabashed romance
An up-and-coming vacation spot…
The Pacific Coast of South America — Colombia, Ecuador, Peru and especially Chile. From top to bottom, you can't beat Chile for variety and wonder. Deserts. Icebergs. Wine valleys. Ski slopes. Add to that a rich cultural scene, unforgettable hotels and notable restaurants. Why would anyone ever want to go home?
Best destination for the art lover…
Berlin! Where you will find incredible art collections in neoclassical train stations, bombed-out institutional buildings, old churches, hidden courtyards, indestructible WWII bunkers, a Mies van der Rohe glass box and a man-made island. 
And the gastronome…
Scandinavia may be getting all the attention and Italy may be the ultimate crowd pleaser, but when food is the object of the journey, make your way to Seoul, Korea, where you just can't have a bad meal. The street food is eclectic, exciting and sometimes simply weird (which is its own adventure); the supermarkets are temples, and the barbecues are a never-ending bounty.
And the adventurer…
Southern Africa. For those who like spontaneity and carving their own paths — the people, the sky, the colors and the landscapes are like gifts that keep on giving.
And the romantics…
Beautiful old buildings (preferably on a hillside in Southern Europe) that have been carefully transformed into thoughtful hotels will remind those in love that virtues like romance, beauty, togetherness and connection are perfect and timeless.
And for those planning a kid-friendly vacation…
Anywhere with low birth rates, because they will love your baby and treat you well. (Here's looking at you, Italy, Germany, France and Japan.) 
My favorite place in the world…
JG: New York City during the holiday season. The city has that palpable urban energy — everyone's out there killing it with their street style and their sense of purpose and their celebratory spirit.
PR: Italy. The first place I traveled when I was a few months old, the whole country leaves me feeling happy and romantic, well fed and hungry for more, charming and charmed. If there's such a thing as a bad day in Italy, I have yet to experience it.
Most memorable vacation I've been on…
JG: This feels like an unfair question to pose to someone in love with travel. How can I choose between a perfectly pastoral summer drive through Sicily, a spectacularly mezcal-fueled week in Mexico City, and a village of floating farms, temples,and enormous water lilies in Burma
PR: I agree with Jeralyn (as usual…) that I love too many places to play favorites. But I'll go for a three-way tie between Taprobane Island in Sri Lanka, because you have to wade through the Indian Ocean to get there if an elephant is not available to transport you; Salta in northwest Argentina, because it is a land of desolate beauty and adorable llamas; and Syria, because I'm so grateful that I saw it when I did.
More to explore in
Travel