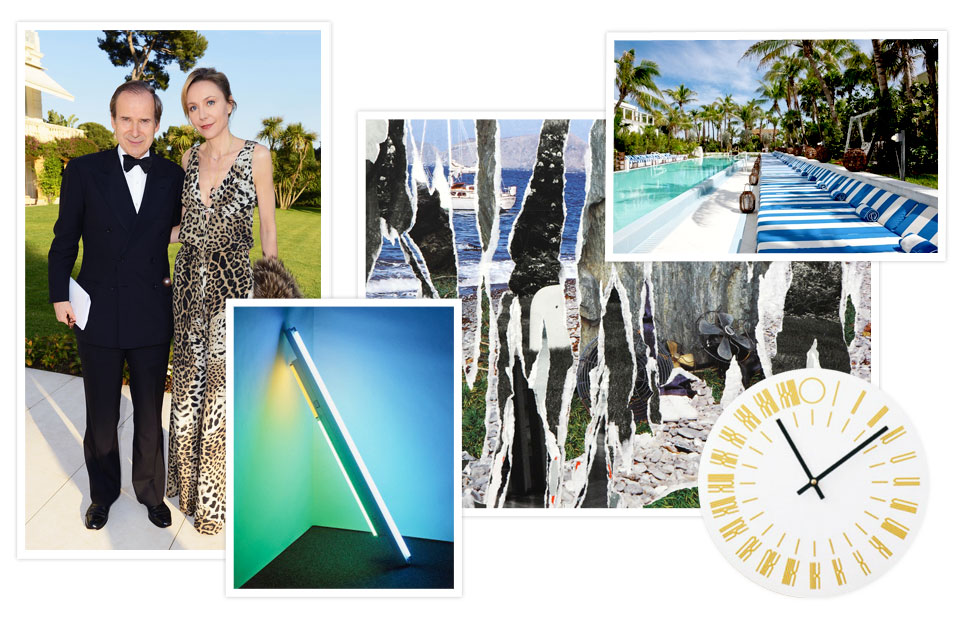 No one knows the art world quite like Simon and Michaela de Pury,
who recently launched their own art firm de Pury de Pury. Here, insider tips from true insiders.
Our tips for navigating Art Basel Miami…
The other must-visit fairs in Miami outside the main Art Basel tents during this time are numerous — SCOPE, PULSE, NADA (see here) — but my absolute favorite fair besides Basel Miami is the Design Miami fair close to the main fair, where they show a top selection of classic and contemporary design every year. Also a must are visits to the Braman collection, the de la Cruz Collection, the Rubell Family Collection and The Margulies Collection.
Advice for would-be collectors on a budget…
Bet on young, very good artists — they still are affordable — and do studio visits to get to know them as well as their body of work in deeper ways.
When in Miami, our go-to restaurants are…
Casa Tua, The Raleigh garden, The Setai restaurants, Soho House, Delano and Nobu at the Shore Club.
Best gifts to give the serious art lover…
The Ugo Rondinone masks as golden necklaces are a fantastic gift. Also fun are the Nibbles Niches by
Zaha Hadid or the wall watch by Tauba Auerbach. We just ordered the pink Balloon Venus of Jeff Koons by Dom Pérignon — there are endless collaborations between artists, and giving an artsy gift is much more fun.
And best children's gifts to give the budding artist…
There's a mini library of masters spanning from Manet, Monet, Renoir and Matisse to Andy Warhol, which is one of our standard birth gifts as it looks fun and sophisticated in the baby room. Later, we give the whole equipment — blank canvases and then stamps, glitter, glue, paint and brushes. Also, there is fun design furniture for kids like Ron Arad's Rolling Volume chairs or Keith Haring's little stools.
Best gift ever given…
MP: Maybe the pennies I gave to my father when I was four years old, to help him build a real estate project he did. I felt I wanted to contribute and do it together with him — he was very touched.
And received…
MP: My husband's love and our little daughter.
The best apps for the art lover…
Instagram — one gets to know and see what's going on in the art world way before shows open up or articles are being written. One even gets insight into an artist's studio and his or her current production, e.g. Richard Prince.
What's next for de Pury de Pury…
We are very active in different fields — private treaty transactions, art advisory, building collections, real estate branding as well as strategic help to consign to auctions. This is amongst a variety of other things, like Simon's charity auctions, lectures or DJing. We have a lot of fun right now!
Art that changed our lives…
Donald Judd, Dan Flavin and John Chamberlain's Gesamtkunstwerk in Marfa — the interaction of art with nature and Judd's breathtaking precision on how to install and live with art changes your visual perception! If you are an art lover and want to give your love a very special treat, take him or her to Marfa, see the camp and individual installations and stay at the Cibolo Creek Ranch overnight.
More to explore in
Culture