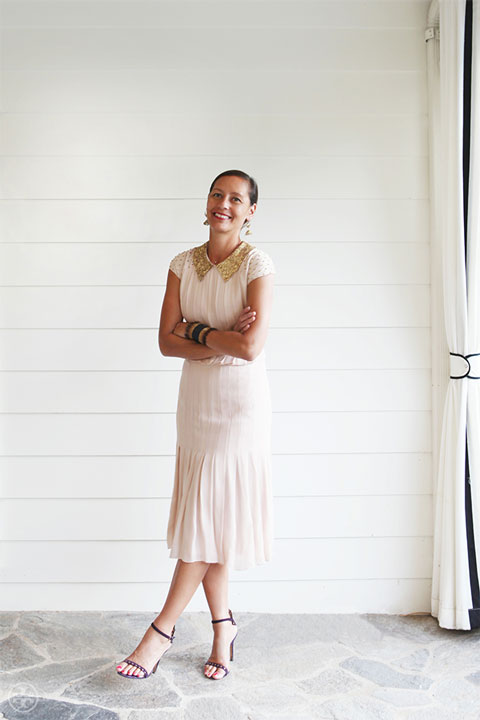 The Founder of style site Le Catch, here wearing Tory's Liv dress, on the ins and outs of her city
No L.A. wardrobe is without…
A stylish pair of sunglasses, a pair of super-flattering jeans and Lululemon workout pants.
Best place to stay…
For those who like to be near the ocean, I love Shutters in Santa Monica. It's right on the beach, and you could go on some nice long runs along the sea.
Best brunch spot…
Soho House, especially on Mother's Day. The spread is glorious and the cocktails will put you in a good mood for the rest of the day!
Not-to-be-missed dinner spot…
It's a toss-up between Gjelina for (often two orders of) mushroom toast, roasted sunchokes and kale salad, topped off with butterscotch mousse, and Nobu in Malibu for the truffle-infused artichoke salad (it's not one of the typical items on the menu and yet it's insane) along with sushi galore… and the stunning ocean view, of course.
The local cocktail and best bar for it…
The Wilde Howard at 41 Ocean. It's made with tequila, muddled mint, ginger, honey, cucumber and lime.
And best juice bar…
Pressed Juicery. The almond milk is like a healthy, grown-up version of a McDonald's vanilla milkshake.
Best place to catch live music…
The Hollywood Bowl. It's the most civilized outdoor stadium, and I love that you can eat well there, too.
Best art scene…
Gallery-hopping in Culver City.
Best night scene…
The secret disco at Giorgio's in West Hollywood on Saturday nights. On weeknights, Bungalow in Santa Monica is always scene-y and bustling. The Chateau Marmont and the Sunset Tower are consistently fun, too.
Best place to celebrity gaze…
Nobu in Malibu (outside on the patio), Giorgio in Santa Monica (one time I was the only non-famous person in the entire restaurant!) and Soho House.
A typical L.A. weekend involves…
Lunch at The Brentwood Country Mart, paddleboarding in Paradise Cove, sunset cocktails at the beach, swimming with my kids in our pool and early evening barbecues with dear friends.
Best local getaway…
Hollister Ranch in Santa Barbara. It's sort of a secret spot, as most people have never laid eyes on it. Frequented mostly by avid surfers who own land there, The Ranch, as it's known, offers some of the best waves in California and is heaven on earth… but you have to boat there or know someone who owns land there because there is no easy public access!
Secret only a local would know…
The traffic-free back roads to avoid the bumper-to-bumper disaster that is the 405 freeway. I can't disclose my route, otherwise I'll get stuck in more traffic.
One stereotype about L.A. I'd like to correct…
It's not less than New York, just different. In a good way.
For more features from our L.A. Issue, click here.
More to explore in
Travel