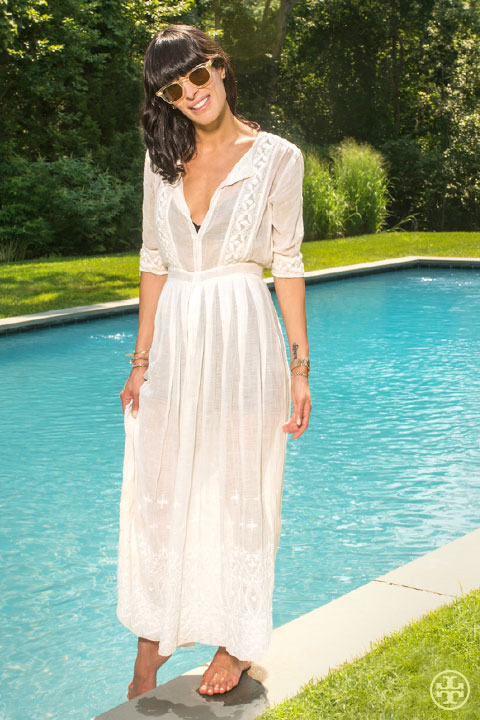 Interior designer and Eye Swoon blogger Athena Calderone shares the ins and outs of her Amagansett.
I love Amagansett because…
It feels like a magical and private enclave, separated from the busyness of the rest of the Hamptons. There are many local and family-run farm stands and fish markets, which couldn't be better for my food swoon lovin' self!
First-time visitors must try…
Crow's Nest — our Friday night date spot — and Moby Dick's. I am also obsessed with Love, Adorned — it's a crazy-inspiring and incredibly curated store focusing on everything from home to jewelry. Also Jack's, the only coffee we drink in both Amagansett and in the city — soooo good!
One secret only a local would know…
Quail Hill for farm-fresh eggs, Balsam Farms for the freshest of local and seasonal veggies and Stuart's Seafood Market.
An easy way to update a home…
You can 100 percent transform a space with a bold wall color — I am currently in love with navy walls. I also love to paint the lower third of a wall in a bathroom or child's room. Lastly, begin collecting personal items from your travels and flea market finds. These pieces personalize your home, hold memories and tell your story.
The best décor advice I've ever received…
If you love it, scoop it up. Even if it doesn't make sense to anyone else or if you're not quite sure where it will go, it will find its proper home eventually. Also, don't be afraid to "copy" or be inspired by an image you find online or in a magazine — the way you interpret it will certainly be unique.
Right now, I'm Eye Swooning over…
Anything Scandinavian in design and décor. I absolutely love the simplicity and clean lines and mix of high and low.
My summer playlist…
All from my dear friend DJ Chelsea Leyland's playlist:
Cool Jerk — The Capitols
Hypnotize — The Notorious B.I.G.
Bam Bam — Sister Nancy
Jailhouse Rock — Elvis Presley
Running — Gil Scott-Heron & Jamie xx
Everything Is Everything — Lauryn Hill
Papa was a Rolling Stone — The Temptations
The Mess We're In — PJ Harvey
Never Forget You — Noisettes
Nothin' — N.O.R.E
Collect Call — Metric
Wildfire — SBTRKT
Le Temps De L'Amour — Françoise Hardy
Gangsta's Paradise — Coolio
No Diggity — Blackstreet
Ramblin' (Wo)man — Cat Power
Dance Yrself Clean — LCD Soundsystem
Up next…
I am working on the design of the Rebecca Minkoff flagship in Soho and have been collaborating with some incredible chefs on Eye Swoon as well as an Eye Swoon intimate dinner series. Stay tuned!
More to explore in
Travel