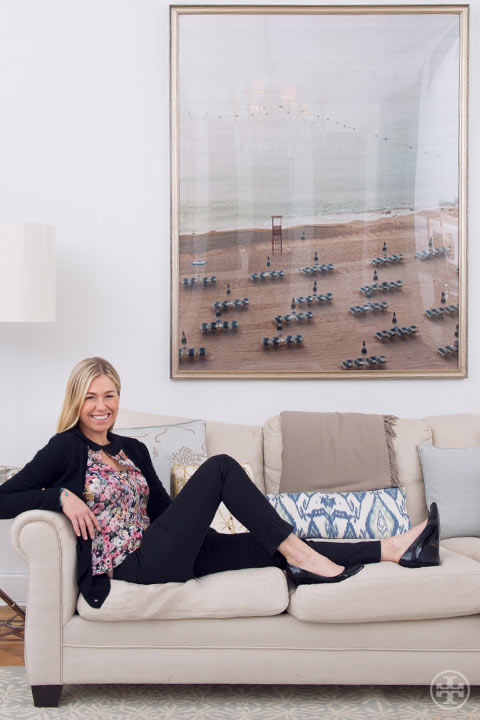 A stylish and efficient closet is one that…
Balances geometry of space and the content of peoples' closets.
Any commandments for good closet-keeping?
Thou shalt use the same hanger. Thou shalt edit bi-annually. Post-edit, thou shalt do inventory (and keep a record of it, with our custom Clos-ette inventory process or, in lieu of that, apps like NetRobe and Garde Robe).
How do you organize your closet?
I organize by color-coordinated separates — by type and then by color within each section. I go from left to right, light to dark. It's a visual merchandizing trick. When it's a print, go by the dominating color.
What are your tips to letting go of pieces you love?
It's not just asking yourself, "Have I worn this in the last year?" It's "Would I buy this today? Is this something that will stand the test of time?" Certain brands, like Pucci, can recycle themself. You know your daughter is going to wear it, as well. If it's about the style as opposed to a print, I'd be more cautious about holding on to it. But ask yourself, "Would I wear this today? Does it fit? Does it look good on me? Is it damaged? Is it the right size?" Be realistic.
What's one closet indulgence?
I think lighting design is a huge extravagance, like lighting the interiors of a cabinet or directional LED cabinet. It's an expensive thing, but if you can do it, it changes the experience. Also, nice decorative hardware. I design a line of closet hardware called Clos-ette by Nanz. Adding that in is an extra as well.
Tricks to maximizing space?
Go back to how you're going to store things versus how much space you have to store them. I look at this as a puzzle, and it's about putting the pieces — the inventory — together. If you can't customize a closet, it's about using a very good hanger. The easiest way to clean up a closet and maximize space is to use the same hanger.
How important is the color of the closet?
75% of the time, always go for something that is neutral because it shows your clothes better. Figure out what the lighting situation is going to be and then pick what color will work well with that. I like it when the color of the walls and hangers match — it shows off the clothes better. Nude hangers against a neutral wall, or teal hangers against a teal wall, will do that. It's a trick of visual merchandizing.
Whose closets have you loved working on?
Jay-Z's, Julianna Margulies', Sting's, Phil Collins'. With every closet with an extraordinary collection, celebrity or not, you get to see the most current and unique things out there. But dealing with a lot of merchandise in a smaller space, like in New York City, you have to innovate the most, those are the best. Space limitations create the best designs.
Whose closet would you love to get into?
I would love to get into Charlize Theron's because she's an extraordinary beauty who chooses her fashion in a very provocative way. She's provocative and classic at the same time. Gwyneth Paltrow and Kate Moss are obvious; they have fabulous clothing collections over large periods of times and went through different phases. Anjelica Huston must have a thick closet, too. I'd love to do Steven Tyler's and Elton John's closets.
Outside of the closet, what's your favorite room?
The kitchen or the garage. I like gear. I like peg walls for bikes and surfboards and tools. I like stuff. I like organizing gear. Skis, tennis rackets.
Best fashion advice you've ever received?
Probably from Wendy Hirschberg Clurman who told me, after 25, to stop thinking about things in terms of seasons. Think of investment pieces. She prodded me to stop shopping trends and think more about investment. For the most stylish women, it's all about putting the right pieces together. They put very few pieces together very well in many ways.
More to explore in
Experts