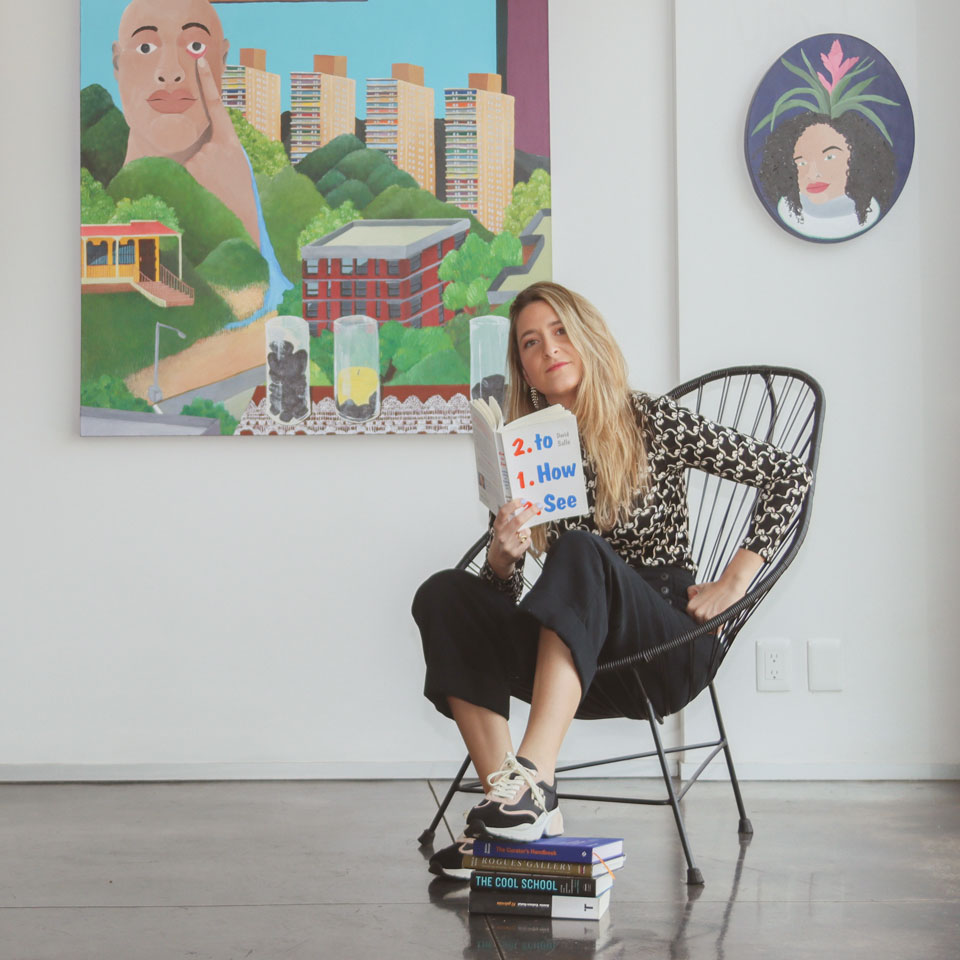 One of the oldest cities in the Americas — built on the ruins of the ancient Aztec city of Tenochtitlan — Mexico City has transformed into a cultural hub for the newest and coolest restaurants, stores and galleries. For art advisor and collector Edith Vaisberg, it offers endless inspiration.
Through her CDMX-based businesses, adhesivo and apartaco MX — a magazine and contemporary art gallery, respectively — Vaisberg is on a mission to connect the greatest up-and-coming artists with the world. "To me, it has always been about building bridges, sharing what I love and making the art industry a more welcoming place," she tells us. It's an approach that seems to be working. Today, Vaisberg frequents some of the largest art fairs globally — including Frieze and Zona Maco — and adhesivo magazine can be found at legendary shops like Casa Magazines and McNally Jackson.
Below, the Venezuelan-born entrepreneur shares her insider guide to Mexico City as well as the inspiration behind her growing brands.
Top five resources for art inspiration:
1. Print Magazines: Purple, 032C, Monocle, Highstyle, Interview…
2. Studio Visits: I recently visited Jean Pierre Villafane's and Nicolas Holiber's studios
3. Museums: Jumex Museum, Palacio de Bellas Artes, Casa de Frida Kahlo, MUAC…
4. Houses: I love going to architectural sites as well as collectors' houses
5. Tumblr: I still use it for visual stimulation
Top five up-and-coming artists everyone should know:
1. Devin Osorio (Dominican Republic)
2. Samantha Joy Groff (USA)
3. Alexa Torre (Mexico)
4. Scout Zabinski (USA)
5. Jean Pierre Villafane (Puerto Rico)
Top five things to do, places to see in Mexico City:
1. House and studio of Luis Barragán
2. Lunch at Expendio de Maíz
3. Afternoons at a local bar (my faves are Hugo and recently opened Caiman)
4. Museum hopping in Bosque de Chapultepec (Tamayo, Arte Moderno & Antropologia)
5. Antiques & vintage findings at "Mercado de la Lagunilla" on Sundays
What inspired you to launch adhesivo Magazine? And apartaco MX?
I founded adhesivo magazine in 2016 as a way of documenting and promoting the up-and-coming art scene. To me, it has always been about building bridges, sharing what I love and making the art world a more welcoming place. I've been reading and collecting print magazines all my life. In Venezuela in the early 2000s, magazines were my way of discovering new things and to feel connected to what was happening in the rest of the world.
In addition to the magazine, I was advising collectors in their acquisitions of work by Latin American artists and younger talents. It felt natural for me to open an exhibition space where I could curate shows and invite people. "Apartaco" is a slang word for apartment/gathering space in Venezuelan Spanish. The focus with Apartaco MX is to show great pieces from local and foreign artists and to give both young and established collectors the opportunity to acquire art. We now host a residency, too, where an artist is invited for a month to work and exhibit in Mexico City.
How would you describe Mexico City's art scene?
Vibrant, fun, diverse and exciting. You can find everything, from some of the best museums in the world to underground project spaces, pop-ups, art fairs, residencies and artist's studios. There are great opportunities and always so much going on. The busiest time is around the first weekend of February, when the main art fairs take place (Zona Maco, Material Art Fair, Salón Acme, etc). What I enjoy the most is the sense of community that has grown between locals and internationals. The city is on the radar of many people, and I feel happy to be part of it now.
More to explore in
Culture