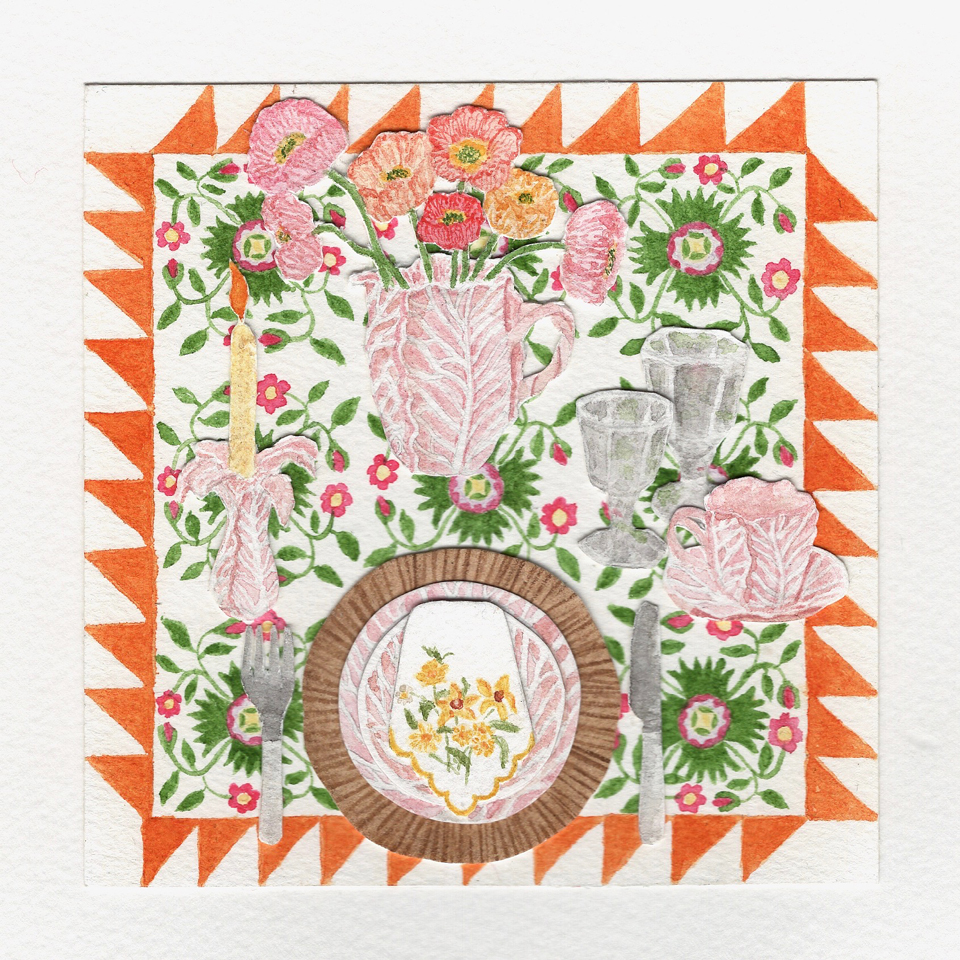 We want a seat at all of Mimi Dickson's tables. The London-based artist creates miniature hand-painted tablescapes that shrink mealtime down to a 4×6 affair. Each table is set to perfection — colorful printed linens, luscious floral arrangements, mouthwatering croissants — providing inspiration for homebodies and hostesses, alike. The petite paintings also make great presents, available as prints or private commissions.
This Mother's Day, we asked Dickson to create one of her tiny tables using Tory Burch Home. The results: as charming as ever.
I knew I had to be an artist when…
I have always loved to imagine and create in whatever way that I can. Growing up in rural Scotland, I was spoilt by creative opportunities. Most of my childhood was spent outside making dens and tiny fairy houses in trees, or delighting in setting up the rooms of my dolls house and thinking of ways to make my own additions.
As an adult, I really missed having a creative outlet. While I was living on my own for most of the lockdown, painting was a constant companion. I slowly started taking commissions with the intention of doing so as a stop gap between jobs, but, when the world was taking longer than we had hoped to open up again, I decided to stick at making art while I could. I feel filled with joy that I am lucky enough to still be doing so!
My signature style is…
A celebration of the comfort that can be found at the kitchen table. For me, it is the centerpiece of a home. The kitchen table is an incredibly nurturing place. We all need food, we all need companionship, and combining the two can get us through a lot. I love working in miniature, trying to capture a whole scene in a contained snapshot as if my paintings were a tiny glimpse into the lives of others and what we each bring to the table!
I draw inspiration from…
The instinctive way in which every living being seeks to create a nest. A sense of home, and the feeling of stability that comes with it, isn't always conventional. It isn't necessarily a roof and four walls, nor is it defined by our material possessions. No matter who or where we are, we all have a primitive need to feel like we belong to something or somewhere — through community, our rituals or, even more subtly, our everyday routines. It is the simplicity and sanctity of these unquantifiable aspects of each individual's life, the way we each curate and compromise to create our own sense of home, that most inspires my work.
When I get the artist's equivalent of writer's block…
I go outside. Usually my 'artist's block' arrives when I have spent too long on a project, staring at it and thinking about it for hours on end. We can lose perspective so quickly, particularly when working alone. We become accustomed to a constant pressure to produce, to please, to deliver and achieve. It can be so easy to get into the habit of only noticing the imperfections or bits that I am unhappy with and, when this begins to overwhelm me, I know that I need to put my brushes down and get outside.
While creating, I listen to…
I'm a big consumer of audiobooks. This year, I have binged the Harry Potter's, listened (and wept) to War Doctor by the indomitable Dr David Nott, as well as having listened to Educated by Tara Westover for the third time as I am totally inspired and in awe of her strength and resilience. I alternate between audiobooks, podcasts and a repetitive loop of my Desert Island Discs playlist with Whole of The Moon by the Waterboys (loud in my headphones) never failing to kick me into gear.
More to explore in
Entertaining